Sound Transit is in the midst of winnowing options to route light rail to Ballard and West Seattle, adding a second Downtown Seattle transit tunnel in the process. The public has until April 28th to submit public comment on the Draft Environmental Impact Statement (Draft EIS), which is the fancy name for the federally-required mega-document that encapsulates the alternatives still officially in consideration and how they would impact their surroundings.
To help break down the options, The Urbanist and Seattle Subway hosted a webinar on April 7th walking though the Seattle station alternatives and how to comment on the Draft EIS.
Based on feedback gathered during the public comment period, the Sound Transit Board may make further cuts or alterations to the remaining alternatives and staff will set to work on the Final EIS, which will set the parameters of the light rail route and construction plan. As the process advances, the Sound Transit Board will approve the final alignments for West Seattle and Ballard Link extensions, which is a 100-year decision that will impact the Seattle region for generations to come.
This article will lay out the major decision points and how The Urbanist is leaning at this point. But before we do, first some guiding principles to understand what animates our advocacy and why we favor the options that we do.
First and foremost, design the system for transit riders and the optimal rider experience. Traveling between the station platform and the surface should be quick, straightforward, and reliable. Transferring between transit lines should also be quick and easy, especially at the major transfer points at Westlake Station and International District/Chinatown Station.
Build the system to maximize ridership. Design a good rider experience and ridership should follow. Still, even the most elegant station will struggle for riders if it's in the middle of nowhere, with few homes, jobs, activity centers, or transit connections nearby. Preliminary ridership projections aren't the be-all end-all, but all things being equal, the station alignment projected to get higher ridership does have a leg up.
Design the system to be easy to expand. Ideally, West Seattle Junction will not be the southern terminus long as the line extends south to White Center and Burien. Likewise, Ballard should not be the northern terminus long as the line extends north to Greenwood and perhaps east to Wallingford and the University District. Meanwhile, a future Aurora rail line may link up with the new Downtown light rail tunnel near South Lake Union Station. Planning with expandability in mind could save billions of dollars and numerous headaches down the road.
Station locations should unlock transit-oriented development (TOD) opportunities to the highest extent possible. A station isn't just a transit stop, it can be a catalyst for neighborhood development and housing growth, both market-rate and affordable. Sound Transit has an Equitable Transit-Oriented Development (TOD) program that has aided in the construction of hundreds of affordable homes on the agency's surplus properties. Alternatives more favorable to TOD have an edge and they will help the system attract more riders down the road by allowing more people to live in close proximity to light rail.
Construction impacts are important but shouldn't solely determine a 100-year investment. Construction-related road closures weigh heavy on the mind of policymakers, but it is crucial we pick the right station for the future of Seattle and grapple with the construction impacts that entails. Closing a busy road for a few years is a small price to pay to add a light rail line that will last centuries. The priority in mitigating construction impacts should start with prioritizing pedestrian access, transit operations, and bike routes.
Cost is an important factor, but we shouldn't shy away from big investments where there is a high return. Mostly we are worried about building this right, but we can't dismiss costs, especially since some high-ticket items will require third-party funding, which could be difficult to secure. Controlling costs is also key to avoiding delays to these much-needed transit lines.
West Seattle Link
West Seattle Link will arrive first. Originally slated to open in 2030, the Sound Transit 3 "realignment" approved in 2021 pushed the timeline to 2032 due to planning delays associated with the pandemic. The line will serve three entirely new stations located at Delridge, Avalon, and Junction, and ultimately expand SoDo Station to serve both the existing 1 Line and future 3 Line.
Until the second Downtown light rail tunnel is built, West Seattle Link will operate as a stub line with transfers to the 1 Line (shown in green below) at SoDo Station. The tentative schedule would open the Ballard Line in 2037, and perhaps sooner for the Downtown portion if it's phased into segments, which would mean the stub arrangement may only last a few years. Once the second Downtown tunnel opens, the West Seattle Line will run all the way to Everett via the existing tunnel Downtown.
The big questions for the West Seattle Link are how to cross the Duwamish River and ascend the steep ridge to Avalon and Junction, which could involve tunneling in some of the options. While initially tunneling had seemed an expensive extravagance, unexpectedly high cost estimates for the elevated alternatives has brought them in parity with some of the tunnel options.
This partially seemed to be the result of the agency's odd insistence that an elevated Junction Station could not fit in Fauntleroy Way's 80-foot right-of-way forcing the purchase and displacement of more than 300 new apartment homes, citing deference to local fire codes — which likely could be changed. Nonetheless, the menu of options in the Draft EIS clears a path for underground stations in Junction and Avalon without requiring that Seattle raise third-party funds outside of Sound Transit existing funding streams. One tunnel alternative pairing in particular stands out and is particularly cost competitive. Short of finding a cheaper elevated Fauntleroy Way option, this tunnel pairing appears the clear path forward. The Elevated Fauntleroy Station is projected to generate an extra 100 daily riders, for what it's worth.
In a package of cost cutting concepts released earlier this month, Sound Transit has also studied an alignment nixing Avalon Station, which would allow a station siting for a Fauntleroy Way Station that avoids the expensive takings just south of Alaska Street. Dropping Avalon would also makes the Tunnel Station 41st Street option significantly cheaper. Dropping at entire station, however, would be a drastic step.
Junction: Medium Tunnel 41st Avenue Station
Medium Tunnel 41st Avenue Station is the cheapest tunnel option for Junction and relatedly requires the least displacement of homes and businesses. The location on 41st Avenue and Alaska Street puts it pretty squarely in the middle of Junction without too much overlap with Avalon Station. With a station depth of just 50 feet, travel between the station platform and surface should be quick and easy.
Junction will generate 6,400 daily riders according to agency projections, with 52% arriving by bus and most of the rest walking. An estimated 7,700 people will live in the 10-minute walkshed. The fast-growing neighborhood has added more than 3,300 new homes since 2006, according to the Seattle Office of Planning and Community Development.
Recommended feedback: Prefer Medium Tunnel 41st Avenue Station [WSJ-5], but study a refined Elevated Fauntleroy Station that would reduce residential displacement and costly property takings.
Avalon: Retained Cut
Avalon Retained Cut Station sets up the tunnel to the best underground Junction Station. It's also economical and easy to use since it's just 30 feet under the surface. A retained cut is the method used in the existing International District/Chinatown Station, which is one of Sound Transit's best. It puts the station close to the surface and allows natural light and ventilation in.
On the other hand, the Sound Transit Board is also considering a cost-cutting option that would scrap the Avalon Station entirely. Ridership projections came in low for Avalon, with just 1,200 daily riders expected. Likely this low figure has much to do with the station catchment area overlaps with its two neighboring stations and the West Seattle Golf Course eating into the walkshed to the southeast and single-family zoning limiting density and TOD potential to the north. But scrapping the station is not a decision that should not be taken lightly. Avalon Way SW has seen considerable housing growth and the Sound Transit 3 ballot measure did promise Avalon a light rail station. Plus, 5,400 are expected to reside in the 10-minute station walkshed and that's a lot of people to abandon.
Recommended feedback: Prefer WSJ-5 with a request to study a refined DEL-6 pairing.
Delridge: DEL-6, with caveats
The Elevated Andover Station Lower Height Alternative (DEL-6) came among the most affordable Delridge stations and it is the only one that pairs with the retained cut station in Avalon. Delridge will primarily be a bus transfer station since it's located in an industrial area sandwiched against the West Seattle Freeway. RapidRide H, set to open later this year and upgrade Route 120, will run down Delridge Way SW and ferry many riders to their ultimate destination. Putting the station so far north and close to the freeway isn't ideal, and we encourage Sound Transit to look at options to open up a better walkshed and more TOD opportunities while still pairing with the retained cut Avalon Station. Still, since bus transfers will be the primary source of riders, the location could be workable.
Expected ridership at Delridge Station is 5,800 daily riders in the preferred alternative, and slightly less at 5,600 for locations farther north, such as Andover Street. A whopping 87% are projected to arrive by bus, as just 2,400 people will reside in the station area, according to the Draft EIS.
Recommended feedback: Request a study of improved DEL-6 options that are compatible with the Medium 41st Avenue Tunnel [WSJ-5].
SoDo: Mixed Profile Station
One of the biggest tradeoffs to consider with SoDo Station is the preferred alternative, which is at-grade, would require the loss of SoDo busway. The elevated "mixed-profile" station allows the busway to reopen after about 10 years of construction. Losing the SoDo busway could cost King County Metro thousands of annual bus service hours since it provides a quick mainline to route buses to and from its Atlantic Bus Base. All of the stations appear set to provide solid transfers, which is important as the line will be a major transfer point between the West Seattle-to-Everett line and the Ballard-to-Tacoma line. This propels the station to a projected 14,600 daily riders, including the ridership from the existing SoDo Station.
The downside of the Mixed Profile Station is that it costs more, at an estimated $800 million. The preferred "staggered" alternative would cost as little as $500 million or as much as about $700 million, if it turns out the option still requires the taking of a very large US Postal Service facility, which appears to be responsible for the better part of that $200 million hit to the budget. If the Mixed Profile Station can avoid that same post office taking, then it could save a similar amount. The pedestrian overpass of 5th Avenue S appears unnecessary, so that use of the post office property appears a low value add. And since the station is in Seattle's industrial center and has the zoning to reflect that, it's not a prime candidate for housing via a agency-owned equitable TOD site — barring an unexpected zoning change.
Recommended feedback: Choose Mixed Profile Station [SoDo-2] and study siting further north at the existing SoDo Station location to avoid costly post office taking.
Ballard Link Overview
Ballard Link will follow and is slated to open in 2037 — or perhaps later depending on cost and engineering challenges. The big questions include where to site the Chinatown-International District station, which affects how deep the neighboring Midtown Station will be and the quality of the transfer to the other lines. The Salmon Bay crossing also looms large, with either a tunnel or fixed high bridge the most reasonable alternatives. This ties in with the debate centering on if 14th Avenue is too far away from the historic heart of Ballard. Seattle Subway is advocating for the late insertion of a 20th Avenue Tunnel Station back into contention and further study.
Chinatown-International District: 4th Avenue — the shallower the better
Chinatown-International District (CID) will be one of the busiest stations and offers transfers between three light rail lines, plus Sounder commuter rail and Amtrak. It will be arguably the most important transit hub in the entire system. Sound Transit has yet to identify a preferred alternative here, but the deep options clearly have huge drawbacks, including cost, slower transfers, and also forcing the Midtown Station to be even deeper too, worsening the quality of the station there, as well. Collectively, about 32,000 daily riders are projected at the two CID stations, with an impressive 13,100 residents expected to live in the 10-minute station walkshed. Most will walk to the station, but transit transfers will be 43% of riders, according to projections.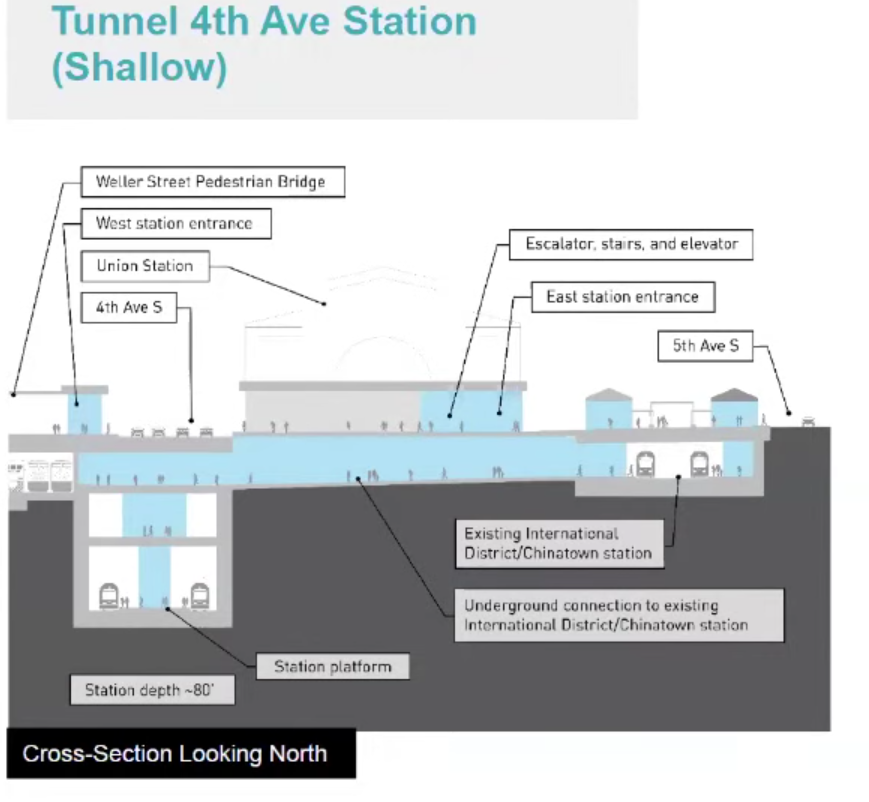 Most Chinatown stakeholders appear to favor putting the station on 4th Avenue instead of 5th Avenue since it would be less disruptive to businesses in the historic district. It could also kill two birds with one stone since the century-old 4th Avenue viaduct structure is rated in fair condition and may ultimately need to be replaced anyway. Putting the station under the street would carry out that replacement in one fell swoop — though construction could last nearly a decade according to the EIS. The 4th Avenue Shallow Alternative is projected to cost about $500 million more than 5th Avenue, but the difference basically works out to the cost of replacing the viaduct, which might not be a bad idea anyway.
The Seattle Department of Transportation (SDOT) said it has no plans to replace the 4th Avenue S viaduct structure. "These bridges received major rehabilitations in 1979, and in 2015 we invested $6.5 million in a seismic retrofit project for these and other nearby elevated structures," SDOT press secretary Ethan Bergerson said in an email. "If Sound Transit selects 4th Ave S as their preferred alternative, we would need to work together to develop a funding plan that fairly addresses the costs of demolishing and rebuilding structures which otherwise would not need to be replaced in the foreseeable future." In other words, SDOT would prefer Sound Transit to cover most of the viaduct replacement costs.
While cheaper, the Shallow 5th Avenue Station would require significantly more property takings and focus them on CID businesses along 5th Avenue during an extended period of construction. After the station is built, the surplus land could be redeveloped through Sound Transit's equitable TOD program, with hundreds of homes atop ground-floor retail adhering to a community vision. However, the decade-long interruption could wipe out a generation of businesses in the blocks affected. In contrast, 4th Avenue would require a temporary closure of Icon Apartments and the Bartell's Pharmacy on its first floor, but the building would reopen after foundation and shoring work is completed.
This tradeoff seems to be pushing community leaders toward favoring the 4th Avenue alternative. Back in 2018, The Urbanist proposed incorporating Union Station into the station design and literally connecting the light rail lines with crossover tracks and an integrated station. During the recent Draft EIS webinar we co-hosted, Seattle Subway has proposed a modification to the Shallow 4th Avenue Station option that achieves much of this vision.
Instead of putting the station 80 feet deep as Sound Transit proposes, Seattle Subway's concept puts it just below the surface, mirroring the existing retained cut CID station. This would allow a nifty direct same-level transfer for northbound 1 Line passengers to West Seattle Link (the 3 Line) or East Link, or the 2 Line as it will be known, and vice versa. Passengers transferring from southbound 1 Line trains would still need to ascend to the surface level, as will those seeking to reach northbound 2 and 3 Line trains. However, making this connection within Union Station from a very shallow station would be quick and pleasant.
Seattle Subway's super shallow concept comes with some engineering challenges, but they're asking Sound Transit to study the idea and confirm its feasibility. Siting the station so close to the surface would require the new tunnel to cross over the existing transit tunnel rather than underneath it as it heads toward Midtown Station, which could be a tight squeeze. But Seattle Subway believes it could be possible, and doing so may also allow a shallower Midtown Station — a win-win.
Recommended feedback: Prefer 4th Avenue Shallow Alternative (CID-1a) alignment but please make it shallower. Study making it as shallow as the existing CID station by using a shallow tunnel over the existing Downtown Seattle Transit Tunnel to reach Midtown. The transfers must be quicker than four and a half minutes.
Midtown: 5th Avenue, Less Deep
As it stands, Midtown Station is about 140 feet deep in the agency's preferred alternative. The initial plan also calls for a fairly long walk on a mezzanine level to reach the elevators to the surface either at the north entrance (opposite Seattle Central Library) or the south entrance, which is envisioned at 5th and Columbia Street. The 5th Avenue Station is still the superior option of the two presented, but making the station shallower should improve access.
As with CID Station, the deep arrangement with a mezzanine level comes with a significant time penalty. As noted in our initial coverage of the issue of deep stations, Sound Transit has modeled travel times from the surface to the station platform at five to six minutes via escalator at Midtown Station and two to three minutes via elevator, barring congestion issues due to high passenger loads. The deeper 6th Avenue station would not even be able to accommodate escalators, the agency said, removing a valuable redundancy for passengers.
Midtown Station will attract 15,500 daily riders, with 89% arriving on foot, according to agency projections. Even with the I-5 trench eating into the walkshed, 22,500 people will reside within a 10-minute walk of the station, in addition to a projected 138,600 jobs. This will be a very important station, and the closest ST3 will get to First Hill.
Recommended feedback: Make the station as shallow as possible, design station for surface to platform elevators, build in ample elevator redundancy, and use modern interfaces to ensure nearly seamless elevator use.
Westlake: 5th Avenue, with better surface access and transfers
Westlake Station is in a similar boat, with depth a significant issue and the transfers a big question mark. The 5th Avenue option again has the edge, but making the transfer environment high quality will be key. Westlake Station is projected to lead the entire system with a combined 73,900 daily riders, 31% of them transferring between the lines. Additionally, 64% of passengers will walk to the station, as 27,400 residents will live within 10-minute walk of the station, as will nearly 145,000 jobs, the agency projects. At such a busy station, the transfers and passenger flow must be good, and early designs leave much to be desired.
Sound Transit estimates the time to surface at four to six minutes via escalator for the new Westlake Station, and the elevator time would be three to five minutes. The transfer to the existing station nearly 100 feet up, meanwhile, will take three minutes to the closer northbound side and four minutes to the far southbound side of the platform. Again these times are for able-bodied riders, as the agency has yet to dig into how the station designs will affect disabled riders. If the agency is able to decrease the distance and travel time between the two stations, it certainly should.
Downtown real estate will be expensive to acquire and Sound Transit would be wise to make the most of its land once the station is mined and built. Perhaps a new public plaza will be possible paired with an affordable highrise apartment tower like the agency helped build in First Hill?
Recommended feedback: 5th Avenue Station [DT-1]. Update the elevator and escalator plan to improve ease of use and redundancy and find ways to speed up transfers and surface access.
Denny: DT-1 on Westlake Avenue
Both Denny Station alternatives are pretty solid, but The Urbanist gives a slight edge to the Westlake option. The preferred alternative Denny is shallower (100 feet versus 125 feet) and offers more seamless transit connections. The catch is that putting the station underneath Westlake Avenue would disrupt streetcar and bus operations on the street above during construction. "For Preferred Alternative DT-1, other segments of the streetcar may continue to operate, but not as a connected system, which could impact the frequency of service," the DEIS noted.
Sound Transit has studied options to mitigate these disruptions, but some impacts are unavoidable: "Alternative construction approaches that could allow for single-track operations of the streetcar and maintain access to the maintenance facility during construction are being considered for this location that could substantially reduce the impact to streetcar service through the Westlake Avenue/Denny Way portion of the route."
Planning documents assume the completion of the Center City Connector streetcar extension, and the streetcar could operate on a reduced segment and/or reduced schedule to facilitate station construction. Severing access to the South Lake Union streetcar barn would likely trigger service reductions, unless the City finds somewhere else to store the vehicles. Additionally, construction of International District/Chinatown Station will cause disruptions and a potential severing of the First Hill Streetcar. Sound Transit said it would likely stagger construction so that these two closures do not overlap.
Westlake Avenue would need to be torn up for an estimated four years to build the station. At a March presentation, Sound Transit noted an alternate construction plan for the station at Denny and Westlake could preserve a single track section for the streetcar, but it would extend the disruption to six years and continue to require detours for buses, apparently. Currently, Westlake Avenue buses (Route 40, Route 64, and RapidRide C Line) carry far more traffic than the South Lake Union Streetcar, but the Center City extension is projected to provide a major boost to streetcar ridership. Sound Transit's David Shelton said the agency is considering the possibility of placing temporary decking above station pits to reduce road closure durations where they are particularly problematic. It's not yet clear if that would work here to avert a lengthy bus detour.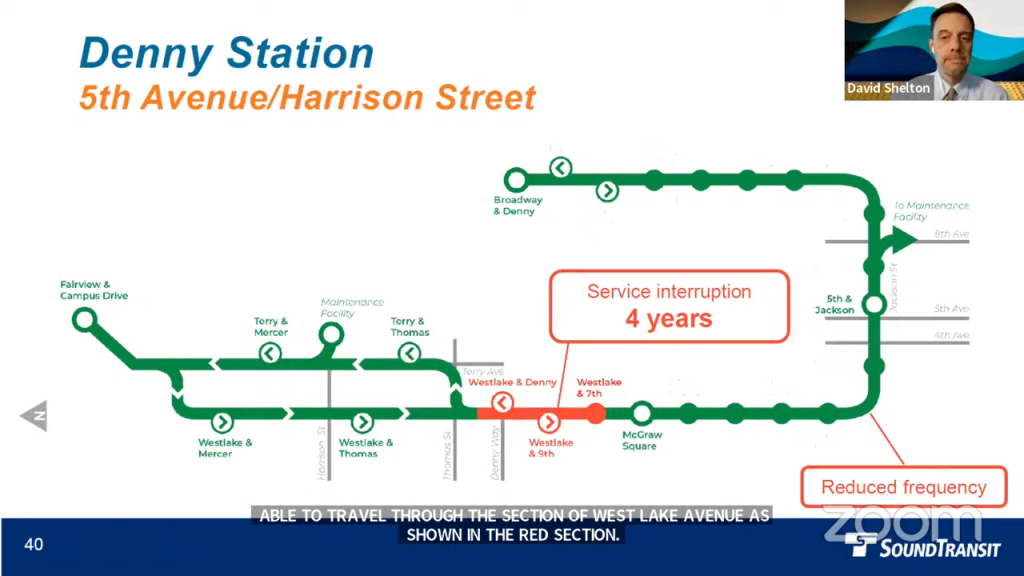 For the Terry Avenue option, adding a short new section of track on Harrison Street between Westlake and Terry would allow the streetcar to continue operating during station construction, even as Terry trackage is out of commission south of Harrison. The interruption to bus service would also be significantly less. But the station would also be 25 feet deeper and a block away from the Westlake Avenue transit artery once it opens.
Denny Station will attract a cool 15,300 daily riders. Impressively, 38,400 people will reside within a 10-minute walk of the station, as will 114,300 jobs, according to agency projections.
Recommended feedback: Westlake Avenue Station [DT-1]. Update vertical conveyances and aim shallower.
South Lake Union: Harrison or Central SLU
In a previous article, we noted that the SR 99 highway tunnel is hamstringing the options at South Lake Union Station. In the preferred alternative, the light rail tunnel must pass underneath the SR 99 tunnel portal, which forces it to be deep — about 120 feet deep to be exact. But in the Mercer alternative, the redesigned SR 99 provides no good places for a bus transfer point for the busy Aurora Avenue artery. Of the two options currently on the menu, the preferred Harrison Street alternative is the less bad option.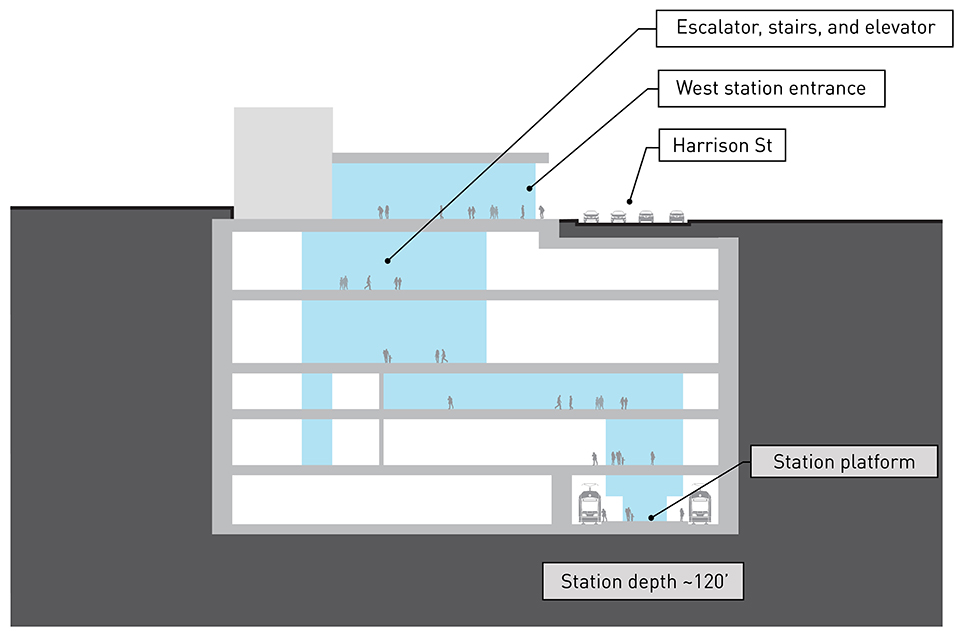 However, Seattle Subway is campaigning to add a station alternative closer to the heart of South Lake Union. They recommend putting the station near the intersection of Republican Street and Westlake Avenue, a quarter mile east of the existing proposals. The Urbanist agrees this option should be studied to confirm the expected advantages it'd have over a station straddling SR 99 and surrendering a good chunk of its walkshed to a gaping highway trench.
Even in a less than ideal location, 10,500 daily riders are projected at South Lake Union Station and 25,300 people will reside within the 10-minute walkshed. Relatedly, 63% of passengers will be walk-ons.
Recommended feedback: Prefer Harrison Street as the less bad option included, but study a Westlake Avenue or similar alignment centered in South Lake Union as much as possible.
Uptown / Seattle Center: Republican Street
From a rider perspective, the Republican Street station is clearly superior. Estimated to be 85 feet deep, the station also boasts elevators headed direct to the surface, forgoing the elaborate mezzanine interchanges that may confound and delay riders elsewhere downtown. Mercer is significantly deeper at about 110 feet deep, wouldn't have elevators direct to the surface as currently planned, and it's also farther from Climate Pledge Arena and the rest of the Seattle Center complex. Simply put, it's just far less convenient.
We are in agreement with Seattle Subway that Sound Transit should mitigate some of the potential issues of the Republican Street design that influential stakeholders like KEXP have highlighted. "Arts stakeholders representing the likes of KEXP, Seattle Rep, Intiman Theater, and Macaw Hall/PNW Ballet have expressed strong opinions against Republican Street station due to long construction impacts and tree removal along August Wilson Way," Seattle Subway wrote. "We want Sound Transit to further review if there is a way to mitigate these impacts while primarily focusing on serving future transit riders as well as possible."
The agency projects Seattle Center Station will get 11,900 daily riders and 82% will arrive by walking or rolling. An impressive 16,000 people will live in the station area, and 22,400 will work in it. Lower Queen Anne is a neighborhood that is certainly ready for rapid transit and the whole region will benefit from improved transit to the Seattle Center and its many shows and attractions.
Recommended feedback: Prefer Republican Street Station and work to mitigate impacts to arts organizations to the extent possible.
Smith Cove: Galer Street
Sound Transit's preferred alternative is the elevated Galer Street Station, and we tend to agree. The main advantage is cost, with the option coming in about $200 million cheaper than other options. But the location also offers good connections to South Magnolia, the Elliott Bay Trail, and Expedia Campus. The more southern alternatives would offer better walking connections up to West Queen Anne via Kinnear Park or trails through the SW Queen Anne Green Belt, and they're closer to the surface in either the retained cut or the 35-foot elevated option. (Perhaps instead of single family home zoning, West Queen Anne will one day have dense mixed-use zoning.) However, the southern station locations also require plowing through some of the greenbelt and putting up a big retaining wall. Overall, this doesn't appear to be worth the added cost and tradeoffs.
Smith Cove will be one of the less bustling stations, with a projected 2,600 daily riders — 65% of them walk-ons. But it could coax some cruise passengers out of cars, and the redevelopment of the Armory site could increase the local population and thus rider demand. Sound Transit projected the station area population at just 800 given the prevalence of industrial uses and office space in the area. In an op-ed in The Urbanist, Michael Eliason kicked around putting 6,300 homes in an "Interbay eco-district" in and around the Armory site which would change that complexion.
Recommended feedback: Preferred Galer Street Station [SIB-1].
Interbay: Retained Cut or Slimmed Down 15th Avenue Elevated
Interbay Station will attract a projected 4,200 daily riders, with two-thirds expected to be arriving via bus. An important decision-making factor is the fact that which Ballard Station option you prefer will partially determine which Interbay Station you prefer.
For example, Seattle Subway prefers the Thorndyke retained cut option because it pairs with the 20th Avenue Ballard Station they wanted added back into contention, as well as the other tunnel stations for Ballard. Meanwhile, The Urbanist's columnist Ray Dubick made a case for moving the Ballard Bridge east and running elevated light rail along 15th Avenue NW to tame that dangerous high-speed street. This would pair with the elevated 15th Avenue alternative for Interbay, which Sound Transit presented as an overbuilt triple-decker station above the highway trench. But with a slimmer highway, a slimmer and cheaper station would be possible, an urbanist win-win. The preferred alternative of an elevated 17th Avenue station appears the weakest of the bunch, but it could work if an elevated crossing ends up winning out and 15th Avenue proves too fraught or costly.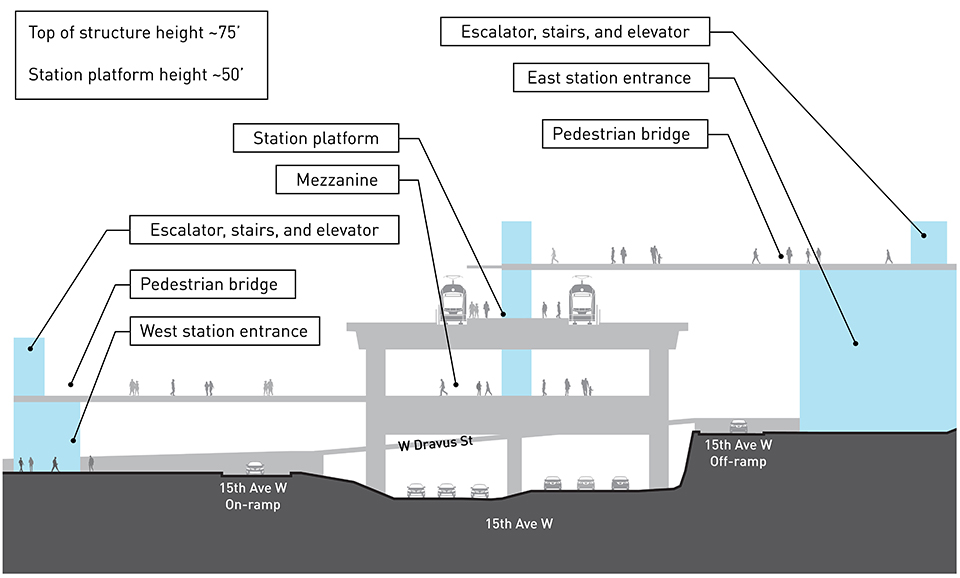 The 15th Avenue Station has the most overall TOD potential as it grabs more of the walkshed east of the 15th trench, which it sits astride. Siting the station on 17th Avenue flush up against Balmer Railyard limits that walkshed and TOD area, but the retained cut would create some promising agency-owned equitable TOD parcels by the looks of the station diagram — somewhat compensating for the weaker site overall. A lid over the railyard could partially negate this drawback, but seems very much a longshot at this point.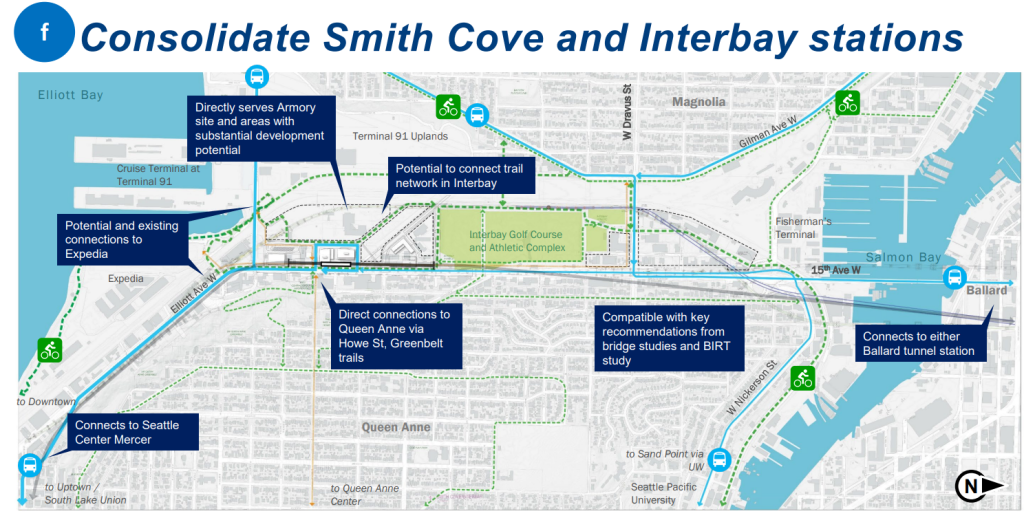 Sound Transit also presented a cost-cutting concept that would consolidate the two Interbay stations into one located at the Armory, which would an even greater enticement for redevelopment of the publicly-owned site. The agency estimates consolidating the stations would generate 2,000 fewer daily riders than the 6,800 that had been projected between the two stations. But if the cost savings turn out to be substantial, the Sound Transit Board of Directors may be very tempted.
Recommend feedback: Advance and refine Thorndyke Retained Cut [IBB-2a/IBB-2b] and a slimmed down 15th Avenue Elevated Station [IBB-3].
Ballard: Put a station entrance west of 15th Avenue
As with Junction, Ballard has a tunnel station that is surprisingly cost competitive with the elevated options in the Draft EIS. The 14th Avenue Tunnel Station is among the cheapest alternatives, and unlike the preferred alternative, it doesn't include a moveable bridge crossing of Salmon Bay, which would come with reliability issues. On the other hand, 14th Avenue is farther from the historic core of Ballard, and the busy 15th Avenue NW is a significant impediment to people walking, rolling, or biking to the station and can slow Route 44 buses as well.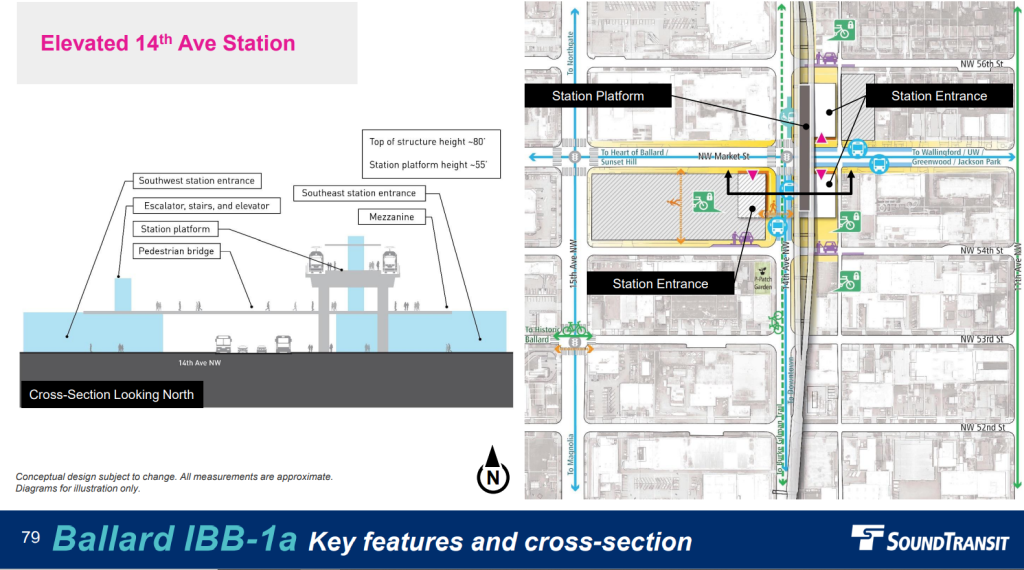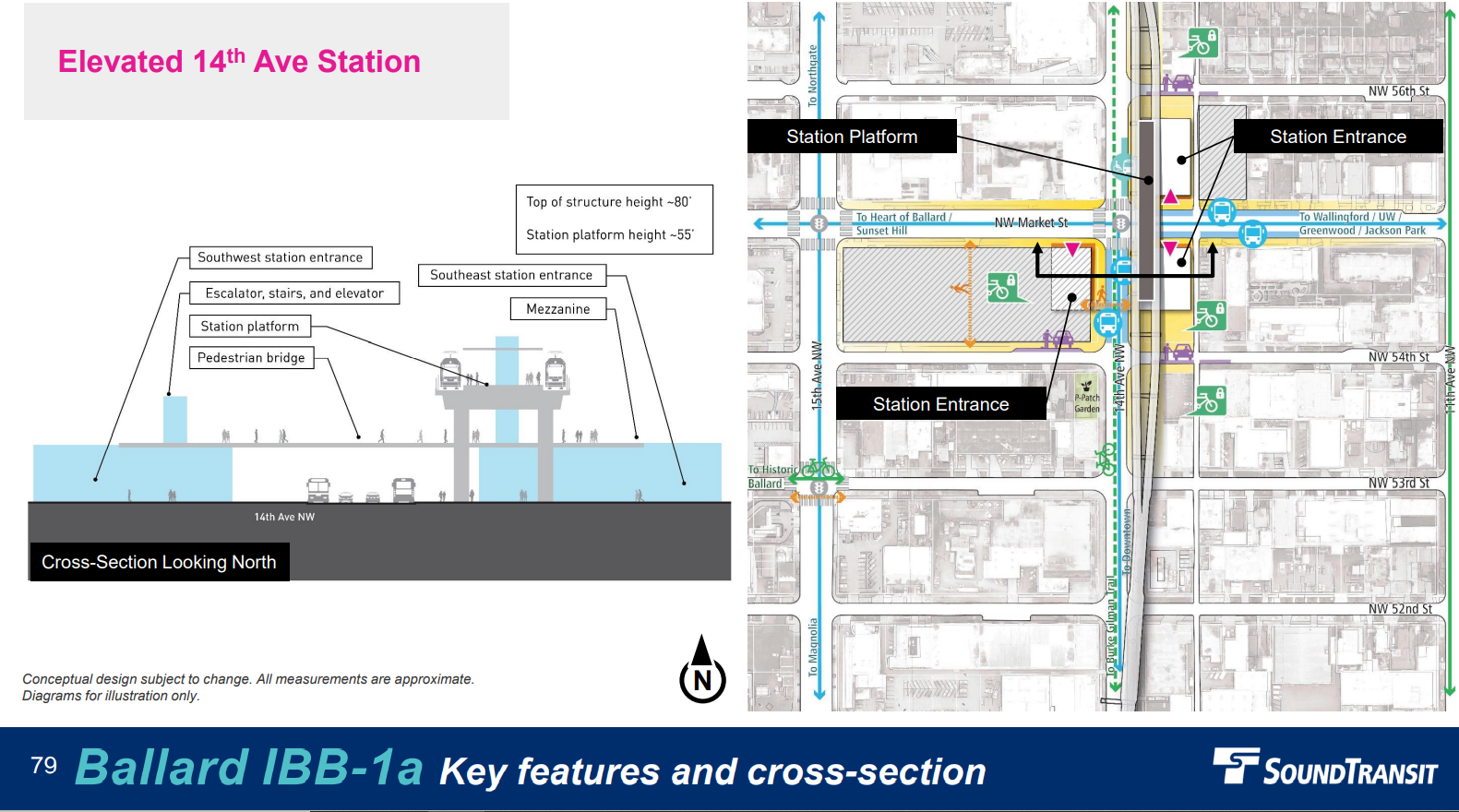 Tunnel 15th Avenue Station is projected to cost $200 million more than Tunnel 14th Avenue Station, but placing a station entrance west of 15th Avenue would be worth the added expense if Sound Transit and the City of Seattle can find the budget for it. The agency has said it will require third party funding for options that are significantly more expensive than the preferred alternative. A tunnel station at 20th Avenue NW is likely to be pricier still, but Seattle Study is urging a study to confirm that assumption — which had gotten the option eliminated earlier in the process. This would be wise given how much the earlier estimates were off.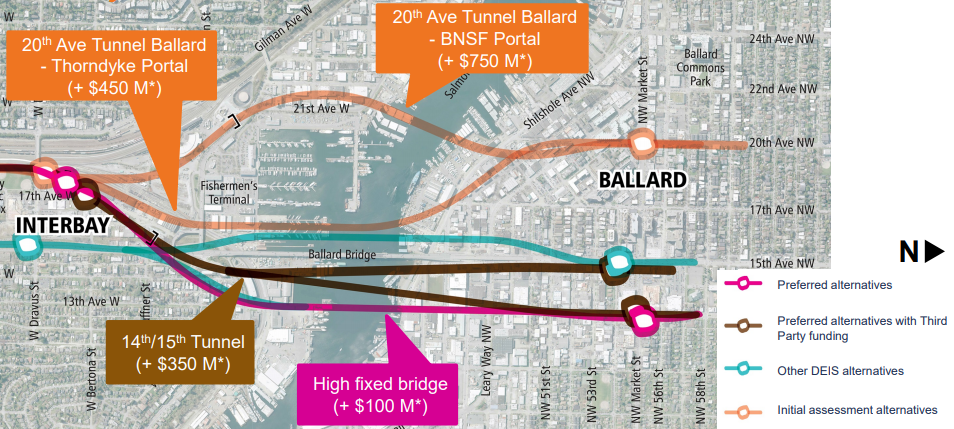 The other major consideration is expandability. An elevated line down 15th Avenue NW would be the cheapest method of extending north, in theory. Despite the surprising parity in cost estimates in the Draft EIS, elevated rail is normally much cheaper than tunneling. That said, a tunnel station could still transition to elevated rail at some point to the north. Likewise, an elevated station on 14th Avenue could swing over to 15th Avenue to the north before running into the obstacle that Ballard High School presents to an 14th Avenue extension, as Sound Transit Executive Corridor Director Cathal Ridge noted. Seattle Subway has also highlighted the issue of expandability to the east to add Fremont and Wallingford to the light rail network, not to mention connect at U District Station. The potential to extend both north and east makes Ballard a very important station and one that should be designed to accommodate higher passenger loads and future extensions.
Even before future expansion, Ballard Station will get a projected 13,100 daily riders, with about half expected to arrive by bus and most of the other half by walking. The agency projects 10,200 people will live in the station area. Ballard has been one of the fastest-growing neighborhoods in the entire region. The Ballard Hub Urban Village has added about 5,300 new homes since 2006, according to the Seattle Office of Planning and Community Development.
Recommended feedback: Ask Sound Transit to study pairing a high bridge with an elevated 15th Avenue Station and to continue to refine all tunnel options to put a station entrance west of 15th Avenue. Jettison the moveable bridge. Open additional study of 20th Avenue Station/Thorndyke Tunnel Portal alignment.
Now, take action: Submit public comment on Sound Transit's project website. Additionally, you can email comments to WSBLEDEIScomments@soundtransit.org or leave a voicemail message at (800) 471-0879. For additional information, the agency has posted a video from their "deep dive" presentation to Downtown Community Advisory Group and to CID-SoDo Community Advisory Group.
Correction: An earlier version of this article said SDOT rates the 4th Avenue S viaduct as in poor condition, but it is actually rated in fair condition. The piece has been updated with a quote from an agency spokesperson that noted replacing the viaduct isn't a high priority for the agency and no plans yet exist to do so.