Counting of ballots continues after Tuesday's general election as more races are being called. With the predicted Red Tide fizzling, it appears that Patty Murray will retain Washington's US Senate seat and competitor Tiffany Smiley will need to find a non-DC location to fulfill her coffee needs. Many of the expected flips from blue to red are not manifesting either.
In the races for the Washington Legislature, candidates endorsed by The Urbanist are winning almost all of their races with the exception of Matt Macklin in LD26. Macklin is running 10% behind incumbent Michelle Caldier, a number unchanged since yesterday. Indeed, all of the races for legislature have changed by less than a percentage point, so we won't bore you with all those numbers. So far, no Sawant-style gap closing here.
In the local initiatives, all of The Urbanist-endorsed ballot measures are ahead and keeping their leads except the City of Seattle Propositions 1A and 1B. While the preferable Ranked Choice Voting does lead, the overall question of whether to implement a new voting mechanism does not. The "no's" lead by 2,500 votes, but have lost some ground since Tuesday
Local Initiatives
METROPOLITAN KING COUNTY Charter Amendment No. 1
Even Year Elections
Votes
Percent
Change Since
Tuesday
Yes *
309,940
69.18%
+0.02%
No
138,068
30.81%
METROPOLITAN KING COUNTY Proposition No. 1
Conservation Futures Program
Approved *
322,483
67.82%
+0.13%
Rejected
153,015
32.17%
King Prosecuting Attorney
Jim Ferrell
193,141
44.06%
-0.12%
Leesa Manion *
243,023
55.43%
WRITE-IN
2,194
0.50%
City of Bellevue Proposition No. 1
Parks and Open Space
Yes *
15,000
54.90%
+0.13%
No
12,320
45.09%
City of Seattle Municipal Court Judge Position No. 3
Adam Eisenberg
61,636
42.68%
+0.41%
Pooja Vaddadi
82,093
56.85%
WRITE-IN
670
0.46%
City of Seattle Municipal Court Judge Position No. 7
Damon Shadid
100,380
69.23%
+0.07%
Nyjat Rose-Akins
43,932
30.30%
WRITE-IN
665
0.45%
City of Seattle Proposition Nos. 1A and 1B
Yes *
79,570
49.19%
+0.14%
No
82,160
50.80%
Proposition 1A
37,155
25.68%
Proposition 1B *
107,518
74.31%
City of Tukwila Initiative Measure No. 1
Raise the Minimum Wage
Yes *
2,273
82.44%
-0.04%
No
484
17.55%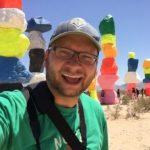 Ray Dubicki is a stay-at-home dad and parent-on-call for taking care of general school and neighborhood tasks around Ballard. This lets him see how urbanism works (or doesn't) during the hours most people are locked in their office. He is an attorney and urbanist by training, with soup-to-nuts planning experience from code enforcement to university development to writing zoning ordinances. He enjoys using PowerPoint, but only because it's no longer a weekly obligation.