On the whole, 2022 was not a bad year for intercity passenger rail service in the northwest. In March, the Washington State Legislature allocated a total of $154 million USD ($209 million CAD) "for additional analysis and development of an expanded framework for future work" as well as "matching funds to leverage federal funding opportunities over the next six years" towards the study and planning of "ultra high-speed ground transportation" between Portland, Seattle, and Vancouver, at speeds of up to 220 miles per hour (354 kilometers per hour). 
In September, after several months of delays, Amtrak Cascades service from Vancouver to Seattle finally resumed, after over two years of suspended service since March 2020. In December, Amtrak revealed new Siemens trainsets and locomotives to enter service in 2026 for the Cascades route, which are anticipated to be more comfortable and environmentally friendlier than current equipment.
And yet the scale of this returned service seems pitiful. In one of the most economically prosperous regions on the continent, on a route passing by the homes of nearly 9 million people, we have to wait until March for a single passenger train to cover the entire route each day.
Things used to be better, and not just pre-pandemic. A 1950 schedule for a predecessor of the Cascades service – the Great Northern Railway's The International – provides clues for this. Following the path of today's Cascades, the International offered three daily services both northbound and southbound, with additional stops in Everett, Mount Vernon, Bellingham, Blaine, White Rock, and New Westminster, the latter three of which are no longer accessible by rail. The train was state of the art for its time, featuring aerodynamic, streamlined cars and locomotives, both observation and café cars, as well as locally-inspired artwork such as bas reliefs of fauna, fish, farms, and industry, sculpted from Oregon myrtle wood. The $5.25 coach fare – equivalent to about $64 today adjusted for inflation – is comparable to today's fares for the Cascades, which ranges from $44 to $82 at time of writing.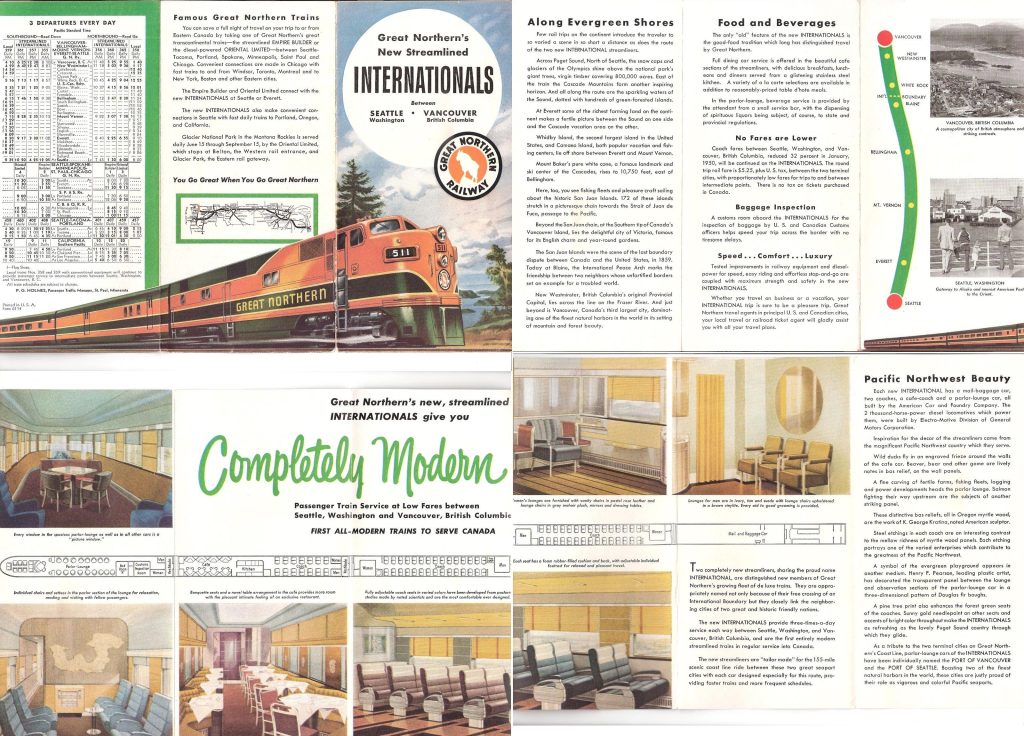 Furthermore, a fourth local train ran daily in both directions, providing small towns, suburbs and rural areas with car-free access to larger cities, a practice that was discontinued in 1956. Back then, a full streamlined route from Vancouver to Seattle could be expected to last about four hours, while the local would take about six hours. Today's Cascade route is scheduled to run somewhere between the two, at just under four and a half hours.
Once in Seattle, passengers in the 1950's could expect to be able to smoothly transfer onto trains to Portland or Chicago. The departure of today's lone Cascades train from Vancouver at 5:45pm arrives in Seattle at 10:10pm, meaning travelers wishing to move to further destinations must find a room to stay overnight in Seattle.  
Even with more than 70 years of population growth, economic development, and technological advancement, regional intercity travel has been left to decay. Indeed, before leaping ahead to "ultra high-speed ground transportation" for the region, it might be worthwhile to reinforce the slower train which already exists, albeit in a rather lamentable condition.
For travelers, each additional barrier presented to taking the train provides additional reasons to drive or fly instead. Those barriers include uncertainties over delayed or suspended services, limited scheduling, inconvenient timing, slow travel speeds, and more. Running more frequent service to better accommodate peoples' busy and flexible schedules would do much to address many of these issues.
Transportation reform is imperative. In a region, province, and state where transportation comprises the largest single source of carbon emissions, change is imperative. The impacts of climate change, from storms to wildfires to extreme heat, are already being felt. Reducing carbon emissions in longer-distance transportation will necessarily mean replacing traffic on I-5, as well as those short flights from Seattle to Bellingham and Seattle to Vancouver.
The economic costs of continuing our reliance on air and auto travel must also be considered, with the Washington State Department of Transportation saying as much in its business case for high speed rail:
"UHSGT [ultra high speed ground transportation] could mitigate the need for some future infrastructure projects such as further major expansions of US I-5, estimated to possibly exceed $108 billion or building an additional runway, which could exceed $10 billion. In addition, UHSGT provides greater reliability and increased capacity than highway or airport options. Reliability on high-speed rail services can reach 99% on-time performance compared to less than 80% for air services and widely variable auto journey times."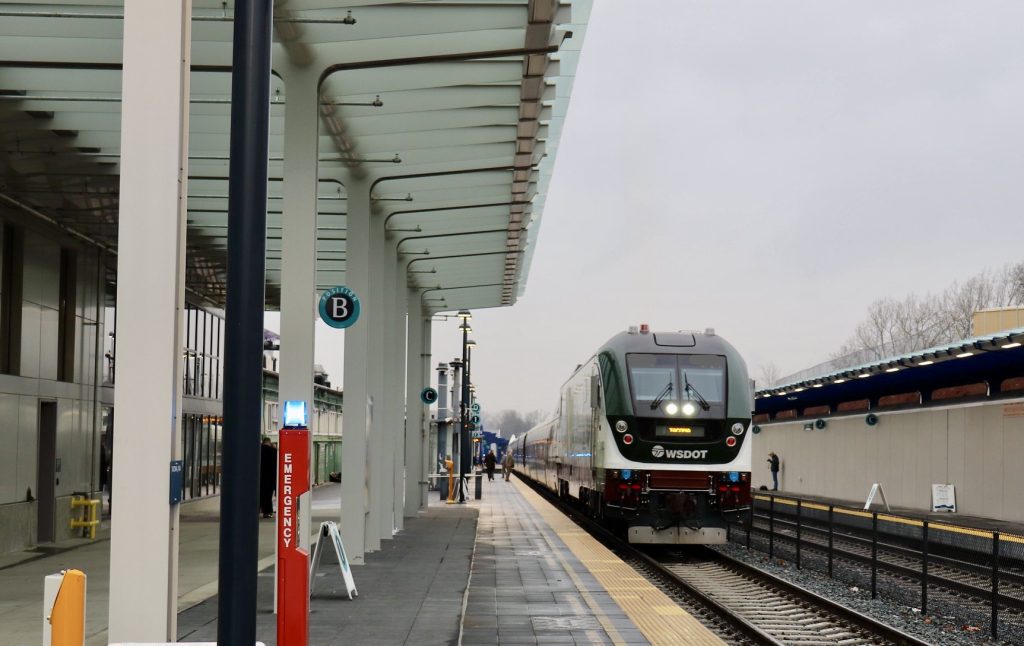 To avoid the social, climate and economic costs of building more runways or highway lanes, both current and future trips made by aircraft and auto will have to be replaced by ones made via bus and rail — a shift which is unlikely to happen at the necessary scale unless these forms become significantly more practical to take. Although not true high-speed rail, even a more frequent slower train would not be subject to the perennial traffic jams on I-5, and cost far less in operating and capital costs than building "just one more lane".
When arriving at the Main Street-Science World Station on the Expo SkyTrain Line in Vancouver, part of the announcement chime intones, "Exit here for long-distance rail and bus services from Pacific Central Station". At time of writing, the current extent of those rail services – a once-daily Amtrak Cascades train to Seattle in either direction, a twice-weekly (chronically delayed) Via Canadian eastbound train to Toronto, and a once-weekly westbound Canadian arriving from Toronto, for a grand total of 10 trains per week – this SkyTrain announcement can seem more aspirational than actually informative.
Although it is good for policymakers to be setting their sights high and examining the prospect of high-speed rail zipping through the Cascades at some point in the future, perhaps a deeper look should be taken at services like the The International that were abandoned. Returning pre-pandemic services like the recent announcement of a second Cascades round-trip from Vancouver to Portland in March is a good start. But reaching further back to the 1950s shows what kinds of service the region has lost. In 2023, perhaps this technologically advanced, growing region can aspire to what it had 70 years ago.
Austin Wu (Guest Contributor)
Austin Wu's first introduction to urbanism was in third grade, when he first learned about the 1961 demolition of the downtown train station in favor of two parking garages in his midwestern hometown. For the past couple of years he has been a freelance writer on topics relating to local history, land use, and transportation, and has also previously worked on research and advocacy on road safety policy for the League of American Bicyclists, particularly on the impact of vehicular speeds on bicyclist and pedestrian safety. Follow him on Twitter, @theaustinwu, or on Mastodon @austwu@mastodon.social.