The Oscar nominations are out. Most of the attention is on the Best Picture nominees, but who really has time for that? Those ten movies clock in at a combined 23.8 hours of film, or average 2:10 each. The plodding, bloated elephant in the room may be Avatar II: Blue Titanic at 3:12, but seven of the other films also cross the two hour mark.
Fortunately, there are a suite of excellent short films that are nominated, and one of them is the tram-centric live action short Nattrikken (Night Ride) from Norway. Lots of good pictures of snowy tracks and quiet urban transport as Ebba hijacks a tram while trying to get home on a cold night.

Alas, she picks up some of the people difficulties that go with it, including hostile encounters and the question of when are we ready to stand up and help. There is a scene of anti-trans assault and corse language. Shorts often culminate in satisfying closures and you don't need to wade through two hours of self-indulgent CGI to get there.
Props to The New Yorker Screening Room for featuring a few of this year's nominated shorts. And if you need more bite sized morsels, the Seattle International Film Festival will be held May 11-21 and their shorts programs (including animation and the amazing WTF) is always good.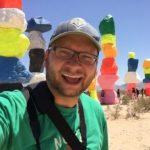 Ray Dubicki is a stay-at-home dad and parent-on-call for taking care of general school and neighborhood tasks around Ballard. This lets him see how urbanism works (or doesn't) during the hours most people are locked in their office. He is an attorney and urbanist by training, with soup-to-nuts planning experience from code enforcement to university development to writing zoning ordinances. He enjoys using PowerPoint, but only because it's no longer a weekly obligation.