Nathan Vass will be joining The Urbanist Book Club on Tuesday, April 4 at 6pm. Sign up is available here. And you can pick up his book, The Lines That Make Us, which we will be discussing.
"Nathaniel!" Marlon called out from midway back on my E Line.
"Heyyy," I replied. Must be someone I've chatted with in the past.
"When you get up to 100th, can you hug the curb real tight so I can kick these boxes out?"
"Hug the curb at 100th, yeah sounds good!"
As Marlon stepped out I called out, as I often do, "stay safe!"
After I did so I heard an echo from the back of the bus, speaking the words in exactly the same tone I had: "stay safe!"
I figured it was a youngster mocking me. Youngsters do that sometimes. As I'd just told two prostitutes about an hour earlier: "you can't control what other people say about you." The ladies were telling me about how "one of our own was talking shit about us to the other guys." The three of us had agreed that you simply can't control if others make fun of you, what slander they come up with, how they may try to smear your character… but you can control how you respond. You can control your character. If they want to play nice and talk, that's another thing, but otherwise… "If you just keep doin' you," I'd said, "nevermind what they say, eventually people will realize what's true and what isn't. Holdin' your head high, right?"
So I ignored the boy in the back. It had to have been him who'd spoken; he was also talking to himself, half-singing and half-talking, energetically gesticulating to the empty back lounge. He had on a standard-issue university alum sweatshirt and beanie, no hood, curly hair like me and a similar complexion, and pajama pants. A dozen blocks later he began walking forcefully toward me while we were stopped at a zone, not jumping out the back door, not going out the middle, continuing up to me, closer– this is when bus drivers always take a deep breath, preparing for the worst–
Which is when he said, breathlessly, "hey man I just really love how you roll I just wanted to come hang out with talk to you for a second while I ride into town, bro."
I couldn't hide my enthusiastic surprise. "Yeah man, absolutely! How's it going?"
"It's been pretty dope, just riding around in my scooter all day I'm new in Seattle just checking out everything looking around, it's really cool!"
"Aw sweet, welcome to Seattle! Where you comin' from?"
"Phoenix Arizona."
"I'm from LA–"
"Oh that's hella cool, but also like hella crazy, 'cause every bus driver I've met so far has been from LA."
"That's so wild!"
He said, "what do you like about Seattle?"
I thought for a moment as I looked at the Amazon towers far in the distance. This city used to be so easy to praise. I said, "the fresh air."
"Me too. I'm going downtown because it seems like a hella lit place to ride your scooter around at night, man! I just don't like the drug use, though. Hey I hear there's this new thing called fentanyl, they're smoking it on buses."
"Yeah," I sighed, "it happens sometimes."
"What is fentanyl?"
"It's… it's kind of like morphine, except it's way more intense. It's so– get this, it's so potent that two milligrams is enough to kill an average-size person. No joke."
"Daaayumn."
"Yeah and two milligrams is like four grains of salt."
"Oh wow that's really crazy."
"Yeah it's super intense, and it's really easy to OD on. It's so easy to OD on. And it makes me sad because fentanyl is mostly used by younger people, right–"
"Right–"
"–and I'm like that's my generation, man! It's not good!"
"Yeah I don't do that. I don't like drugs. I just smoke cigarettes, which I know they're bad for you too."
"Well. It's not the worst vice."
"For sure I just do it for stress." We were discussing the worst news in the city and he remained unflappably himself. Isn't this the ultimate skill? To remember the muscle of joy, of goodness, through thick and thin? In a tone of exultant curiosity he said, "hey so there's a couple questions I always ask bus drivers 'cause I wanted to be a bus driver I just turned twenty-three–"
"Oh cool! I started when I was twenty-one–"
"Really?" he continued, in his apparently customary breathless excitement. It was contagious. "Awesome I always ask bus drivers what do they like most about driving a bus and so far they've always every one has said they like giving people a good safe ride so people can get where they're going."
"That's really cool to hear that's what they say. For me I like helping people. It makes me feel good, you know? Like talking to them, helping, connecting helping them feel connected, like they belong and stuff."
"Yeah you give a really chill ride. Hella smooth, bro. like I was back there just chilling out."
"Yeah I try to keep it really smooth."
"Yeah I'm never gonna report you!"
Every time I announced an upcoming zone over the microphone, he'd exclaim, "niiiice!" He looked out at the Aurora Bridge with such enthusiastic verve the landscape had to work to keep up. "Yeah I love Seattle," he breathed. "I just don't like all the drugs though."
"Yeah me neither. And the thing is it hasn't always been like this. Fentanyl's super new. It's only been around a few months now." This was last winter.
"Yeah three four months–"
"It'd be cool if it wasn't around too long."
"That'd be hella awesome. I love riding around on my scooter and looking at all the people who have jobs working. It's just crazy to think each of them did all the stuff you gotta do to get ready and apply and get a job and keep a job. I rap and I ride my scooter. I just got this house, man, it's just me and my girl for now but I wanna find people who wanna just come live with us for free you know, 'cause I got a PS4 I think and a PS5 and hella video games, and it'd be cool to just find some people who'd wanna live with us without paying anything and just hang out together with me and my girl, you know?"
"Oh you're not gonna have any problem finding people who wanna come live with you for free and play video games!"
He was finagling his scooter now, trying to get it through the front door to deboard while also stepping over it. An older man was outside waiting to enter and after a few seconds of waiting began to curse the boy out. "Goddamn shit! Come on!"
While I can't say our youngster didn't notice the man berating him, I can unequivocally say that it didn't have the slightest impact on his psyche.
"Right on," he said in amiable distraction as he scooted out.
The man's hate was an inconsequential puff of smoke, an almost pathetic attempt that had nothing on our friend's breezy goodness. He was riding a wave of his own making. Already flying away on his scooter now, there he is, singing, waving his arm in some way that makes sense to him, gestures for an audience of one as the stars and clouds smiled from up on high. He looked up at them as he rode and somehow didn't fall down.
Keep doin' you, I said to myself.
—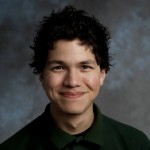 Nathan Vass is an artist, filmmaker, photographer, and author by day, and a Metro bus driver by night, where his community-building work has been showcased on TED, NPR, The Seattle Times, KING 5 and landed him a spot on Seattle Magazine's 2018 list of the 35 Most Influential People in Seattle. He has shown in over forty photography shows is also the director of nine films, six of which have shown at festivals, and one of which premiered at Henry Art Gallery. His book, The Lines That Make Us, is a Seattle bestseller and 2019 WA State Book Awards finalist.