This is a second installment examining the Everett Link Extension alternatives currently undergoing scoping. The first piece focused on station and station area alignment alternatives. This second piece focuses on potential Operations and Maintenance Facility (OMF) North locations and the non-station alignment from SR 526 to Everett Station as well as the SR 99/I-5 alternatives issue in South Everett and feedback that should be directed to Sound Transit.
As Sound Transit moves through its scoping process, there are critical issues that the agency still needs to grapple with beyond the baseline stations and station area alignments being studied. Potentially higher-performing and highly-requested alternatives along SR 99 and I-5 in South Everett need to brought back to the discussion. As missteps in the Tacoma Dome Link Extension show, putting all your eggs in one basket can lead to a multi-year delay (about three years in that case) and mean covering new territory to move forward. Elected officials driving the process of expanding Link to Everett could be doing long-term harm to this project and have completely dismissed extensive community feedback. That posses serious risk to the project if community groups organize to push back through legal means.
Before wading into the messy background of how consideration of potential SR 99 and I-5 alternatives were cut, the issues with that, and feedback to send to Sound Transit, let's dive into two peripheral but vital pieces of the alternatives on the table which include potential Operations and Maintenance Facility (OMF) North locations and the non-station alignment from SR 526 to Everett Station.
OMF North and non-station alignment alternatives.
The Operations and Maintenance Facility (OMF) will require approximately 60 acres to service and store trains. Of the potential OMF North locations, all of the alternatives have their challenges.
Site B-1 located at 75th Street SW and 16th Avenue would displace many specialized manufacturing businesses in Everett.
Site B-2 SR located at 526 and 16th Avenue would have essentially the same impact as Site B-1, just turned 90 degrees.
Site E located at Airport Road and 100th Street SW would require substantial industrial and residential displacements, affect airport property and require special aeronautics approval, and face critical environmental issues from wetlands and streams.
Site F located as SR 99 and Gibson Road would require displacement of some jobs and residences depending upon design.
Sound Transit recently tried to capture potential costs of these alternatives with OFM North costs ranging from $1.4 billion to $2 billion. The alternatives broadly converge on a cost near $1.7 billion, but Site F is presumed to cost the most. However, all of the alternatives are likely to exceed the $1.43 billion realigned financial estimate budgeted for this project.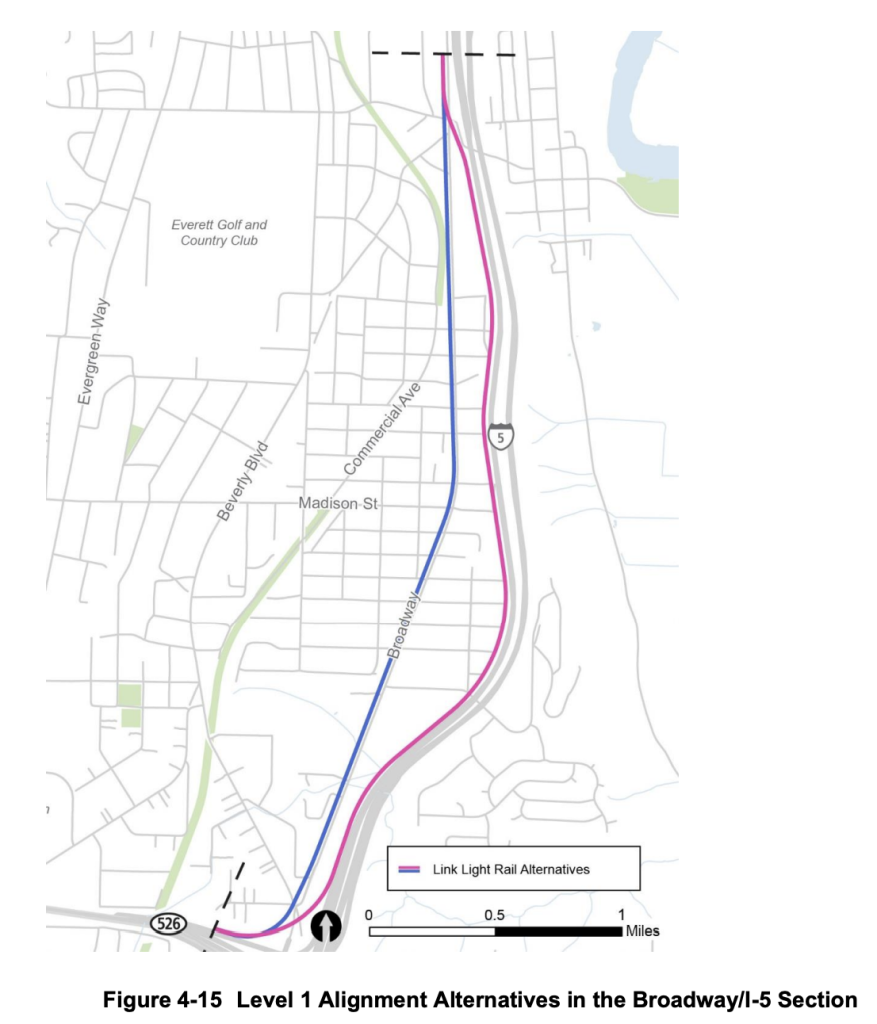 Two competing station-free segments are being studied between SR 526 and Everett Station.
One alternative is to send light rail down Broadway and another is to send light rail along I-5. The latter has some very steep and curvy sections, which may be a challenge to light rail. Elevating the segment may alleviate some of the I-5 issues, but interchanges add another level of complexity to the mix.
The other alternative, Broadway, thus presents an interesting option in that it's mostly straight, but could require some residential property acquisitions. Elevating the alignment along the street could reduce conflicts and many right-of-way acquisition issues, but it also presents unique opportunities for infill station locations now or in the future (Sound Transit has not suggested this yet).
If Broadway is being studied, other alignments on Beverly Boulevard/Colby Avenue and the Interurban Trail may be worth considering, too. Such an alignment could wind its way toward Everett Station on approach to 52nd Street SE or 41st Street and eventually directly serve neighborhoods in between with a station or two. The cost difference between the two principal alternatives is only about $100 million with Broadway the more expensive one, but that could be a very worthy expenditure to buy a corridor that could actually serve riders in the future with extra stations.
Boeing Deviation versus SR 99/Evergreen Way and I-5
As for the Boeing Deviation more broadly, failure to study substantive alternatives could spell trouble for Sound Transit and elected officials in the years ahead. Sound Transit staff were explicit when they told the elected leadership group last year that skipping study of popularly requested alignments along SR 99 and I-5 could leave the agency wide open for legal challenges and charges by federal officials of incomplete studies. Yet, Executive Somers and Mayor Franklin pushed those alternatives off the table without adequate analysis and discussion, and even over the objections and concerns of other elected leaders of affected communities.
Residents in the Casino Road area are especially concerned about the alignments and stations under consideration in their community because of displacement and gentrification risks. The community is lower income and very racially diverse, so it's understandable that these are big concerns.
In October, Snohomish County Councilmember Megan Dunn tried to advocate for the affected communities in the elected leadership group meeting. "It's really critical that we're allowing communities to speak for themselves, and I'm hearing from residents in Everett and in this area that are opposing this idea and would like more information," she said. "We need the data and the studies which shows which option is best. Which one has the best ridership? Which one has the best dollars per mile? Which one has the biggest impact on climate change?"
Ahead of the meeting, Everett City Councilmembers Paula Rhyne and Liz Vogeli also relayed community concerns to Mayor Franklin and said that they supported vetting all of the alternatives. Councilmember Rhyne even suggested putting the issue to an advisory vote of residents.
Apparently these community and stakeholder requests fell on disinterested ears that were already tuned to Boeing executives. Auburn Mayor Nancy Bachus piped up during Sound Transit's October meeting to say that they had received a letter from the company's government affairs boss, Bill McSherry, advocating for a station near their sprawling, near-universal-drive-to-work campus.
It's very possible that the Casino Road community could raise a challenge on their own or with other organizations on the adequacy of the EIS via legal avenues or directly with the Federal Transit Administration and United States Department of Transportation. Other groups may also choose to test the legal waters on this matter for similar and other reasons.
To avoid this problem and actually respond to community desires, Sound Transit must seriously study SR 99 and I-5 alternatives now. While that may be unpopular with two officials on the Sound Transit board, it is very popular with their constituents — including the Community Advisory Group — who have consistently been asking for this.
And contrary to misleading statements by some Sound Transit boardmembers, studying these alternatives does not mean Snohomish County gets anything less. Snohomish County could, in fact, serve more riders, fund the provisional SR 99/Airport Road station (it currently remains unfunded), and fund additional stations. County elected officials could also use savings to look into further extension northward and better connecting bus service in the South Everett area. That's not shortchanging anyone, that's giving Snohomish County residents more than their elected leaders apparently want to give them.
Weigh in now to improve the studies
Through March 10th, Sound Transit is accepting feedback on the Everett Link Extension alternatives. An online open house is available with more materials and sections to provide feedback. Comments can also be sent via email to everettlinkcomments@soundtransit.org. Now is the time to influence and improve the scoping process. To help out with that, here is some suggested feedback to provide Sound Transit.
Generally, urge Sound Transit to do the following:
Work intensively with the Casino Road and South Everett communities to improve alternatives, genuinely make engagement with the Community Advisory Group valuable instead of performative, and clearly transmit community positions to the Elected Leadership Group;
Study complete alternatives to the Boeing Deviation in South Everett that include alignment options on and near I-5 to SR 99 with multiple station locations, community enhancements like trails and public spaces, and new connecting bus services;
Study elevated alignments running down streets located within existing right-of-way and permanently removing some existing car lanes to reduce project costs and improve the nature of streets;
Use space under elevated alignments for multi-use paths, sidewalks, bike lanes, play and park spaces, and built-in retail/commercial activities;
Develop station designs that locate platforms as close to surface level as possible to reduce stairs and travel time to and from the surface;
Ensure station locations can be well integrated with local bus service, walking, and biking facilities; and
Ensure ample redundancy in any vertical conveyances at stations.
For station locations, urge Sound Transit to do the following:
Choose ALD-D at West Alderwood, which maximizes walkshed and land use compatibility;
Choose ASH-D for Ash Way which maximizes walkshed, bikeshed, and land use compatibility but build a pedestrian bridge across I-5 and refine station concepts to maximize mixed-use development of the station site(s);
Choose MAR-B for Mariner, which maximizes walkshed and land use compatibility;
Choose either AIR-A or AIR-B for SR 99/Airport Road, tame the approaching streets, and consider pedestrian bridges across the intersection if roads are not tamed;
Prefer EGN-D but can accept EGN-B for SR 526/Evergreen, tame the approaching roads, and consider pedestrian bridges across the intersection if streets are not tamed; and
Choose EVT-A for Everett Station since it better connects with transit and does not result in such awkward station locations and excessive property takings, but ensure future expandability to the northwest, consider an option on the east side of the BNSF tracks, and work to fully integrate and improve the transit connection experience.
Since all SW Everett Industrial Center station locations are fatally flawed, it may be best to communicate that to Sound Transit rather than pick a location.
For the OMF North locations and non-station alignment, urge Sound Transit to do the following:
For OMF North locations, Site F is the preferable location but Site E is an acceptable alternative. In further developing these alternatives, minimize residential displacements with more creative and out-of-the-box solutions.
For the segment between SR 526 and Everett Station, choose an elevated Broadway, consider alternative paths on Beverly Boulevard, Colby Avenue, and Interurban Trail, and identify potential future station locations.

Stephen is a professional urban planner in Puget Sound with a passion for sustainable, livable, and diverse cities. He is especially interested in how policies, regulations, and programs can promote positive outcomes for communities. With stints in great cities like Bellingham and Cork, Stephen currently lives in Seattle. He primarily covers land use and transportation issues and has been with The Urbanist since 2014.