Tacoma Dome Link is facing a three-year delay as Sound Transit recommends adding new options to avoid problems in Fife and South Federal Way.
The Tacoma Dome Link Extension (TDLE) likely won't open until 2035, Sound Transit announced Monday. The extension will add four stations and ten miles of mostly elevated light rail extending south from Federal Way Link. Originally, the Sound Transit 3 (ST3) measure approved by voters in 2016 pledged the Tacoma extensison would open in 2030, but that was pushed back to 2032 in the agency's 2021 schedule realignment. Now the likely date is 2035 due to several problematic aspects of the I-5 alignment. This week, Sound Transit revealed proposed changes to the TDLE plan to provide alternatives to those potential pitfalls.
The additional study would delay the timeline for both the Draft and Final Environmental Impact Statement (EIS) in addition to the slated opening of the project. The agency's proposal will go to the Sound Transit Board of Directors for review before a March 23 vote to either approve or reject the changes to the environmental study. While the new options may not end up getting selected by the board, the fact the agency is moving to delay the project by three years to add them suggests they'll get a hard look and that the other options may be untenable.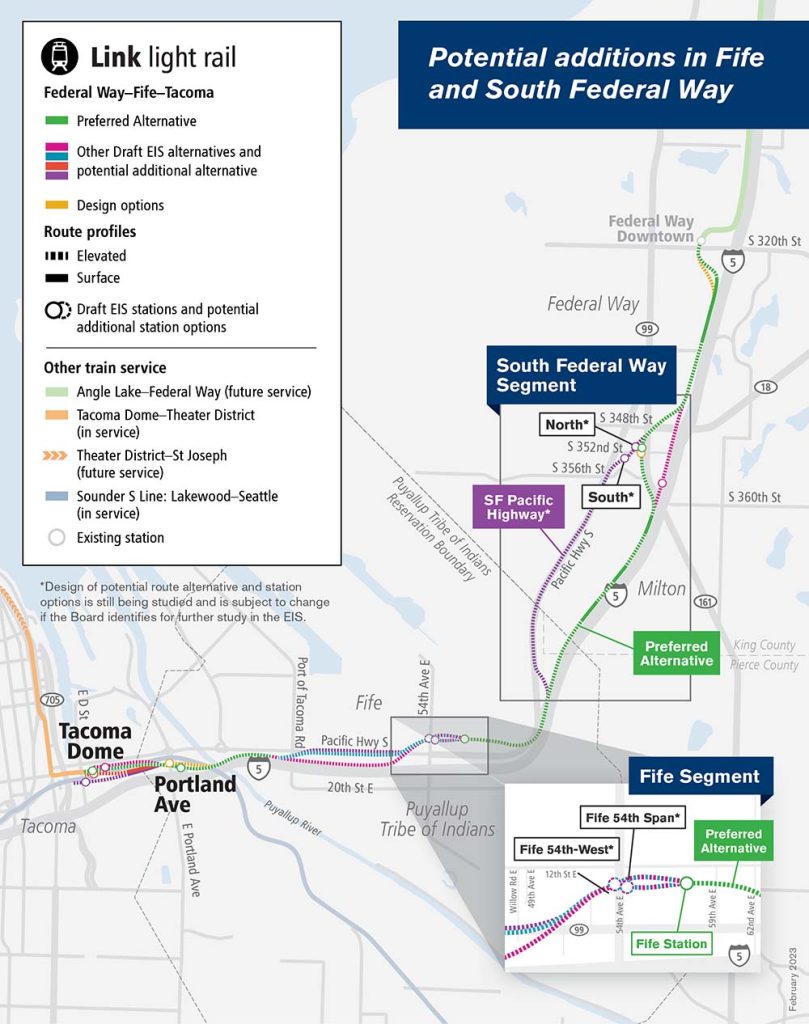 Sound Transit has a public survey open through mid-March. To learn more about the potential new alternatives in Fife and South Federal Way and weigh in, visit the project outreach page now through March 17.
The alignment changes under consideration affect two stations. A station and massive 500-car parking garage planned along I-5 in Fife may move roughly 1,500 feet to the west on 54th Avenue East, which Sound Transit attributed to floodplain issues. The agency is recommending that the board approve two new Fife station options for the environmental study since floodplain issues may rule out the one existing I-5 option.
"In Fife, we have known about floodplain issues for some time. However, further study revealed the need for an alternative outside the Fife ditch floodplain," Sound Transit spokesperson David Jackson said in an email. While the floodplain delineation did not change, further environmental study revealed that the mitigation for the station would be difficult prompting the new alternatives.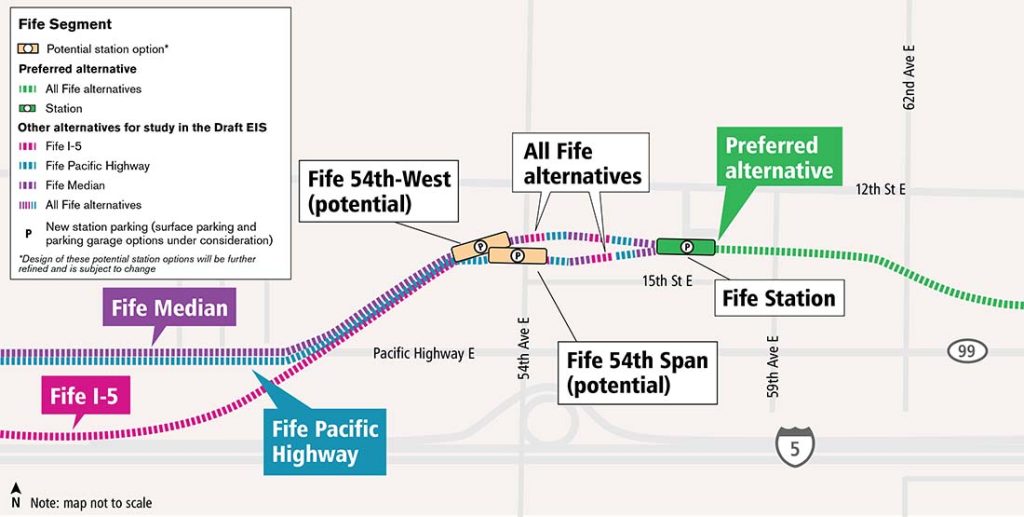 Concerns about soil conditions and impacts to cultural resources have changed the agency's calculus around a South Federal Way alignment, meanwhile, putting the Pacific Highway S (SR 99) route back in play.
"There was strong consensus around the I-5 alignment during scoping," Jackson added. "Sound Transit aimed to narrow the alignments as much as possible to meet ST3 project delivery timelines. Since that phase of the project, and through more detailed environmental review, we have learned we need an additional option through this challenging segment. There are unknown and potentially challenging soil conditions and cultural resources along the current I-5 alignment in South Federal Way."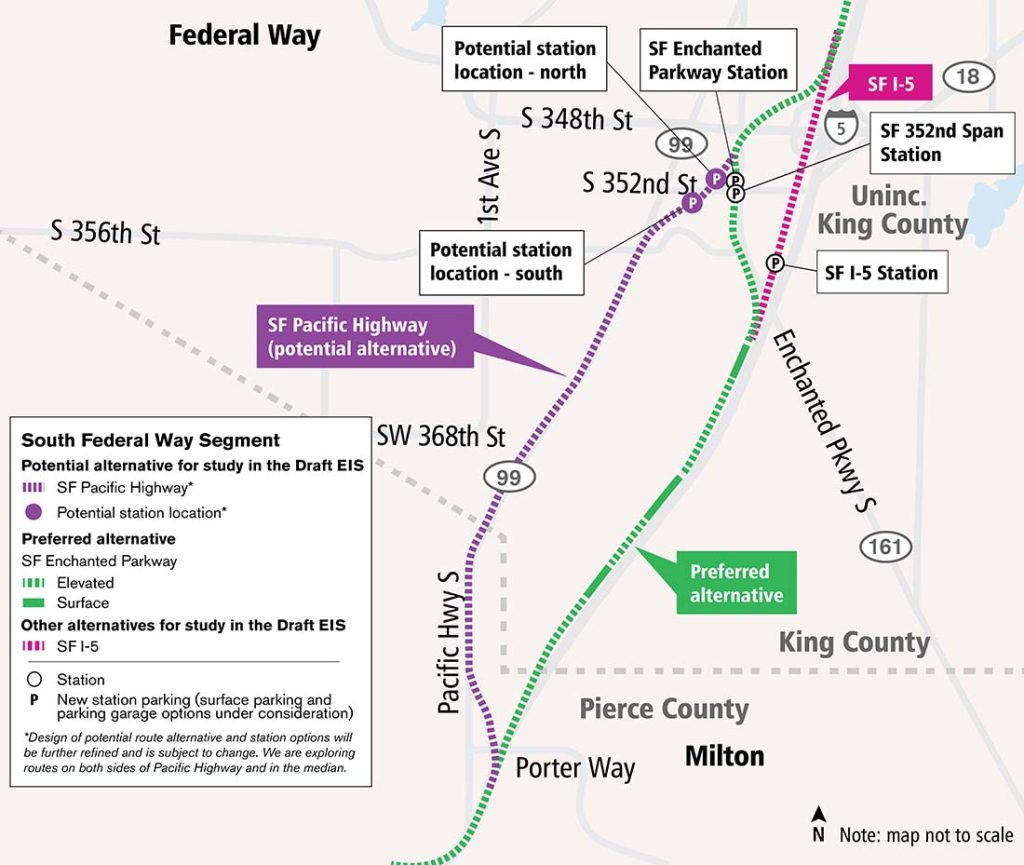 While the I-5 consensus was strong among elected officials in Pierce County and South King County, urbanists have routinely argued the folly of freeway light rail alignments and the merits of the SR 99 corridor due to its greater population density and transit-oriented development potential. But those were not the concerns that have jeopardized the I-5 alignment.
In its new survey, the agency alluded to the Puyallup Tribe of Indians, whose reservation is in the very middle of the route, and their recent determination that the I-5 route would unavoidably impact cultural sites. "Early coordination with Regional Tribal Partners identified known cultural resources adjacent to I-5," the agency wrote. "In recent communications they voiced that these impacts are unavoidable."
Building I-5 also had a negative impact on those cultural resources, but it was built before transportation agencies worried much about such things. Initially, Sound Transit thought an I-5 alignment could still mitigate harm to those cultural resources I-5 — a category which includes historic buildings, artifacts, archaeological sites and sacred sites — but it appears that was not ultimately the case.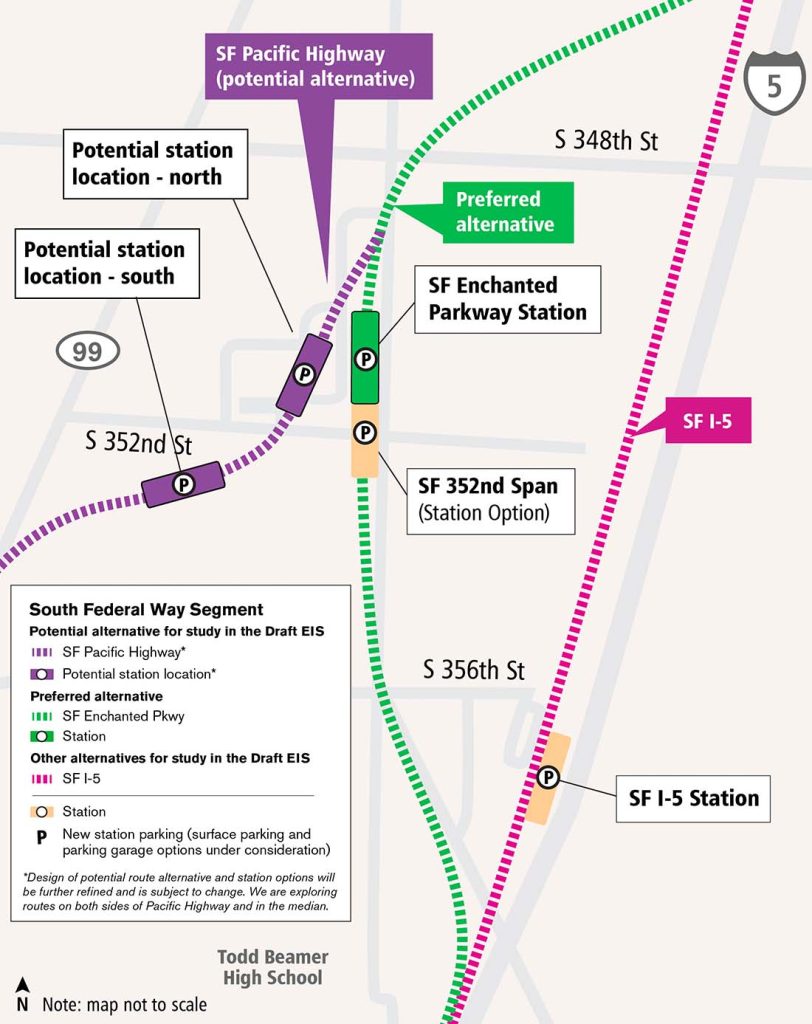 "We are exploring potential routes on both sides of Pacific Highway as well as in the median," the agency's new survey notes. "The design of this route would be further refined and is subject to change. We're also exploring two potential station locations for study in the vicinity of the SF Enchanted Parkway Station that would serve the Pacific Highway route."
Despite the Enchanted Parkway name, the area is a fairly nondescript stretch of sprawl, chain stores, parking lots, and light industrial uses. There certainly is potential for redevelopment if Federal Way chooses to seize it, but the City has shown some hesitancy on that front even as it advances a TOD district plan for the area.
To the south of Enchanted Parkway Station, Pacific Highway enters a heavily forested and sparsely populated greenbelt area along West Hylebos Creek, which seems to limit opportunity for an additional infill station or transit-oriented development.
The late additions will likely delay the Draft EIS, previously promised in spring 2021, to mid-2024. Through 2020, the agency was still pledging to publish the Final EIS in 2022, as The Urbanist reported, but pandemic delays and issues subsequently brought to light made a mess of that schedule.
As Jackson alluded, the agency had hoped that limiting options earlier on would speed up the EIS process, but it appears the opposite may be the case as options that had been previously eliminated for South Federal Way are set to be added back in. In Fife, Sound Transit had boldly selected just one station option, but it turns out siting that within a federally designated floodplain was a pretty big gamble for that sole option.
Reaction to the news
Leaders in Pierce County expressed dismay at the news. "This incompetence has gone on far too long. [Sound Transit] needs to deliver on its promise to South Sound. No negotiation," former Pierce County Councilmember Derek Young said in a tweet, adding the Pierce County Council should have a seat on the 18-member Sound Transit Board of Directors, which has the power of the purse and makes alignment decisions for the agency.
Pierce County has four seats on the Sound Transit Board. Pierce County Executive Bruce Dammeier is an automatic member by state statute and also appoints the other Pierce County members, just as the county executives in King and Snohomish Counties select their respective delegations. As a Republican, Dammeier has at times butted heads with his colleagues, who are overwhelmingly Democrats, and appeared more skeptical about the promise of light rail to shift transportation choices.
Young urged the board to offer "more direct oversight" and focus on delivering transit sooner regardless of technology, whether than rail or bus rapid transit or BRT: "I think prioritizing this connection and our BRT route over parking garages and unproductive stations would be a start." Pierce Transit's BRT plan for Pacific Highway is also facing major delays as well as dilution of scope, and the remainder of its BRT plan is in limbo.
Pierce County Councilmember Ryan Mello said the council will be sending a request to Sound Transit for expedited transit solutions in light of the delay. "I am deeply disappointed and frustrated these issues were not understood until now," Mello said in a tweet.
Sound Transit tried to look at the positive, and Jackson told the Tacoma News Tribune that the delay was smart. "We're never happy to delay projects," Jackson reportedly said Monday. "But in this case, it's the smart thing to do."
The Tacoma segment
The agency projects the Tacoma Dome Link Extension project will cost $3.3 billion to build and add an additional 27,000 to 37,000 daily riders to the light rail system by 2040.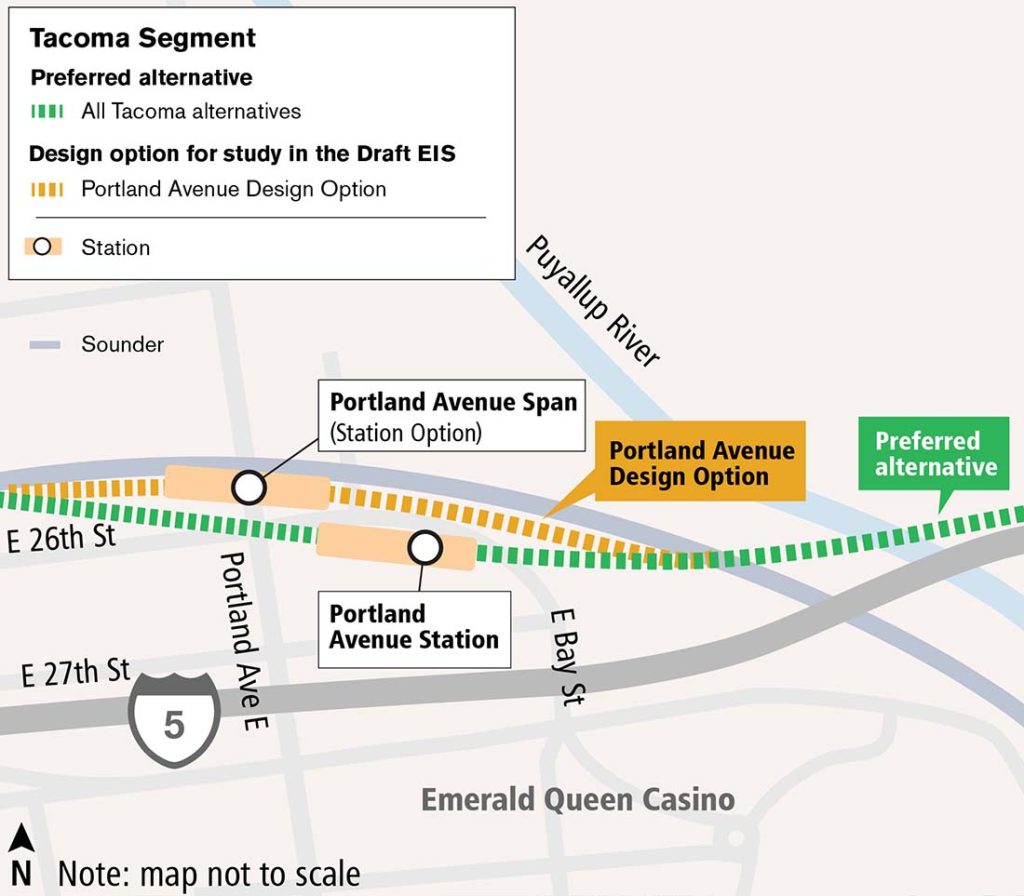 Sound Transit has not added new options for the Tacoma extension's new stations, therefore not including those locations in its new survey. One station is at Portland Avenue, just across I-5 from the Puyallup's Tribe's Emerald Queen Casino and Hotel (not to be confused with the Emerald Queen Hotel and Casino, which is just south of the Fife station). The other is the eponymous Tacoma Dome Station.
Since no changes are planned, what Stephen Fesler wrote in 2020 still stands. "The preferred Portland Avenue station location would be elevated just east of Portland Ave E and north of E 26th St. An alternative station location is under consideration just north and west of the location that would span Portland Ave E. Sound Transit is looking at an option to provide better pedestrian access to the station via a pedestrian bridge over I-5. There is no funding attached to this project element yet, but it is an option that could be included if deemed valuable and an access priority. Separately, the transit agency is working with the state's transportation department to allow future widening of pedestrian facilities under I-5."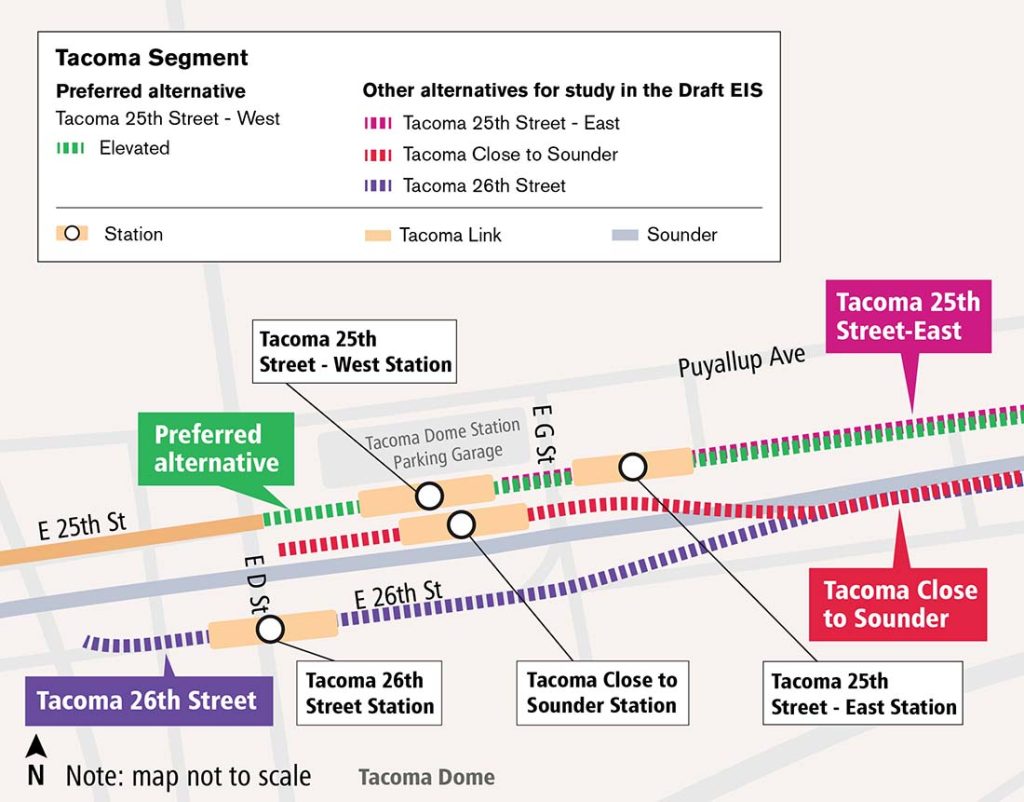 For the Tacoma Dome Station, the preferred alternative includes an elevated station situated on E 25th Street between D Street and G Street. "The station would be hemmed in by the Tacoma Dome Sounder station and parking garage/transit center," Fesler noted. "The station refinements identified by Sound Transit include a possible pedestrian and bike bridge over the Sounder and Amtrak railways, a pedestrian and bike bridge connecting the Tacoma Dome parking garage, and adjustment of the E 26th St station location eastward to span D St."
Also unaffected by the new proposal is the Puyallup River Crossing: "Sound Transit is considering two river crossing options, including a long-span bridge (approximately 560 feet) with no in-water impacts and a traditional piered bridge (two in-water piers and three spans). Whichever bridge is chosen, the transit agency plans to seek use of the old I-5 bridge crossing footprint that will be demolished as part of the I-5 widening and realignment project.
As long as alignments are in flux, some might argue for further tweaks. Urbanist contributor Troy Serad has argued Sound Transit should consider a Puyallup Avenue alignment that not only provides a direct bus-rail integration at the Dome, but could one day allow for a station in Downtown Tacoma, providing a proper terminus for the line. As it stands, riders will need to transfer to Tacoma's T Line streetcar, bus service, or other last-mile solutions to reach downtown.
Visit the project outreach page by March 17 to weigh in on the survey.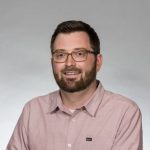 Doug Trumm is publisher of The Urbanist. An Urbanist writer since 2015, he dreams of pedestrianizing streets, blanketing the city in bus lanes, and unleashing a mass timber building spree to end the affordable housing shortage and avert our coming climate catastrophe. He graduated from the Evans School of Public Policy and Governance at the University of Washington in 2019. He lives in East Fremont and loves to explore the city on his bike.