King County Metro will start rolling out a new on-demand microtransit service, Metro Flex, on March 6th. Riders will be able to request pickup and drop-off within defined service areas via a mobile app, which is similar to several other microtransit services that the agency has been piloting for several years now. Metro Flex will feature of a fleet of 31 Toyota Sienna minivans with most capable of carrying up to six passengers. Rides will cost the same as a regular bus fare.
With the introduction of Metro Flex, the existing Ride Pingo to Transit, Via to Transit, and Community Ride microtransit services are being retired, though the existing contractor Via Transportation, Inc. will be the operator of the new service. Metro Flex will cover their service areas and will offer a noticeable improvement in making trips for some riders. Metro Flex will allow trips to be made anywhere in a service area rather than requiring riders to start or end a trip at a specified community hub like Ride Pingo to Transit and Via to Transit do now.
To use the service, riders will need to download the Metro Flex app (available on iPhone and Android) and setup a profile. Riders can opt to add a credit or debit card to pay fares via the app or pay onboard via ORCA or a digital Transit GO Ticket. The latter two options allow for transfers to other transit services for free or paying the fare difference via ORCA e-purse. Cash and paper tickets will not be valid fare payment on Metro Flex.
Once a profile is setup, riders can choose the pickup and drop-off locations using the interactive map or searching addresses or a destination. Riders can also use favorite places they have saved in the app, such as home, work, and retailers. After an origin and destination are set in the app, riders can choose if any extra passengers will be joining them for a journey and then wait for a trip confirmation. Riders will be provided with a specific pickup location, which may be slightly different than the one they chose, and an estimated pickup time.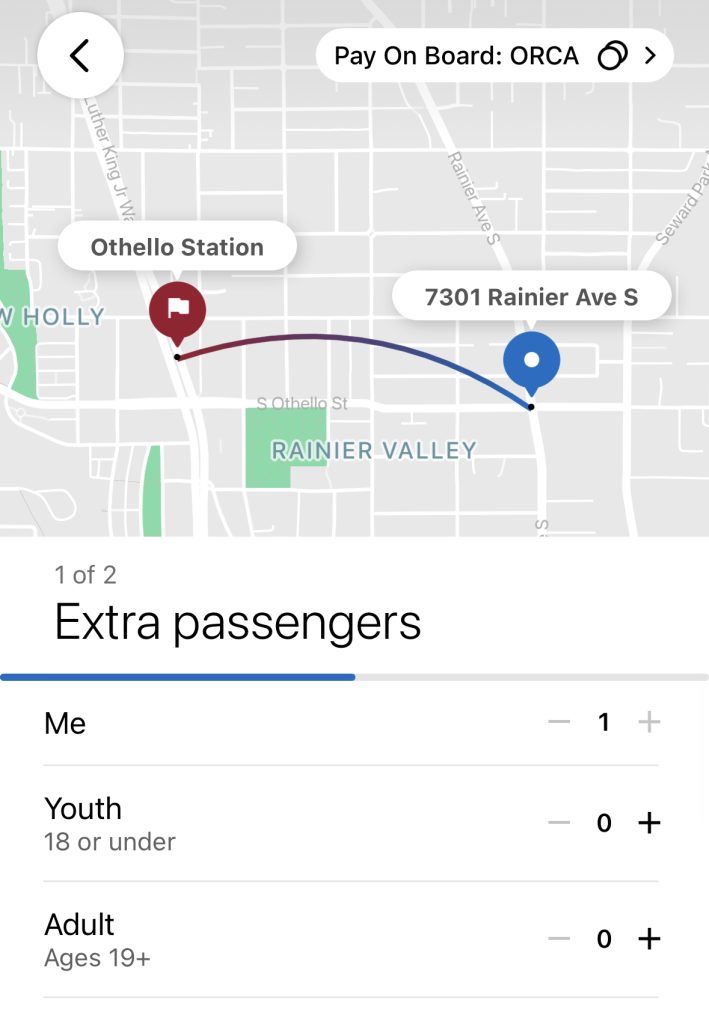 Riders needing wheelchair or additional accessibility should flag that in the app's special settings tab so that a wheelchair accessible vehicle is dispatched. The special settings tab also allows riders to flag other special needs or circumstances unique to them, such as being a youth, holding an ORCA LIFT card, or having an impairment requiring use of a service animal. Metro reports that 10 of the 31 minivans will be wheelchair accessible and that wait times for these specially-equipped ones are carefully monitored to ensure similar response times. Eight vehicles will also offer bike racks and luggage can be stored in trunks.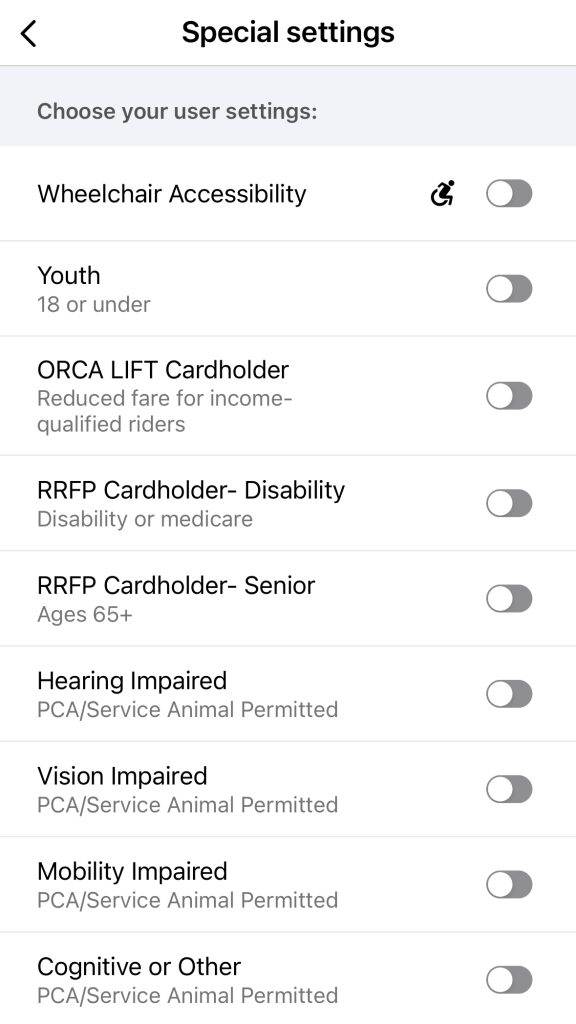 Riders should note that they may share trips with other riders who are picked up along the way. And in some cases, the app may direct riders to a bus or train if the trip would be best served by one of those options.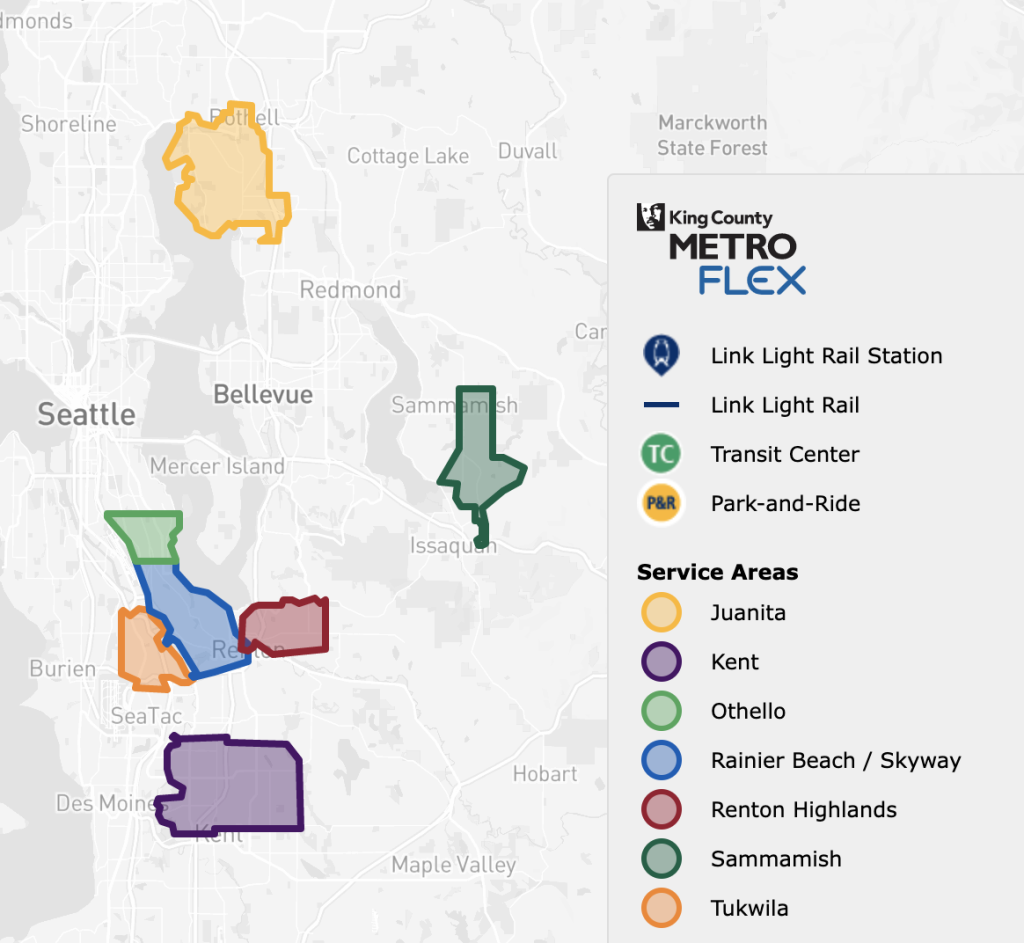 Seven service areas will be covered by Metro Flex, but the hours and days of operation do differ as follows:
The Othello, Rainier Beach/Skyway, Tukwila, and Renton services will operate on weekdays from 5am to 1am and weekends from 6am to 12am;
The Kent service will operate on weekdays from 5am to 7pm and weekends from 7am to 7pm;
The Sammamish service will operate on weekdays from 7am to 6pm and weekends from 9am to 12pm; and
The Juanita-Kenmore-Bothell service will operate on weekdays from 7am to 7pm.
The consolidated microtransit service does simplify Metro's offerings and makes them consistent, which should encourage more people to use them across different geographies. Riders are also sure to appreciate being able to use Metro Flex for more trips, but the fact that not all vehicles will be wheelchair accessible is problematic and whether or not riders will like the smaller vehicles is an open question.

Stephen is a professional urban planner in Puget Sound with a passion for sustainable, livable, and diverse cities. He is especially interested in how policies, regulations, and programs can promote positive outcomes for communities. With stints in great cities like Bellingham and Cork, Stephen currently lives in Seattle. He primarily covers land use and transportation issues and has been with The Urbanist since 2014.