Social distancing and hygiene best practices will be incorporated into operations, but driver welfare remains a concern.
Starting June 22th, Via to Transit, King County Metro's on-demand shuttle service will resume its service to Rainier Beach, Othello, and Tukwila International Boulevard light rail stations. The service resumption occurs one day earlier from when Metro will bring back 23 bus routes and add trips to other routes, restoring service to about 85% of pre-Covid levels. Water taxi service between Downtown Seattle and West Seattle will also be partially restored.
Suspended in late March due to the Covid-19 pandemic, the $3.2 million Via to Transit microtransit pilot is currently embarking on its second year. In contrast to previous regional on-demand shuttle experiments, Via to Transit has exceeded expectations, averaging about 800 riders daily. Service will be available all week in Seattle and weekday peak times in Tukwila, but all rides must occur within the service area, originating or ending at one of the designated light rail stations.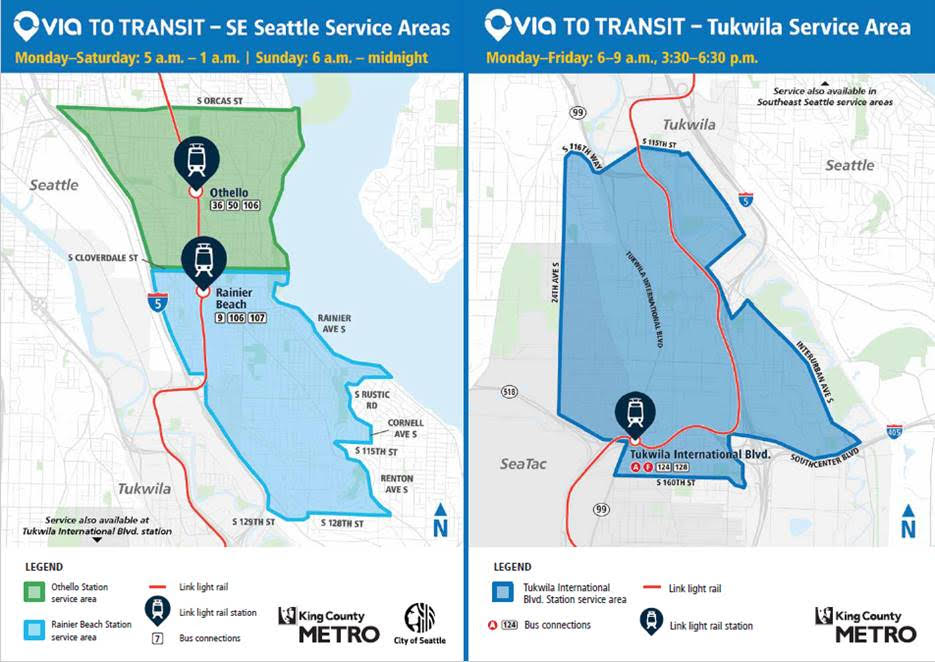 The key to the Via to Transit's success might lay in the service area it covers and its user demographics. One of Via to Transit's original goals was to provide service in areas with high percentages of residents with low incomes, people of color, and individuals with limited English proficiency. By targeting a section of Southeast Seattle and Tukwila with both spotty transit service and diverse demographics, it appears to have hit the mark. According to data collected in the first year, about 30% of Via to Transit's riders are low-income. Additionally some of Via to Transit's vans are wheelchair accessible, increasing transportation options for people who use wheelchairs or have other mobility assistance needs.
Some of these features distinguish Via to Transit from other regional microtransit pilots, notably the defunct Ride2 Eastgate, which ferried riders to transit stops in a more affluent suburban area where car ownership is high.
"We are redeploying Via to Transit for second year in order to maximize our transportation network in areas where those needs are greatest, reflecting our commitment to create mobility for all–safely, equitably, and sustainably," said King County Executive Dow Constantine in a press release.
However, with lowered frequency of Link light rail at 20-minute headways at best, the usefulness of Via to Transit service restoration could be somewhat blunted.
How will Via to Transit ensure passenger and driver safety?
Whether or not Via to Transit pilot continues to perform successfully in the Covid era remains an open question. Whereas previously all rides were shared, Via to Transit will now only provide private rides to individuals or small groups, decreasing efficiency and increasing cost per ride, which was already a cause for concern among public transportation advocates such as the Transit Riders Union.
Total cost per boarding on Via is about $10, almost double Metro's systemwide cost of $4.92. That high cost may come under increased scrutiny as local governments grapple with budget constraints. Between decreased fare collection and loss of sales tax revenue, Metro currently projects a revenue shortfall of nearly $280 million for 2020. While much of the 2020 shortfall will be replaced by funding from the federal CARES Act, beyond that the agency's financial outlook remains unclear.
Additionally in order to decrease the likelihood of Covid transmission riders and drivers will be required to follow safety measures which include confirming they are symptom free on the app before booking occurs, wearing face coverings or masks if they are able to, and maintaining social distance. A barrier will also be placed in the vehicle, separating drivers and passengers.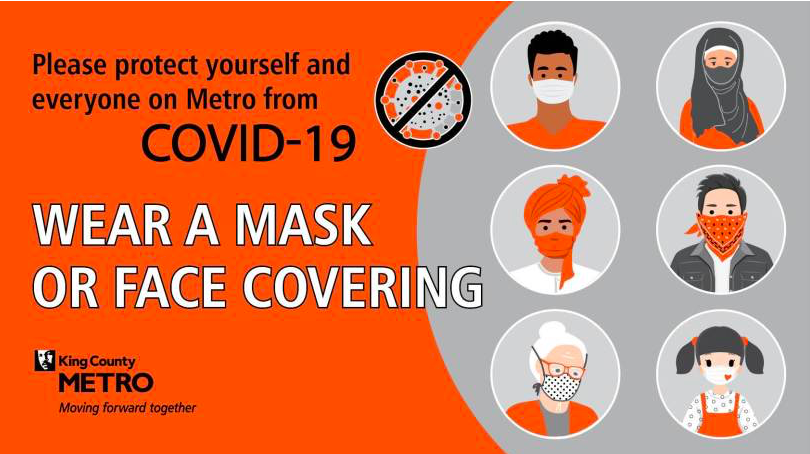 Drivers will be responsible for wiping down vehicles with EPA-approved disinfecting products throughout their shifts and vehicles will have an enhanced sanitization daily.
While Via to Transit has pledged to provide drivers with paid sick leave if they become sick with Covid-19, concerns around driver welfare remain. Because Via is a private company, drivers do not receive the same wages or healthcare benefits as King County Metro employees. Via drivers are gig-economy workers who receive an hourly wage, which they agree to accept before signing on to a shift.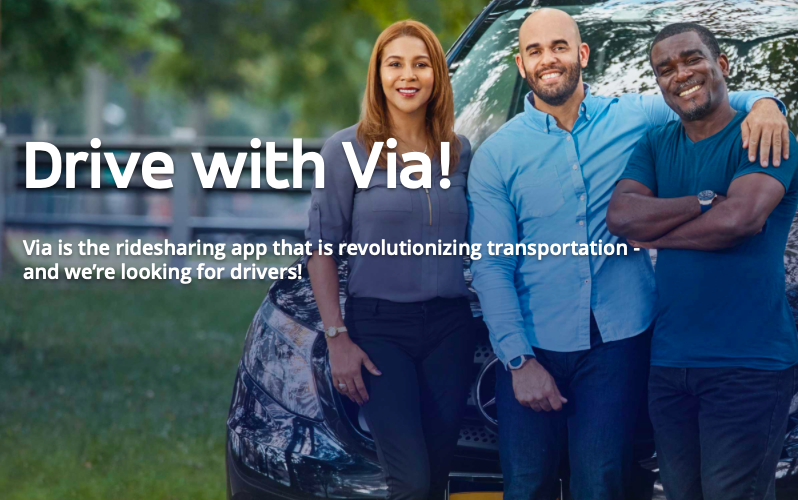 A 2018 report by the New York taxi and limousine commission found that Via drivers had the highest hourly earnings of any rideshare company operating in the city. However, with Via drivers earning roughly $21 per hour, the data underscores how low rideshare driver's earnings are. As reported by Crosscut, Via to Transit drivers in King County are paid $15 per hour, with earnings increasing during high demand periods.
With the transition to private trips, carrying fewer riders might result in drivers' earnings taking a hit. Last week, the Seattle City Council passed an ordinance guaranteeing premium pay for app-based food delivery workers under the argument that these workers perform an essential service. It is conceivable that a similar logic could be applied to the work of Via to Transit drivers, whose work helps ensure that vulnerable people in Southeast Seattle and Tukwila remain connected to public transportation.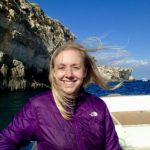 Natalie Bicknell Argerious (she/her) is Managing Editor at The Urbanist. A passionate urban explorer since childhood, she loves learning how to make cities more inclusive, vibrant, and environmentally resilient. You can often find her wandering around Seattle's Central District and Capitol Hill with her dogs and cat. Email her at natalie [at] theurbanist [dot] org.