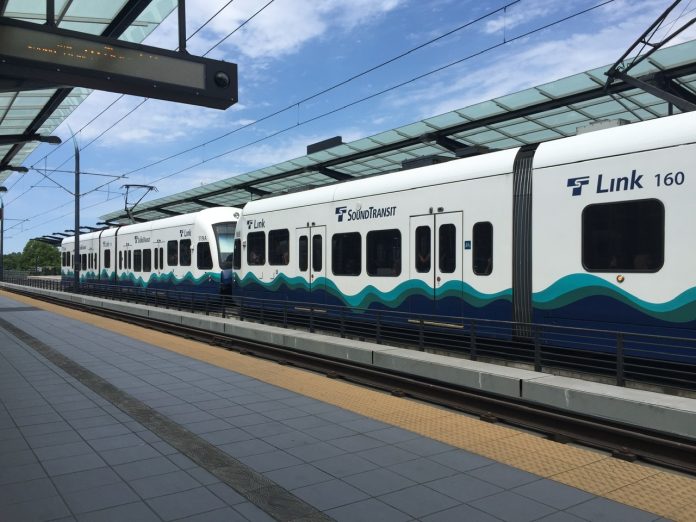 Puget Sound transit agencies are beginning to restore service and fare payment is returning on some services. Pierce Transit and Sound Transit have released their initial recovery plans that will begin as soon as May 24th. Community Transit also plans join the other two transit agencies in implementing fare collection, at least on the Swift bus rapid transit network initially.
King County Metro recently added back some bus service on in-demand bus routes to address crowding issues that were leading some riders at the curb due to social distancing capacity protocols. The restoration of service and fare collection across transit agencies will likely continue to come in waves as summer approaches and people return to work. Metro still hasn't selected a specific date to resume fare collection, though fare-free rides could end after May 31st—the day that Metro has formally extended fare-free rides at this time.
Pierce Transit service changes
Pierce Transit has promised a modest slate of service restorations. Normal weekday schedules will return to Routes 1, 2, 48, 58, and 500 with Route 1 receiving enhanced service. Weekday frequencies for on about two dozen routes will match that of Saturdays, but with start and end times typical of weekdays. Routes 3, 4, 10, 11, 16, 28, 41, 42, 45, 52, 53, 55, 57, 100, 202, 206, 212, 214, 400, 402, 409, and 501 fall into that service category. Route 63 will maintain a reduced and modified schedule on weekdays and Route 497 will be aligned with the Sounder commuter rail schedule on a reduced schedule. Pierce Transit plans to keep Route 13, 102, and 425 canceled until further notice.
Riders can expect revised Pierce Transit schedules to be posted on Wednesday. The transit agency plans to operate the service schedule until the next service change in mid-September. Beginning on June 14th, Pierce Transit will fully restore fare collection on bus and shuttle services. Riders will need to board from the front of buses and pay fare by the operator. Fares can be paid with by cash, ORCA card, or the Hopthru app–the latter two options effectively being contactless methods.
Sound Transit is planning a wider set of changes that will affect a much larger share of transit riders, but in two rounds of changes. Coinciding with Pierce Transit's service changes, Sound Transit will roll out changes on May 24th to ST Express service based in Pierce County and King County. That will then be followed with increased Link light rail service and fare collection resuming on light rail and commuter rail service on June 1st.
How to get "Recovery Fares"… It's not as simple as a tap
Riders on light rail and commuter will begin paying fares again at a reduce rate next month that Sound Transit is calling "Recovery Fares." Sound Transit will charge $1 for Link light rail and $2 for Sounder trains, but those tapping on with their ORCA cards will not get this "Recovery" discount. That means ORCA LIFT holders will pay more on Link unless they pay cash or use the Transit Go app. The planned update of ORCA card system dubbed ORCA Next Gen would have solved this clunky pricing issue. Alas, Orca Next Gen is still years away with late 2022 targeted rollout of new cards.
Fare collection was suspended across the transit network during the height of the pandemic to encourage ridership, aid in COVID-19 social distancing and sanitation, and reduce the need to focus resources on sterilizing so many surfaces. Light rail and commuter rail primarily relies upon off-board fare payment at ORCA card readers, ticket vending machines, or the Transit GO Ticket app. Riders will need to use those mediums to pay fare. Fare enforcement officers will begin notifying riders of this upcoming set of changes in the weeks ahead.
Unfortunately Sound Transit has opted to associate fare-free transit with uncleaniness in justifying the change. "The agency saw a dramatic increase in unsanitary conditions, rider complaints and incidents of vandalism after fares were temporarily suspended in March," Sound Transit said in a press release. "The issues have been associated in part with riders taking repetitive trips without apparent destinations."
Perhaps Sound Transit's assumptions are correct and more homeless people have been riding transit during this pandemic, but can we really blame them when overcrowded shelters make social distancing all but impossible? The new regional homelessness taskforce badly needs to enact policy changes to enable social distancing at homeless shelters to lower the risk of spread. Until the taskforce can provide safe shelter, one can see why camping and riding trains "without apparent destinations" would be on the rise–particularly when the economy is spiraling and people are struggling to pay their bills.
Sound Transit service changes and Community Transit fares
The ST Express service changes will bring full restoration of weekday service to Routes 560, 574, 577, and 594. Route 578 riders will also benefit from full weekday service with some extra trips during the afternoon peak period to compensate for reduce Sounder South commuter rail service. Several other routes will see weekday service improvements, but fall short of full service restoration, including Routes 566, 586, 590, 592, and 595.
Sounder South commuter rail service has been reduced due to declining ridership from the pandemic. Thus, the special bus-to-train Routes 580 and 596 in Puyallup and Sumner will maintain service that matches reduced commuter rail service. Link light rail riders, however, will benefit from more frequent trains on weekdays. Trains will arrive every 20 minutes during daytime hours instead of every 30 minutes. Evening and weekend light rail service will be maintained at half-hourly frequency.
Sound Transit plans to release revised schedules later this week as timetables are finalized and schedules should be maintained until the mid-September service change.
Community Transit is not yet restoring service, but fares are returning to the Swift bus rapid transit network in June 1st. Regular fares will apply to the Swift Blue and Swift Green lines, but riders will need to pay off-board at station platform using ticket vending machines or ORCA card readers. The transit agency plans to maintain current protocols for loading and unloading at middle and rear doors of the buses only, meaning riders cannot pay at the front with the driver. The front of buses will be maintained for people who need special accessibility accommodations only.
Community Transit is proactively seeking input on rider concerns about COVID-19 and how the transit agency should respond with service protocols and adjustments. The questions asked in the survey could be critical in modifying system operations in the coming months.
As service is restored, however, riders will need continue to maintain social distancing and public health protocols as much as possible to eliminate transmission of COVID-19. Transit agencies have continuously reminded riders to stay home if they are at all sick, cover all coughs and sneezes, wash and sanitize their hands frequently, always wear a cloth face mask, and physically distance themselves as much as reasonably possible while on- and off-board transit vehicles. Riders will also need to be flexible in the weeks and months ahead as operational protocols change to protect riders and operators alike and service changes are implemented in responding to ridership demand.

Stephen is a professional urban planner in Puget Sound with a passion for sustainable, livable, and diverse cities. He is especially interested in how policies, regulations, and programs can promote positive outcomes for communities. With stints in great cities like Bellingham and Cork, Stephen currently lives in Seattle. He primarily covers land use and transportation issues and has been with The Urbanist since 2014.