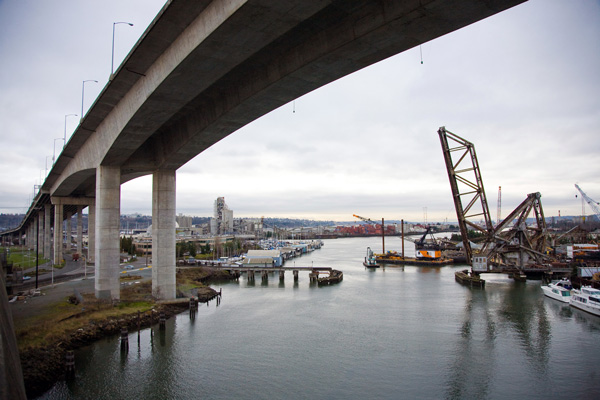 While some are in a rush to rebuild aging bridges and expand car capacity, less is more when it comes to car lanes. Instead we must prioritize people walking, rolling, and biking on our bridges.
In a city as surrounded by water as Seattle, bridges are an obsession. Every campaign season they become a hot button issue as local candidates make the case their local bridge is a regional–if not national–priority.

The Magnolia Bridge is a great example of this phenomenon. Serving a peninsula with some 20,000 residents and two other bridges over the Interbay railyard, nonetheless we are to believe the third bridge serving this quiet enclave that fought inclusion in the city's urban growth strategy is essential. In fact we are told it must be a "1:1" replacement (if not larger) to let the cars flow at high speeds and avoid a whopping 1.2-mile detour. That's exactly the wrong strategy, especially when it comes to meeting our climate goals and designing a just and green rebound from the Covid recession. We can find a lot better ways to spend the money.
The City's Magnolia Bridge study included a more modest replacement option that shortens the bridge span and provides better connections for buses and people walking, rolling, and biking while costing significantly less to build. Nonetheless, most of the local discourse remains laser-focused on a full 1:1 replacement which the City estimates will cost $420 million.

West Seattle can make a better case for the 36-years-old but crumbling West Seattle Bridge since it serves a larger area with fewer reasonable alternatives. And perhaps that will spell delay for the Magnolia Bridge as West Seattle leapfrogs it on the priority list.
Design bridges for the traffic you want
But again, keeping every single lane of car traffic (or adding even more) makes the case for replacing a bridge weaker, not stronger. For one it jacks up the price tag. It also locks in higher levels of carbon emissions. Highway boosters have us convinced that congestion relief is just around the corner if we build roads wide enough, but instead congestion returns and it's always just another road widening project that's around the corner. By chasing level of service for cars, we create a self-fulfilling prophecy of ever increasing vehicle miles traveled and greater car dependency.

We simply don't need to replace every one of the suddenly defunct bridge's seven lanes. At least if we take our commitment to the climate, to transit, and to safety seriously.

Strong transit, walking, and biking options offer a way off the highway booster hamster wheel. It's a virtuous cycle where rising mode share for transit, walking, and biking decreases pollution and makes our network more efficient. Due to the safety in numbers effect, bicycling gets safer as more people do it. Transit's efficiency goes up as more people ride it.

Increases in private vehicle miles traveled, on the other hand, typically correlate to more crashes and more road deaths. The exception may be the Covid era when deadly crashes are on the rise despite falling vehicle miles traveled and decreases in overall crashes–rampant speeding on emptier roads is the likely culprit.
Temporary lanes closures for social distancing
Bridge replacement decisions might still be years in the making, but in the near-term our mayor and transportation department can live their espoused principes by dedicating lanes on bridges to people walking, rolling, and biking in order to decrease crowding on sidewalks and bike lanes.
Seattle Neighborhood Greenways has proposed just that on the Fremont Bridge and the Ballard Bridge, which is far too narrow and has long been a dangerous spot for bicyclists and pedestrians. The Jose Rizal Bridge is another strong candidate. Coning off the outside lanes for bikes and pedestrians could tide us over until the protected bike lane planned on that bridge can open–which could be as soon as this fall.
Dedicating some lanes on bridges to people walking, rolling, and biking would build on the wildly popular Stay Healthy Streets program that has expanded to 23 miles of neighborhood streets. The open streets program has helped people find places to get around and exercise with ample social distancing, safety, and comfort. The problem is the program leaves out many neighborhoods, commercial districts, and key bike routes, particularly in our densest areas. We must expand the program and alleviate chokepoints prone to crowding–our bridges being high on the list.
Mayor Jenny Durkan spoke to the need to take Covid as an opportunity to advance the City's goals on transportation and the environment during a recent KUOW interview. 

"The air is so much fresher, and the noise is so much reduced with fewer cars. And we're seeing that not just in Seattle, but around the globe," she said. "How do we break our dependency on oil at a moment in time when so few people are driving and using oil? I think it's a huge opportunity."

We couldn't agree more.

Now is the time to follow through on our lofty aspirations with actions. The city's bridges–though highly contested spaces that cars have grown acustomed to ruling–are exactly where we will break our car dependency.
The editorial board consists of Natalie Bicknell, Ryan Packer, and Doug Trumm.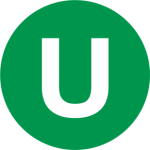 The Urbanist was founded in 2014 to examine and influence urban policies. We believe cities provide unique opportunities for addressing many of the most challenging social, environmental, and economic problems. We serve as a resource for promoting and disseminating ideas, creating community, increasing political participation, and improving the places we live.