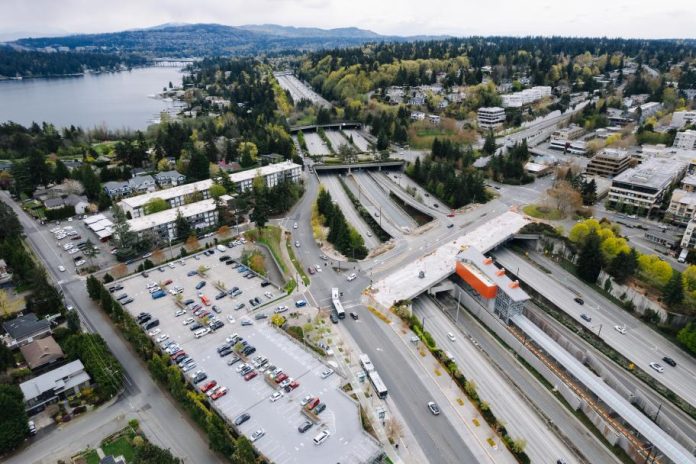 Sound Transit revealed delayed timelines for its next four light rail extensions Thursday. Defects in concrete plinths in a four-mile section of East Link through Mercer Island and Seattle have caused a delay of at least a year, pushing the expected opening from July 2023 to late 2024. The Federal Way light rail extension, meanwhile, has been delay by about one year to 2025 by unexpectedly problematic soil conditions near the McSorely Creek Wetland in Kent.
The Downtown Redmond Link extension is pushed back to 2025, which the agency primarily attributes to the four-month concrete delivery strike earlier this year. The agency expects to miss its December 2024 target for Downtown Redmond Link by four to five months.
Lynnwood Link is expected to see a four- to six-month delay beyond its July 2024 target, Sound Transit said, which still leaves some hope of a late 2024 opening. Beyond the now accounted for concrete strike and pandemic impact delays, Lynnwood Link project risks are low, which indicates further delays are unlikely, the agency said.
"Within about the next four years, our carbon- and congestion-free light rail system will more than double from 26 to 62 miles and from 25 to 50 stations," Sound Transit Interim CEO Brooke Belman said in a statement. "While we are on a path to fully resolve impacts of Covid-19, the concrete delivery strike, and our construction challenges, we have more work to do before we can reliably establish opening dates. We will work tirelessly with our contractors to complete these extensions as rapidly as possible without compromising on safety or quality."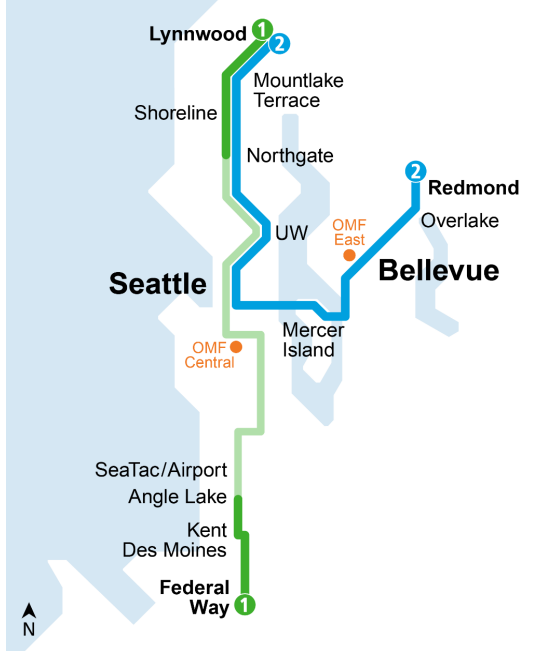 While possibly just poorly chosen words, Belman's pledge of within "about" four years hints Sound Transit isn't even guaranteeing to open all four lines by 2026 which it had previously pledged by 2024. With the defects with the East Link plinths still not fully assessed, further delays could be in store, but it's hard to see any projects slipping past 2026 based on what Sound Transit has revealed thus far. And for now, all seem to be pledged for 2025, if not sooner on Lynnwood Link's part. The light rail delays also likely entail delays for the associated bus network restructures, with King County Metro planning a major Eastside bus restructure and Metro and Community Transit also planning to overhaul bus routes north of Northgate. Both had been timed to and designed around the opening of light rail.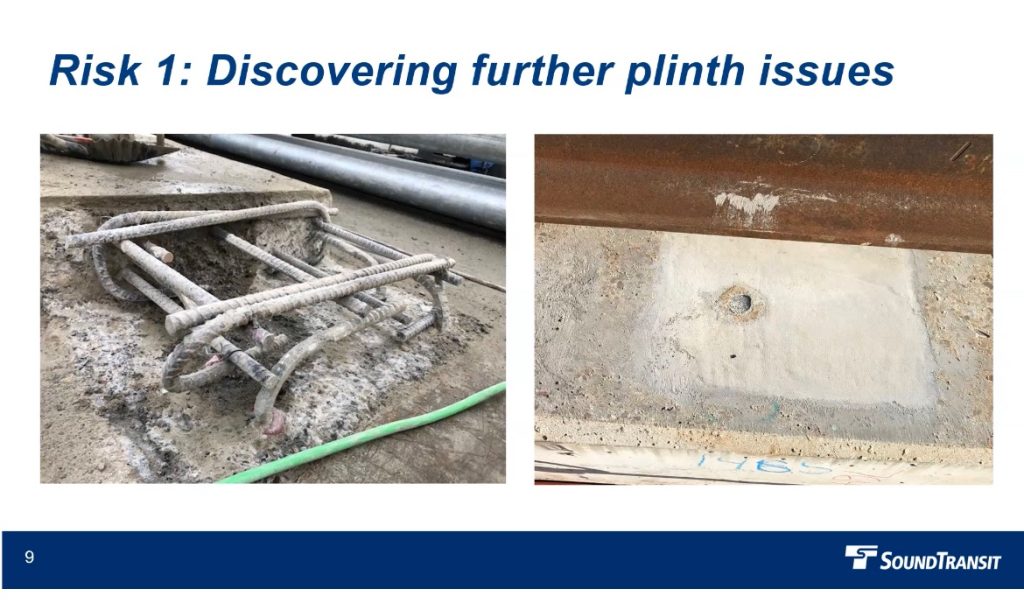 Construction issues have piled up on the projects, but the agency has reassured the Sound Transit Board's Systems Expansion Committee that it has a plan to correct them and avoid similar problems in the future. Deputy CEO Kimberly Farley laid out these steps in a memo shared with the board. The first step was a thorough analysis of the risks facing each projects, Farley explained.
"The second step, now underway, is to analyze the implications of projects' current status at a programmatic level," the Farley memo states. "A programmatic risk analysis will evaluate shared resources (such as staff and capacity for conducting safety certifications) needed across the projects opening in similar timeframes. It will also look at project sequencing."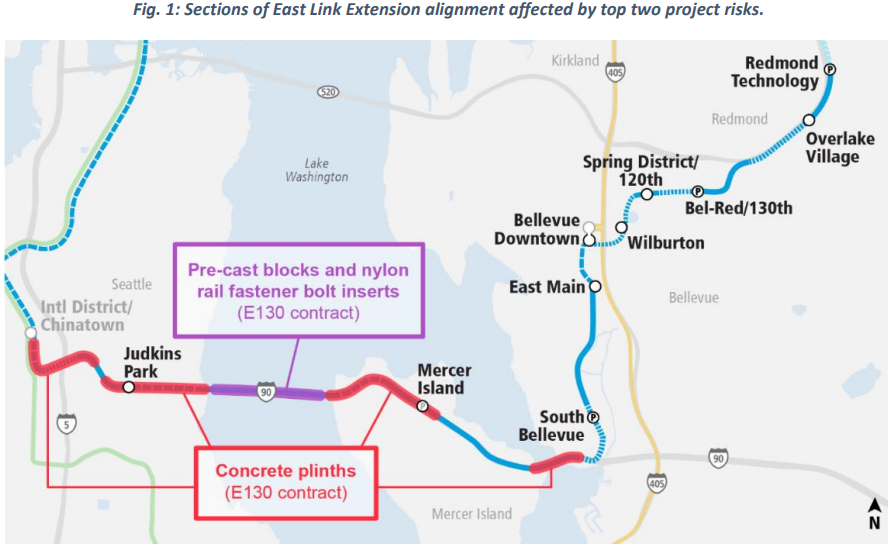 Sequencing will be particularly tricky since some projects may leapfrog others. Lynnwood Link may open before the entirety of East Link, for example, and a late East Link opening would rob the system of operational capacity of an added base. This could cut into light rail frequencies possible until East Link does open.
"Without mainline access to the OMF East, service on the 1 Line will be limited by OMF Central capacity and more dependent on reliable performance of the new light rail vehicle fleet operated out of the base in Seattle," the memo notes. "We are analyzing operating strategies to mitigate impacts and to determine what service levels can be provided if the 1 Line expands to Lynnwood and/or Federal Way before East Link crosses Lake Washington."
Just as opening four lines in the space of a year was sure to be a challenge for the agency from mid-2023 to mid-2024, the same could be even more true if all the timelines are pushed back a year but remain jumbled together. One added complication is that concrete companies still haven't signed their mixer truck drivers to a long-term contract, instead operating on a short-term truce. The owners continue to refuse to meet the demands that the union is making around retirement benefits, and another concrete stoppage may be imminent.
"Our intent is to continue intensive focus on eliminating or reducing risks and to open the projects as rapidly as possible without compromising their safety and quality — including providing positive passenger experiences from the first day of service through many decades to come," the memo continued.
During the meeting, Expansion Committee Chair Claudia Balducci pressed the agency heads to consider opening the eastern half of East Link sooner while the plinth issues are addressed in the pinchpoint at the floating bridge over Lake Washington. Since East Link included a new Operations and Maintenance Facility (OMF East) in Bellevue's Spring District, the line theoretically could operate independently until the Mercer Island and Seattle tracks are fixed and it interlines with the whole system.
Likewise, although it didn't come up in the meeting, it may be possible for Seattle's Judkins Park Station to open early with truncated service to Northgate, which would provided the added benefit of increasing light rail frequencies in the busy sections through the core of Seattle. The defect issues are to the east of Judkins Park, apparently leaving a clear path to Downtown Seattle. However, the agency did stress that it was counting on storage capacity at OMF East to expand its systemwide fleet, which will limit capacity on the 1 Line until the 2 Line reaches the Spring District facility.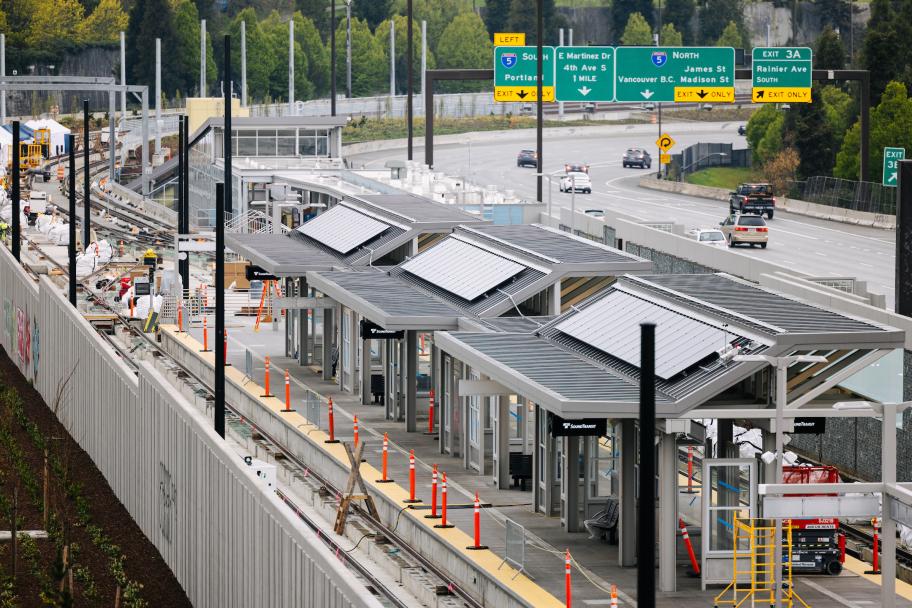 Later on in the meeting, Seattle Mayor Bruce Harrell, who serves on the Expansion Committee, expressed his frustrations with the worsening delays and said Sound Transit "isn't meeting a standard of excellence."
The agency also admitted it had known about some of the East Link construction issues since 2019, but opted not to inform the board until this year mistakenly thinking it had a handle on correcting the issues without jeopardizing timelines. This concealment will likely play into ongoing frustrations from boardmembers about being kept in the dark, particularly when it comes to bad news. Likewise, journalists, including those from The Urbanist, who pressed the agency on project timelines were generally given the run around and not clued in on the extent of issues. Incoming CEO Julie Timm has pledged to increase transparency and tighten up project delivery, but it appears the agency has a long way to go.
The agency acknowledged that constructing so many lines at once does bring challenges, particularly when labor market is so tight during the pandemic, making it harder to line up skilled labor and stretching existing agency resources to the limit.
On the other hand, agency heads said the delays won't entail major cost overruns. Farley told Mike Lindblom of The Seattle Times that the concrete strike and Covid delays would lead to longer contract deadlines, instead of extra payments.
"Contractor Kiewit-Hoffman is expected to partially replace the top 6 to 18 inches of these concrete blocks, known as plinths, or to surround them with reinforcing materials, said Jon Lebo, Sound Transit's executive project director for East Link," Lindblom reported. "Contractors and advising engineers will conduct tests of different approaches, he said."
Lebo told Lindblom that an earlier attempt to reinforce poorly constructed plinths with mortar failed. "Workers have been lifting rails this year, to grind and resurface plinths that were built incorrectly to the wrong dimensions or contained weak concrete," Lindblom wrote. The corrective work spans four miles and 5,455 plinths. Sometimes the rebar was set too deep in the concrete blocks, and other times it was too close to the surface.
"[O]ur relationship with the contractor is quite good," Farley told Lindblom. "We're in solution mode, to find out how to resolve these issues rather than point fingers at each other."
The extent of the ground stability issues with Federal Way Link were revealed last month by what the agency calls a "localized failure" on a slope along I-5 — basically a landslide.
"On July 19, approximately 200 linear feet of embankment slid downslope by approximately nine feet, requiring a roughly three-day precautionary lane closure on southbound I-5," Sound Transit spokesperson John Gallagher said in a release. "The slope has been temporarily stabilized, and Sound Transit and its design-build contractor are working with the Washington State Department of Transportation on permanent design solutions that will address a liquifiable layer of soil that has been identified fairly deep below the light rail alignment. Work to identify solutions will remain focused on minimizing delay to the project."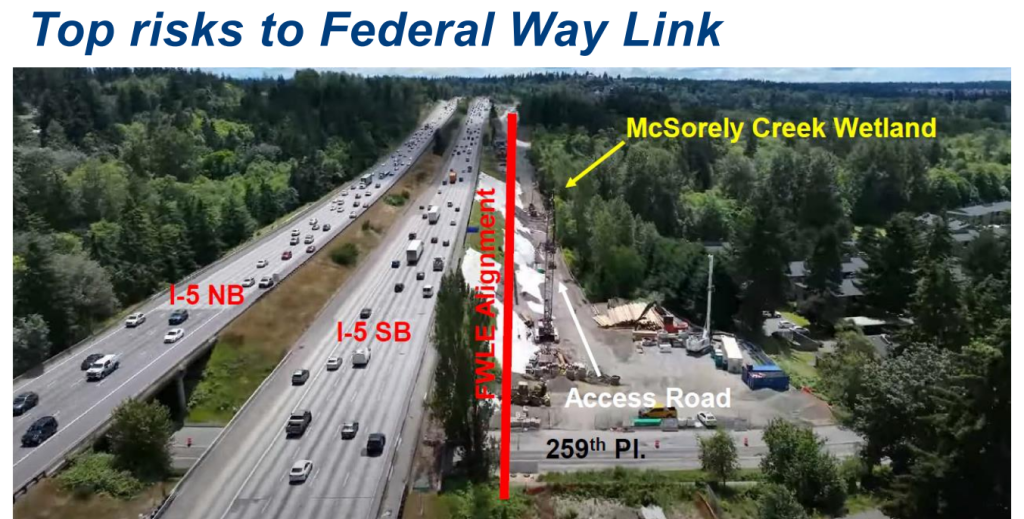 The agency said it may have to rethink its construction approach for this section in order to account for liquefaction risk and ensure a sound foundation.
Likewise, Sound Transit is fine tuning its East Link work. The plinths weren't the only late-breaking construction defects to emerge. "On both the east and west sides of the I-90 floating bridge, the contractor's work to fix problems with cast-in-place concrete plinths supporting the tracks has led to the identification of further challenges," the agency's press release stated. "These include issues with mortar pads, rebar placements and track fasteners, which the contractor has agreed to fix by re-casting the plinths to ensure the long-term reliability and safety of the extension." For the pre-cast blocks, nine of 900 blocks investigated have had cracking and spalling issues, the agency said, but more than 7,000 blocks need to be evaluated.
While the delays are certainly a disappointment to transit riders across the region, the 25 stations set to open in a few years' time will be a gamechanger when they do begin service. Riders can hope that the agency will get more sophisticated and adept at timely project delivery as it progresses toward the next phase of project delivery with Sound Transit 3.
This is a developing story and this article may be updated.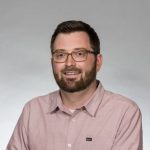 Doug Trumm is publisher of The Urbanist. An Urbanist writer since 2015, he dreams of pedestrianizing streets, blanketing the city in bus lanes, and unleashing a mass timber building spree to end the affordable housing shortage and avert our coming climate catastrophe. He graduated from the Evans School of Public Policy and Governance at the University of Washington in 2019. He lives in East Fremont and loves to explore the city on his bike.