Excitement has long been building for Sound Transit's many system expansions that are due over the next few years. With the agency's extension of light rail service to Downtown Redmond beginning in 2024, Downtown Bellevue in 2023, and Northgate in just a few months' time, it is an exciting time to be a Cascadian transit fan. In an optimistic sign of a tantalizingly close post-pandemic future, elected officials and media from around the region were able to gather in-person last Wednesday with engineers and Sound Transit staff to celebrate the first of many opening ceremonies to come.
The agency's new Operations and Maintenance Facility East (OMFE), located on the north side of Bellevue's rapidly growing Spring District, provides important maintenance infrastructure to support light rail expansion. The facility will be the workplace of up to 260 employees, and its 14 service bays will support the maintenance and storage of up to 96 light-rail vehicles, including Sound Transit's shiny new Series 2 light rail vehicles (LRVs).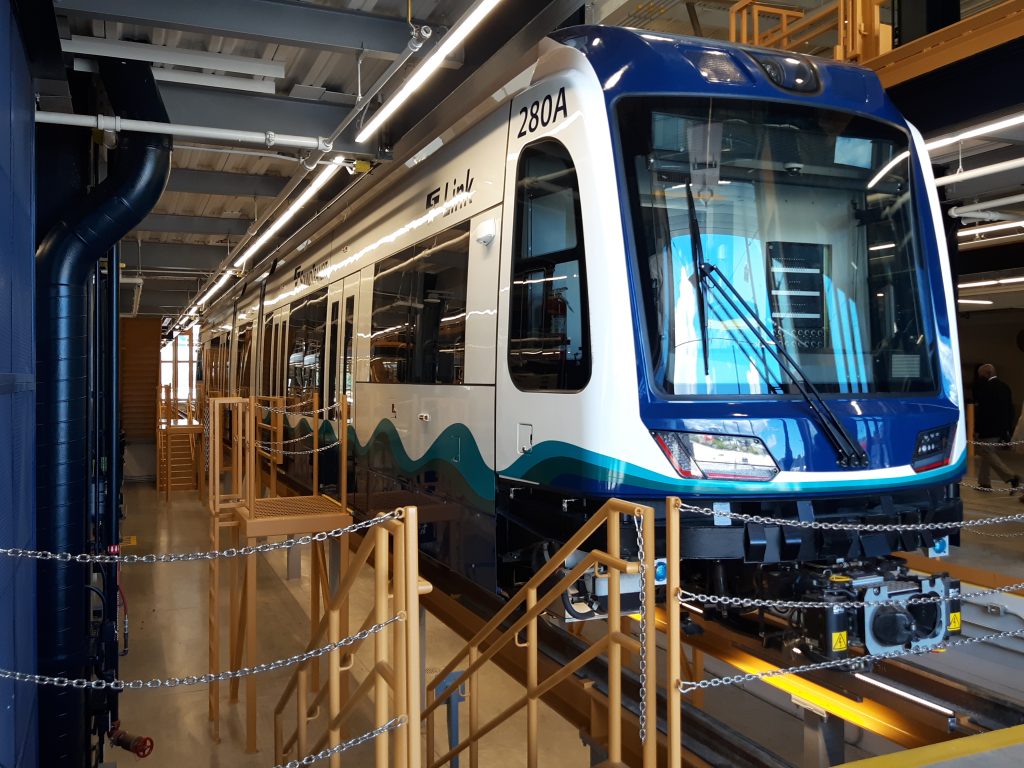 However, elected officials were quick to note the project's benefits that extend beyond mere transit infrastructure. King County Council Chair Claudia Balducci (who by the way injured her hip on her bike ride to the facility) touted the pedestrian and bicycle connections to the nearby Eastrail Trail. King County Executive Dow Constantine noted the nearby transit-oriented development (TOD) property, which will provide both housing and over 145,000 square feet of office and commercial space near frequent transit.
King County Council Chair Claudia Balducci: "This is the first in a wave of openings to expand transit on the Eastside." As a former mayor of Bellevue, she understands the nebulous and often uncertain history that light rail expansion has had in Bellevue. (Photo by author)

King County Executive Dow Constantine: "These facilities don't have to be 'either or'. They're 'yes and'. We can have commercial activity, residential activity, we can have transit, we can have it all." (Photo by author)

Sound Transit CEO Peter Rogoff: "In addition to creating mobility throughout the region, the affordable housing, retail and office development around this site will make it possible for more folks to live and work just steps away from light rail." (Photo by author)
Hensel Phelps Construction Company designed and built the light rail operations and maintenance facility, using almost 600,000 hours of union labor, Sound Transit spokesperson Rachelle Cunningham noted. Moreover, the rooftop features a 100-kilowatt solar array, the agency said, noting it is pursuing a Leadership in Energy and Environmental Design (LEED) Gold certification for the facility.
Although perhaps not as flashy as a new light rail station, the OMFE is an exciting addition to our transit network and the Spring District neighborhood. And if you're like me and like to geek out over transit maintenance facilities, then we hope you enjoy these photos.