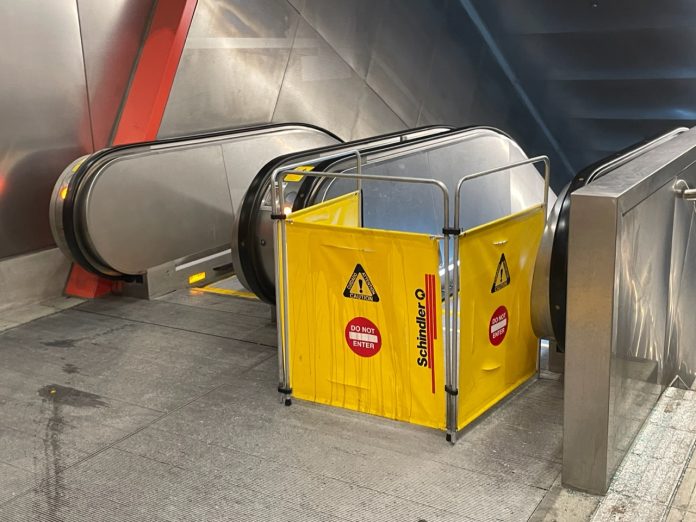 Sound Transit is slated to increase funding for escalator and elevator maintenance later this month at the agency's full board meeting. That should help the agency continue to respond to vertical conveyance outages swiftly, which is good news for riders. However, it does does come at great expense to the agency. Schindler, one of Sound Transit's vertical conveyance maintenance contractors, could see their contract value nearly double through next year. That contract was intended to last five years, lapsing at the end of July 2024, at a total cost of about $30 million. The $23 million increase proposed for just over a year of fast response work is significant.
The contract will expand the scope of escalators and elevators covered by the company and help pay for increased service calls. John Carini, Sound Transit's deputy of vertical conveyances, recently briefed the agency board's Rider Experience and Operations (REO) Committee on the contract modifications, improved response protocols, and systemwide vertical conveyance performance, though some of the details he offered were sobering.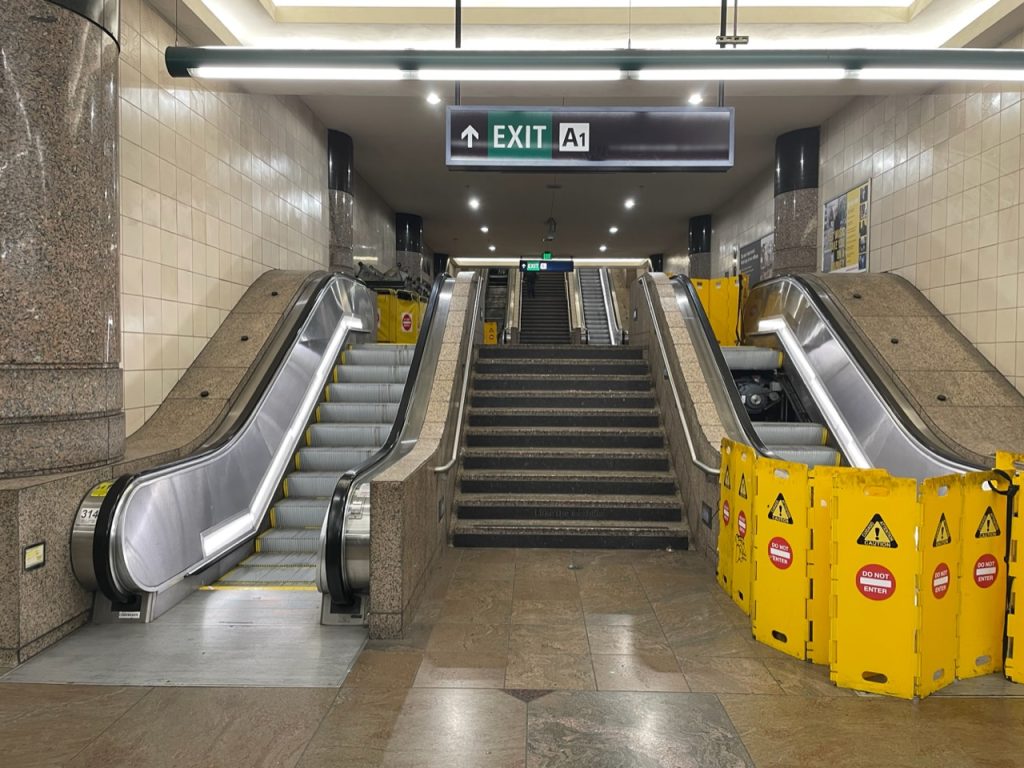 The contract modification will cover a much wider array of equipment than the original version approved in 2019. "When this contract was executed in 2019, it included 94 elevator and escalator assets in our portfolio at the time and anticipated the maintenance costs for 58 Downtown tunnel assets for a total of 152 vertical conveyance assets," Carini said. "As of today, we manage a portfolio of 195 assets, 43 of which while contractually allowed to be added to this maintenance contract were not financially forecasted when this contract was executed. These additional assets include the Northgate Link Extension (which operations assumed ownership of in 2021) as well as the elevators and materials lifts of the Operations and Maintenance Facility East, in addition to multiple garages, including most recently the Puyallup garage."
Carini also explained that the contract will cover idle assets, some of which should have been serving riders this year. "Aside from our growing asset portfolio, new expansion delays have created a maintenance gap for recently installed vertical conveyances for which we are planning to fund through this motion," he said. "Warranty periods are beginning to expire and will continue to expire through the duration of this current contract, which leaves assets without necessary regular maintenance — most imminently for the 33 elevators and escalators installed on the East Link Extension."
Riders often see elevators and escalators offline across the transit system without clear explanation. Carini tried to offer some insight into what drives equipment to go out-of-service and how that influences contract costs.
"Our elevators and escalators operate in a harsh transit environment vulnerable to numerous outside influences that perhaps do not occur in other less dynamic environments," Carini said. "The monthly maintenance cost of our current contract covers all outages due to mechanical failure at no additional cost. However, in just the past 24 months, our vertical conveyance portfolio has experienced a total just over 3,600 unplanned outages, of which only 37% were attributed to mechanical components." Carini added that the other 63% of outages "were due to a variety of categories, such as misuse and vandalism, environmental events such as debris buildup and water intrusion, power-related events, as well as unfortunate incidents where a passenger may fall down an escalator."
Unfortunately, misuse and vandalism is a big driver for vertical conveyance outages and those are having a big impact on operating and maintenance costs. "All of these events outside of the mechanical category are considered billable service requests under our current contract and have been paid for under the original contract amount," Carini said. "For perspective, our vertical conveyance portfolio experienced over double the events of billable unplanned outages as compared to 2021 in 2022. We are currently seeing a trend of an equivalent number of events through the first quarter of this year."
Christine Frizzell, a REO committee member, was critical of vandalism and misuse in the system. "The people who need our services most as far as transit also need the services of the vertical conveyances, people who are less-abled," she said. "It's highly unfortunate that there's people out there that intentionally harm those conveyances for whatever reason. I think it is good to note that…only a certain percentage of these are for actual mechanical breakdowns."
In Sound Transit parlance, misuse means an instance where a person causes equipment to go offline but without showing an obvious intent to damage it whereas vandalism is a clear act of maliciousness.
Rachelle Cunningham, an agency public information officer, said that misuse includes things like people "riding on top of the escalator handrail causing a safety switch activation, inadvertently bumping elevator doors causing an outage, luggage getting lodged underneath the handrail activating a safety switch, and events where someone unnecessarily pushes an escalator emergency stop button." She also said that vandalism involves people "purposely kicking and damaging elevator doors, breaking elevator hoistway/cab glass, cutting/gouging of escalator handrails causing them to be unsafe, and any event where equipment is purposely damaged requiring repairs." Damage to mechanical and electronic components can leave equipment out-of-service for extended periods of time as parts are put on ordered.
In recent months, riders may have noticed that down-time for escalators and elevators has been a lot shorter than the past. Carini explained how service levels have changed. "Previously, our standard operating procedures for escalators and non-ADA elevators was to leave them down overnight and come for next-day service," he said. "We've since enhanced those going to 24/7 service and called them in immediately as of last year." Carini added that maintenance call response times are speedier now, within one hour during business hours and two hours after-hours and on weekends.
The agency has also seen some year-over-year progress on keeping vertical conveyances up and running. "2022 versus 2021, we've had a decrease overall of out-of-service hours across our entire portfolio by 12%, which equates to nearly 21,000 hours that equipment was operable and available to passengers compared to 2021," Carini said. Sound Transit's online dashboard indicates that Downtown tunnel escalator assets have seen particular improvements in operational up-time performance. Escalators have gone from about 35% availability in January 2021 to nearly 90% in March 2023 — Sound Transit has a 95% availability target. However, elevators are struggling at tunnel stations with about 81% availability in March 2023 versus 87% in January 2021 — the availability target is 97%.
Nevertheless, REO committee members weren't exactly enthusiastic about the contract cost increases. "It's unfortunate that the 43 assets were not identified in the previous version of the contract, but we're capturing them now and aside from that we know that these are expensive to maintain," Kim Roscoe said. Yet she also acknowledged how critical working vertical conveyance systems are. "We also understand their vital importance for passengers to get to where they need to go and regardless of our contract, their expectation and their experience and their safety are a top priority for the agency and all the boardmembers," Roscoe added.
REO committee chair Kristina Walker wrapped up the discussion by commending agency staff on the improvement of up-time for vertical conveyance, but also noted that "when the vertical conveyance is out for your ride, it doesn't matter we're down 12% over last year."

Stephen is a professional urban planner in Puget Sound with a passion for sustainable, livable, and diverse cities. He is especially interested in how policies, regulations, and programs can promote positive outcomes for communities. With stints in great cities like Bellingham and Cork, Stephen currently lives in Seattle. He primarily covers land use and transportation issues and has been with The Urbanist since 2014.