Purchasing an abandoned high school for $100,000, three developers carved out a lovely 31 unit apartment building in the Pittsburgh suburb of Homestead, Pennsylvania. The amenities abound at Bowtie High, with lofty ceilings, natural light, and modern fixtures. The preserved auditorium turned community space is amazing, and the developers are turning their attention to a similar project across the street. Seattle residents may see the rent and sweat a little, reminiscing upon the days of sub-$1000 leases.
Blink and you miss it, the video does discuss the actual cost of renovating a non-residential building into apartments. Converting 27,000 leasable square feet cost $3.3 million, about 50% more than the team's budget of $2 million. That works out to about $122 per square foot, an amazing achievement given the average nationwide cost of multifamily construction is $398 per square foot.
Conversions of office to residential, though a wildly popular due to the post-pandemic office glut, will not be nearly as inexpensive as this school conversion. The New York Times has a breakdown of the intricate issues associated with converting offices to residential. One example in the article, 180 Water Street, paid $151 million for the building, a cost of $330 per square foot, or double what the school conversion cost overall. From the need for bathrooms through the immense floor plates, it's an eyeopening look into the considerations necessary for such remodels. Takes one to school, if you will.
On a final note, we're deeply entertained that the first word of the video description introduces the developers as Millennials. Says something about the rarity of Millennial real estate ownership.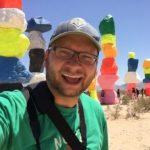 Ray Dubicki is a stay-at-home dad and parent-on-call for taking care of general school and neighborhood tasks around Ballard. This lets him see how urbanism works (or doesn't) during the hours most people are locked in their office. He is an attorney and urbanist by training, with soup-to-nuts planning experience from code enforcement to university development to writing zoning ordinances. He enjoys using PowerPoint, but only because it's no longer a weekly obligation.