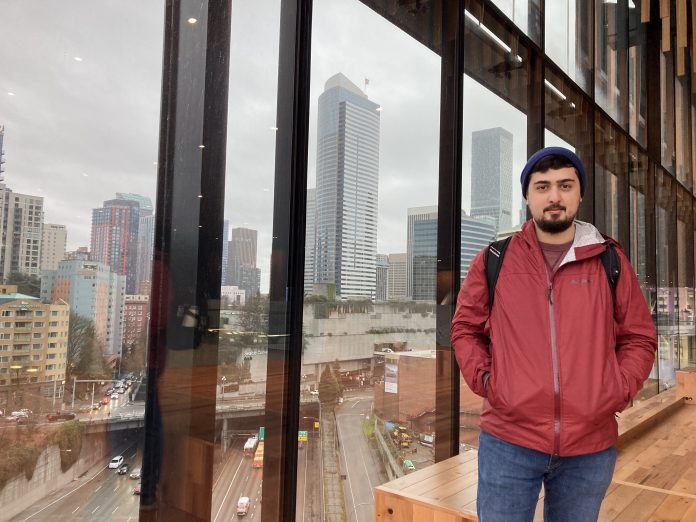 Doug Trumm is pivoting to a new role as publisher.
Join us in welcoming Rian Watt as executive director of The Urbanist.
Rian has been involved with The Urbanist in one form or another since 2019, when he joined the Elections Committee as a member. Since then, he's gone on to chair the Elections Committee (since 2020), serve on the Board of Directors (since 2022), and generally help out with the thousand little things it takes to make The Urbanist tick.
Earlier this week, the Board of Directors voted to create a new publisher role, responsible for overseeing all editorial decisions related to our website and podcast, and leading our advocacy and coalition work. Doug Trumm, who has served as our full-time executive director since January of 2020, will move into this role. The Board also voted to update the executive director position to a narrower role responsible for board management, revenue, and organizational growth. Rian will be taking on this role on a part-time basis.
We feel this change in responsibilities (in combination with the recent addition of Linda Hanlon as a part-time lead editor) will better position us to continue to deliver important, deeply-reported content to our readers while setting us up for growth that'll allow us to expand our impact over the next few years. Thanks to your continuous support through subscriptions and readership, The Urbanist has never been in a stronger financial position, and we feel excited to continue to grow and expand our work and coverage.
If you'd like to support that growth, we encourage you to become a subscriber here!
A bit more about Rian: In addition to his work with The Urbanist, Rian serves on the boards of Futurewise, a statewide land use advocacy organization, and the Third Door Coalition, a group advocating for permanent supportive housing in King County. Previously, Rian volunteered as a commissioner on the Seattle Planning Commission and as a Meal Coordinator for Teen Feed, a low-barrier meal program for homeless and unstably housed youth in Seattle's University District.
Outside of Seattle, Rian has also worked as a management consultant, a social policy researcher, and a strategy lead for various national firms, and he freelanced as a professional baseball writer covering the Mariners and national baseball as a member of the Baseball Writers' Association of America. He's the proud son of immigrants (from West Bengal and Scotland, respectively), and rents in Capitol Hill with his wife and two cats.