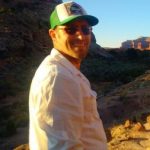 Chris Priest is a writer and community advocate who lives in northeast Seattle. Chris is a founding member of Safe 35th--a community-based group focused on bringing planned and agreed upon safety improvements to 35th Avenue NE in the Wedgwood, Ravenna and Bryant neighborhoods. He is a frequent cyclist, runner, transit rider, and walker who believes safe, inclusive modes of transportation are the way of the future.
Now that we've had the new, definitely not improved 35th Ave NE for about six months, it's time to take stock in how it has worked out and determine what the group opposed to safety improvements accomplished. According to the Save 35th group's signs, door hangers, and other handouts, their main goal...
Behind closed doors earlier today, recently appointed director of the Seattle Department of Transportation (SDOT), Samuel Zimbabwe, interim transportation advisor to Mayor Jenny Durkan, Elliot Helmbrecht, and other city staff met with members of Safe 35th (who support implementing safety improvements to 35th Ave NE) and representatives of Save...
Sidewalk Labs is Google's (ahem, Alphabet's) secretive department focused on developing 'smart cities.' In 2017, the company was awarded an opportunity to reimagine the urban environment on Toronto's waterfront. Dubbed Quayside, they signed an agreement with the city and collaborated with Snohetta and Heatherwick Studios (two design firms). The Toronto...
The Consumer Electronics Show (CES) is "the global stage where next-generation innovations are introduced to the marketplace." More than 180,000 people attend, and about 4,400 companies exhibit in 2.7 million square feet of trade show space. It is enormous by any measurement with the Las Vegas Convention Center, the...
It's 7:30am on a weekday. I'm jogging along 1st Avenue from downtown into Pioneer Square on my way to SoDo. As I make my way to an intersection, I run into an enormous, moving excavator with its bucket slamming down into pavement right in front of me. There were...
After more than a year of contentious wrangling over proposed safety improvements to 35th Avenue NE, mediation between two local groups is now over and two alternatives have been sent to Mayor Jenny Durkan. As previously reported, the Seattle Department of Transportation (SDOT) had slated 35th Avenue NE for safety improvements...
"You're a liar," an enraged, middle-aged man shaking a red sign with the words "SAVE 35th" in white block letters screamed as a young woman expressed support for traffic improvements to 35th Avenue NE in Seattle's Bryant/Ravenna/Wedgwood neighborhood. "You lie!" he kept yelling as she tried to go over data...
A few weeks ago, a group opposed to adding bike lanes to a North Seattle arterial tweeted out, "Single mothers don't commute to work on bikes. Privileged #techbros do…" Of course, they got pummeled by hundreds of single moms (and dads) who do indeed bike to work every day....