Sidewalk Labs is Google's (ahem, Alphabet's) secretive department focused on developing 'smart cities.' In 2017, the company was awarded an opportunity to reimagine the urban environment on Toronto's waterfront. Dubbed Quayside, they signed an agreement with the city and collaborated with Snohetta and Heatherwick Studios (two design firms).
The Toronto Star recently leaked early concept drawings for the company's vision for the new area. None of the plans have been approved yet, but they do provide a glimpse into what the tech giant envisions for the new neighborhood.
Strikingly, Sidewalk Labs' early plans feature heated bike lanes to melt ice in the winter and all the buildings feature "raincoats" to create transparent tents over public areas. The idea is that although Toronto is not located in a warm climate, it is the environment that is key to a livable city. They want people out and about, with year-round farmer's markets and outdoor seating at cafes and bars. They want the city to be lively and not dominated by indoor activities (including cars).
Similarly, the designs include an underground network of utility streets for refuse and deliveries (including food like pizza) so that surface streets can be utilized for leisure and commuting. The subterranean tunnels will take care of 'last mile' services, and Sidewalk Labs envisages this will be done by drones and robots.
The Quayside approach is intended to make the city more 'green' with photovoltaic arrays, geothermal heating, and composting and recycling to handle 80-percent of waste. They've promoted autonomous cars, sensor waste separation, and short distance bike/scooter sharing fleets. The company promises 5G internet for everyone, smart curbs that sense vehicles and can avoid collisions, as well as ease traffic, and data collection to continuously improve services and infrastructure. This includes a centralized identity management system that would help residents with everything from a bus pass to a library card. Sidewalk Labs says they plan to remove any identifying information and make data available so other cities and organizations can learn from it as well; however, this has proven to be controversial–Google does not have a great reputation with privacy.
The vision for the buildings for the city of the future seems to be focused on modular construction. This essentially means they will be giant pieces put together on site to improve efficiency and reduce waste. It also means they can be updated and modernized much easier, which means it can evolve with technology and change as urban infrastructure progresses. Hexagon pavement panels can be replaced relatively effortlessly, and the utilities underneath accessed conveniently. The buildings appear to be prefabricated timber, so modules can be removed and replaced as well.
Sidewalk Labs has said they intend to build a dozen towers, some nearly 30 stories tall. They'll include 3,000 units of housing (they've promised a third will be affordable housing) and plans appear to try to create connected spaces with public areas, parks, and tree-lined thoroughfares–all complemented by the large timber buildings. They believe the community will create almost 4,000 jobs and much of the materials can be sourced locally.
Google/Alphabet is so interested in the project, they've proposed to partner financially with the city to build the new neighborhood. The first 12-acre, proposed area will be paid for entirely by Sidewalk Labs and the company would pay for the buildings (like a developer). However, the whole plan is predicated on significant upgrades to utility infrastructure – sewers would be $6 billion alone. Sidewalk Labs is offering the city a loan to pay for utility upgrades and impacts to other infrastructure and services. The company is basing this offer on the notion that Quayside will increase property taxes, which would be used to pay for the loan (and would avoid any need to raise other taxes). They envision the entire 350 acres of Toronto's waterfront being developed much the same way in the future–an ambitious goal for any city or company.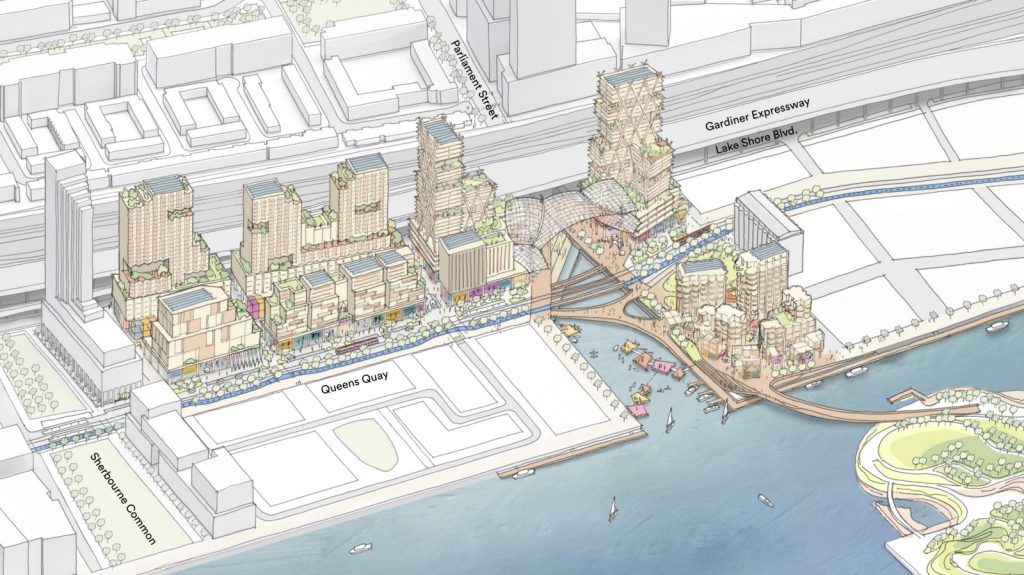 If they can get everything figured out, they would like to construct the new city in five to six years. It all looks and sounds good. Who wouldn't want a connected, green neighborhood with everything utilitarian underground and robots and drones taking care of the sordid aspects of city living? But, this is Google. They (and Facebook and other tech giants) have opted to build enormous suburban campuses that are sprawl inducing and depend on automobile traffic (it is unclear if Google plans to have any real physical presence in Quayside). What has changed?
And, this is one of the largest tech companies in the world whose business model is about collecting and selling data. Is Quayside a new modern mecca of conscientious living or Google's clever way of getting access to thousands of people's live data? Why do they want to build it? What's in it for them? Some people believe, it's how they plan to monetize the real world. It's how the surveillance state becomes private, where we lose our ability to decide to exchange our privacy for convenience, where our data is no longer ours and one company owns it all.
Google calls it a 'smart city', but it may very well be one of the biggest power grabs in history–one that could come with representative government's stamp of approval.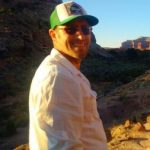 Chris Priest is a writer and community advocate who lives in northeast Seattle. Chris is a founding member of Safe 35th--a community-based group focused on bringing planned and agreed upon safety improvements to 35th Avenue NE in the Wedgwood, Ravenna and Bryant neighborhoods. He is a frequent cyclist, runner, transit rider, and walker who believes safe, inclusive modes of transportation are the way of the future.