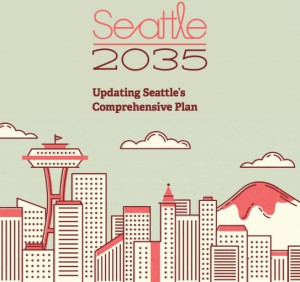 Seattle is in the midst of its update to the city's comprehensive plan, dubbed "Seattle 2035". Washington State's Growth Management Act requires that cities and counties across the state update their comprehensive plans every 10 years to adequately plan for a 20-year horizon. The current update cycle has many other cities and counties working to complete their updates by the state-required June 30, 2015 deadline. Prior to the update process, a lot of behind the scenes work is done: buildable land and capacity analyses, reviews of effectiveness metrics from past plans, demographic and job projections, analysis of current levels of service, and much more.
With the launch of Seattle 2035, two years of public engagement begins, led by the Department of Planning and Development (DPD). The public can review the background profile of the comprehensive plan and comment about where future planning policy should go. Whatever ultimately comes out of the comprehensive plan update, these policies will guide implementing regulations, programmes, initiatives, and plans over the next decade and more.
If you would like to get involved, be sure to check out the website, comment, and attend future meetings. On Thursday the 20th, DPD staff will be holding an open house and presentation from 5.30pm to 8pm at the Central Library. Be sure to meet in the Microsoft Auditorium:
Join us for an open house about Seattle 2035, a yearlong citywide conversation about how Seattle should grow over the next 20 years. After the Open House, Christine Gaspar, Executive Director of the Center for Urban Pedagogy (CUP), will speak about how this New York-based non-profit uses art and design to improve public participation in shaping the built environment.

Where does the water go when you flush the toilet? What is affordable housing? Who owns the Internet? Who decides where noxious land uses go? The Center for Urban Pedagogy wants you to know!

CUP is a New York City-based nonprofit organization that makes accessible, visual explanations of the complex issues that shape our everyday lives. CUP's Executive Director, Christine Gaspar, will talk about how the organization collaborates with grassroots organizers and talented designers to create posters, workshop tools, websites, and animations that demystify policy and planning and give individuals the tools to advocate for their own community needs.

The projects are designed with and for advocacy organizations to help increase their capacity to mobilize their constituents on important urban issues. CUP's print, audio, video, and media projects, along with tactile interactive workshop tools, are in use by dozens of community organizers and tens of thousands of individuals in New York City and beyond.

The work have been featured in the Cooper-Hewitt Museum's National Design Triennial, PS-1, and two Venice Biennales, and awarded a 2012 Curry Stone Design Prize and a 2010 Rockefeller Foundation Cultural Innovation Fund Award.

DPD will have a mini open house starting at 5:30 p.m. to discuss the update to the Seattle Comprehensive Plan.

The lecture starts at 6:30 p.m.

Stephen is a professional urban planner in Puget Sound with a passion for sustainable, livable, and diverse cities. He is especially interested in how policies, regulations, and programs can promote positive outcomes for communities. With stints in great cities like Bellingham and Cork, Stephen currently lives in Seattle. He primarily covers land use and transportation issues and has been with The Urbanist since 2014.