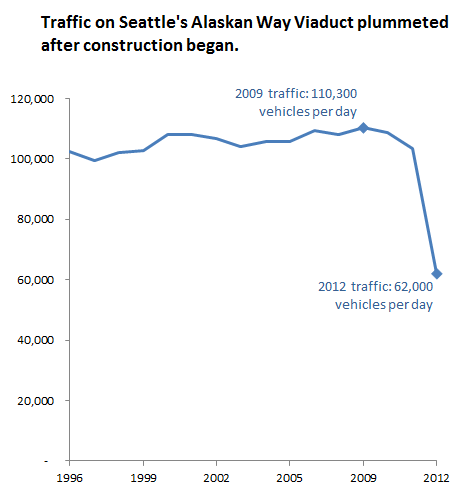 Yesterday, in Mayor Murray's first state of the city speech, he touts downtown's low single occupancy mode share (page 10) – fewer than half of downtown commuters drive alone to work, preferring instead transit, walking, biking, or carpooling. He laid out a vision I strongly agree with – reducing driving alone from just under 50% to 25%.
This morning on Sightline Daily, Clark Williams-Derry shows us why we've dipped below that 50% mark – "traffic volumes on the Alaskan Way Viaduct have collapsed".
The viaduct is down from carrying 110,000 cars a day – the number used to justify needing a tunnel – to only 62,000. Surface streets are seeing a barely noticeable increase. Transit usage has jumped. This lack of gridlock was predicted by myself and other proponents of the cheaper, lower carbon emissions, more equitable, lower risk, and faster surface/transit option.
Great, right? Not so fast. Finishing the tunnel would likely bring driving alone back above half of commute share. Currently, car trips bypassing downtown on I-5 compete with commute traffic. Putting them in the new tunnel would free up car space on I-5 and other routes, shifting users back from transit to driving, and taking our goal backwards.
If we agree with Mayor Murray's goal, we would be better off stopping the tunnel today, and spend the remaining money on projects that grow the transportation system we want.