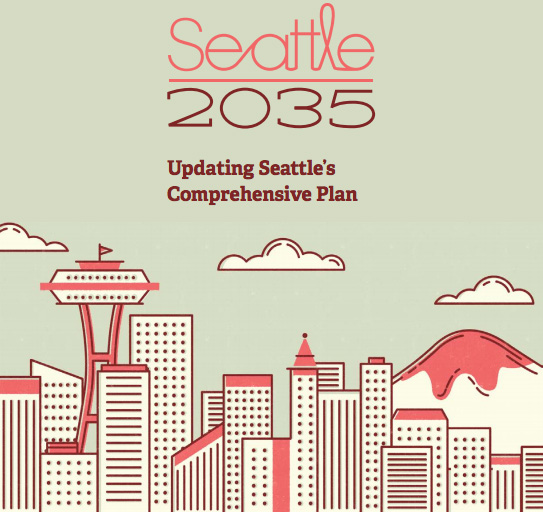 Editor's Note: In case you missed our previous coverage of Seattle 2035, check out our last article on the update process.
The Seattle Department of Planning and Development (DPD) will be holding an event next week to talk about the "key directions" to the Seattle 2035 Comprehensive Plan update. Essentially, key directions are themes like land use, transportation, housing, and the environment that DPD believes deserve a much more in depth discussion on. Policies and goals within these areas will be explored at the meeting. DPD will also give an update on the Seattle 2035 schedule, background on the Comprehensive Plan, and an overview of some changes that could make the Comprehensive Plan a much simpler document for the public to understand.
To keep things interesting, DPD wants the event to be active. Two food trucks (Athena's and Quack Dogs) will be at the pavilion to dish out food to the masses while DPD will offer raffle tickets and prizes to participants. Interactive stations will be set up as well so that the public can identify and prioritize options for the Plan alternatives.
If you're interested in helping to shape the future of Seattle, be sure to attend this active meeting opportunity at the Seattle Center. The event details are as follows:
Seattle 2035: Key Directions & Chow Down
Tuesday, 24 June
5.30pm-8pm
Next 50 Pavilion (North of the Monorail)
Seattle Center

Stephen is a professional urban planner in Puget Sound with a passion for sustainable, livable, and diverse cities. He is especially interested in how policies, regulations, and programs can promote positive outcomes for communities. With stints in great cities like Bellingham and Cork, Stephen currently lives in Seattle. He primarily covers land use and transportation issues and has been with The Urbanist since 2014.