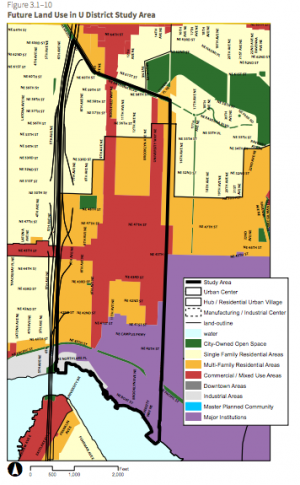 For the past few years, the Department of Planning and Development (DPD) has been developing a design framework for the University District. The University District Urban Design Framework (UDUDF) is a broad-based effort to revise and realign neighborhood plans, policies, and goals on transportation, land use, historic preservation, open space, greenhouse gases, and more. As part of the UDUDF effort, DPD has evaluated three different alternatives for accommodating the significant growth slated for the neighborhood in business, education, and housing (~14,000 new residents).
DPD will eventually recommend a specific set of preferred zoning changes to implement the framework's policies and goals. The three alternatives are very different in how they accommodate growth. Alternative 1 moderately increases heights and encourages a greater mix of uses throughout the neighborhood. Alternative 2 encourages dense high-rise development toward the center of the neighborhood, while making modest changes in a few other portions of the neighborhood. Alternative 3 leaves the current zoning in place.

In Alternative 1, the City proposes to focus the densest and tallest development along the blocks closest to the future light rail station with modest zoning changes in the remainder of the study area. Alternative 1 would provide capacity for 9,130 dwelling units and 16,435 jobs. The core area, roughly bounded by NE 47th St, 15th Ave NE, NE 41st St, and I-5 would see significant zoning changes for increased heights and the expansion of mixed use throughout. Building heights could go from 85 feet (about eight stories) to 160 feet (about 12-16 stories), essentially doubling the height of what current zoning allows.
Only one area of the core would remain residential-only: the MR-zoned sliver west of 8th Ave NE. Meanwhile, the north frame of the neighborhood would see only slight zoning changes (except for the three blocks north of NE 47th St between 15th Ave NE and Roosevelt Way NE which would double in height). Heights north of NE 47th St would generally increase 20 feet (about two stories), while some zones would then allow commercial uses in addition to residential.
In Alternative 2, the City again proposes to focus the densest and tallest development near the future light rail station while leaving much of the neighborhood's zoning unchanged. In other words, this alternative intends to focus density toward the center of the neighborhood only. Alternative 2 would provide capacity for 9,802 dwelling units and 17,832 jobs–a modest increase over Alternative 1. The more significant difference between the two Alternatives is how much affordable housing that could be delivered. Incentive zoning under Alternative 2 could produce 410 affordable units versus the 291 under Alternative 1.
The blocks facing Roosevelt Way NE, NE 45th St, NE 43rd St, NE 41st St, and Brooklyn Ave NE would see building heights go to 340 feet (about 24-30 stories). A pocket in this area would be focused on residential-only development. Two other areas would see significant changes in building heights: the blocks between NE 47th St, Roosevelt Way NE, NE 50th St, and Brooklyn Ave NE go to 240 feet and a two-block portion of 15th Ave NE would go to 300 feet. The entire length of University Way NE would go to pedestrian-oriented, mixed-use type zoning ranging from 65 feet to 85 feet. Meanwhile, the remainder of the neighborhood proposed for zoning changes would be modest.
Alternative 3 is the "no action" scenario, leaving all current zoning in place.
Public participation is an important part of this process, and can greatly impact the ultimate direction of the zoning changes. Please submit comments to the project planner, Dave LaClergue, by June 23, 2014. For more background on the University District Urban Design Framework, please be sure to see the project brief, draft EIS, and project website.

Stephen is a professional urban planner in Puget Sound with a passion for sustainable, livable, and diverse cities. He is especially interested in how policies, regulations, and programs can promote positive outcomes for communities. With stints in great cities like Bellingham and Cork, Stephen currently lives in Seattle. He primarily covers land use and transportation issues and has been with The Urbanist since 2014.