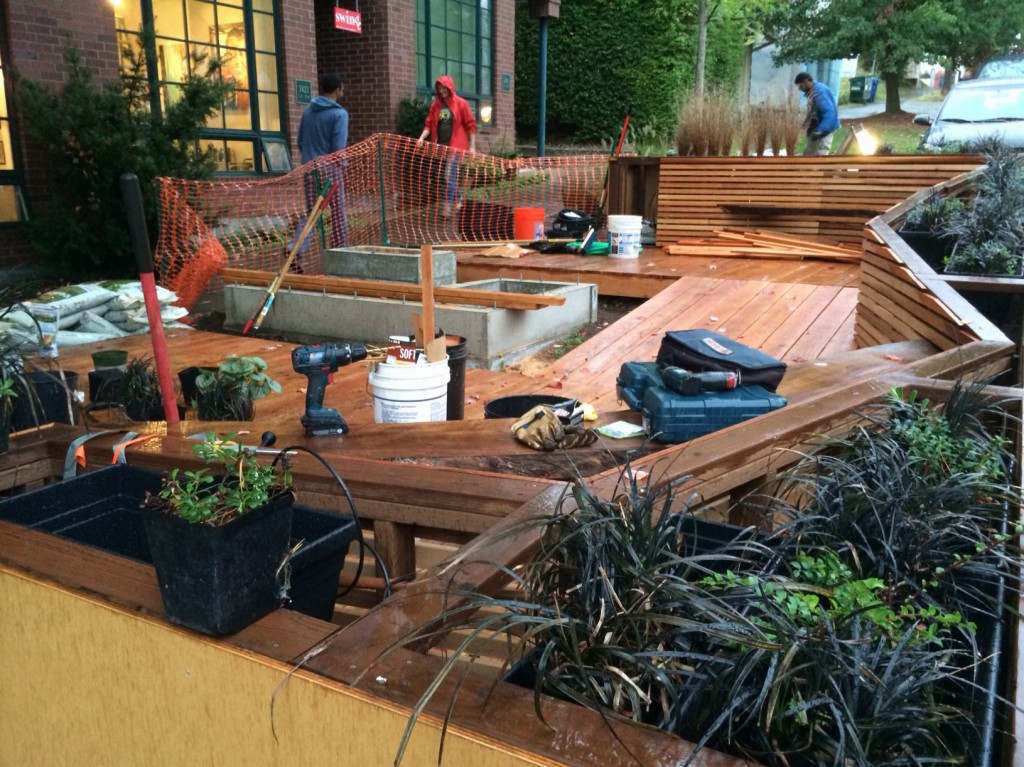 This Sunday is the grand opening of Seattle's newest parklet, aptly named the 25th and Union Parklet. In the heart of the Central District, the 25th and Union Parklet will be a welcome neighbor to the Cortona Cafe, a favored establishment in the CD community.
In case you haven't read our coverage on parklets, or this specific parklet in the past, parklets are small public spaces built on what once were street parking spots. The 25th and Union Parklet was one of 10 approved by SDOT back in March (and three more in April, though one of those has since backed out). Unlike the temporary ad-hoc parklets created for September 19th's PARK(ing) Day, these parklets are meant to be permanent structures.
Community-driven project
Building community is a big part of the Cortona Cafe, co-owner Isolynn "Ice" Dean said.
"This community is changing," Dean said of the Central District neighborhood. "You have a lot of people who have lived here for decades, but you also have a lot of newcomers."
She wants her cafe to bring these two groups together into a community, which is reflected in the design of the Cortona Cafe. Near the front window is a small U-shaped space where cafe goers find themselves face-to-face with other patrons.
"You're so close, you at least have to acknowledge each other there," she said.
It was this drive for community space that drove Cortona to parter with its neighbors to work together to build the parklet. Fundraising started in May, and there was so much enthusiasm for the project in the neighborhood that they met their $15,000 goal by June 1st, project manager Amanda Bryan said. All of the work, from design to construction, was provided by volunteers.
"This is a serious community effort. We have 12 to 14 different people working on this, and they all have a different job, and they're all good at their jobs," Dean said.
Early community meetings around the project had a mixed reaction, Bryan said. Some thought it was great, but others were concerned. Is it safe to sit so close to traffic? What about parking?
She said much of the negativity changed once the community got to know the project. For example, one concern was the loss of parking. Regardless of the arguments for or against trading parking spots for community space, the spot chosen for the parklet was a loading zone for the cafe that Dean said went unused. No parking was lost for the construction of this parklet.
Community drove the design
The parklet site had a number of challenges that drove up the cost and influenced the design, Bryan said. Among these were that the site is located on a slope and adjacent to a crosswalk. In order for drivers coming down the hill to be able to see pedestrians about to cross, the sides of the parklet could be no taller than three feet.
But with those challenges came advantages. The 25th and Union parklet sits not just on a six-foot-wide parking space like most parklets but also on a 12-foot-wide parking strip. This means the parklet is about three times as wide as most other parklets, project designer Kelly Sommerfeld said, so while they could not build up to protect parklet patrons from traffic noise, they could build in. A buffer of plants will enclose the parklet when it is finished, with seating wrapping around and facing inwards towards a cedar-topped platform rounded by mosaic art and a raised sandbox for children to play in, Sommerfeld said.
"From an urban design standpoint, these parklets are great place for people to interact," Kelly said.
The official opening party is this Sunday from 4pm to 7pm at the corner of 25th Avenue and Union Street (see map).