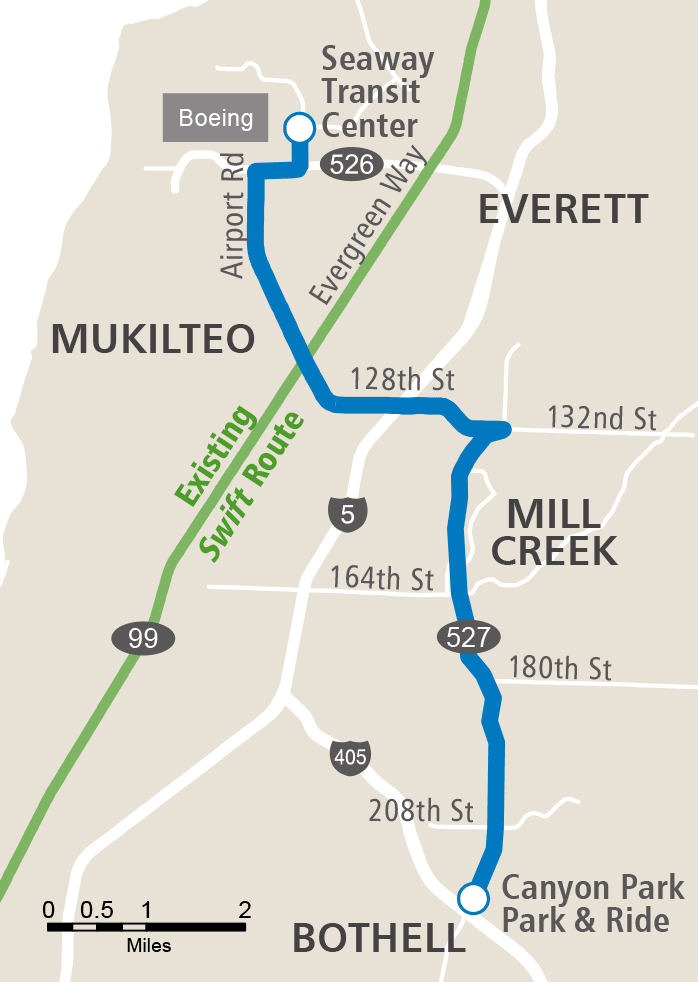 Community Transit is toying with the idea of a Paine Field-Mill Creek-Bothell BRT line dubbed as Swift II on the fifth anniversary of their highly successful Swift service.
The agency projects that a BRT line along that alignment would generate 3,300 riders on opening day. The corridor would be composed of up to 16 station stop pairs along the 12.5-mile length. A strong point for this alignment is that it would intersect with the existing Swift service on Highway 99 while building upon the local route structure in Everett, Mill Creek, and Bothell.
The existing 16.7-mile Swift line line serves the Highway 99 corridor from Aurora Village in Shoreline to Everett Station in Everett. Swift has many of the same features as King County Metro Transit's RapidRide routes such as off-board payment, level boarding, and high frequencies, but with greater distance between stops compared to RapidRide and required off-board payment (riders can only pay at stations, not on the bus). The buses also include on-board bike racks (no waiting while riders hook on and off their bikes) and Transit Service Priority (TSP) at traffic lights.
Swift is by far Community Transit's most used route. Over 1-in-6 Community Transit riders use Swift on weekdays and 1-in-3 on Saturdays. To put it in another perspective, 31 of Community Transit's more than 1,500 bus stops account for nearly 20% of all ridership for the agency.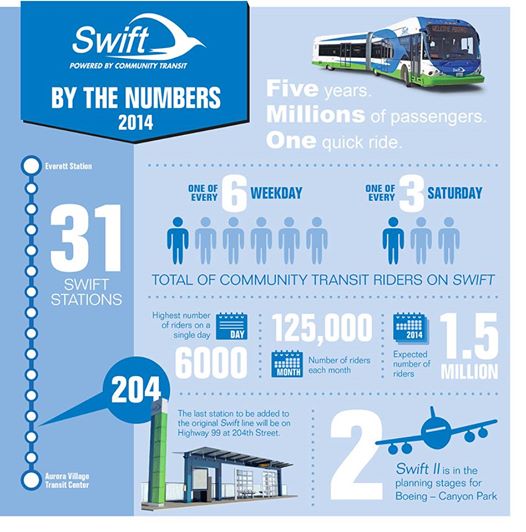 Part of this success is due to Community Transit and Everett Transit work interlining and overlapping local services along the corridor where feasible. Community Transit operates the Route 101 from Mariner Park and Ride in Everett to Aurora Village via Highway 99, along much of Swift's alignment. While it is a less frequent service, it fills the gaps between Swift stops and acts a local feeder. Other crosstown routes, such as the 113, 119, and 196, operate in conjunction with Swift to create a complimentary route network.
Future expansion in the works
As we reported last month, Community Transit will be deploying lots of new service for 2015. The biggest change in this service will be the reintroduction of Sunday and holiday service. Since cuts for Community Transit began in 2009, it has always been a priority to return Sunday and holiday service. A second key priority has been the introduction of a new Swift line.
Portions of the alignment proposed for Swift II already contain service today, but the proposed service would lay down much more frequent service along this corridor and extend it further up Airport Road to Paine Field, home to Boeing's Everett operations.
The Mill Creek portion of Route 105 currently receives good ridership due to the fact that riders can easily walk to stops in residential areas or board from park and rides where connecting services are readily available. Mill Creek has a very strong town center with dense housing options and many businesses. This is likely to continue rapid and significant growth as properties in the core redevelop. Meanwhile, the Canyon Park tail benefits from corporate office and business parks near I-5.
However, the draft Swift II proposal does leave out a portion of today's Route 105 Bothell tail. Currently, Route 105 serves the University of Washington's Bothell campus via Bothell Way and NE 185th Street. College campuses tend to drive good bus ridership, and it seems like creating a frequent UW-Bothell alignment for Swift II could be beneficial to the line.
There are jurisdictional issues given that Swift II funding would be spilling over the county line to benefit King County residents. This situation is not unprecedented. Community Transit funds Swift to Shoreline and nearly two dozen local and commuter routes to elsewhere in King County.
The biggest obstacle for Swift II is funding. Community Transit would need a combination of capital and operational funding. Federal money, likely through grants, would be allocated to capital investment in new infrastructure such as stations and TSP, as well as the acquisition of new buses. In order to qualify for federal grants, the agency would need to conduct a formal alternatives analysis through environmental review for the project. Operational funding would either come from increased revenues by sales tax or new funding sources.
Partnering with other local agencies is also necessary important for Community Transit. The agency must adequately align plans with municipalities so that it can implement TSP, reconfigure streets and streetscapes, and establish station infrastructure. The precise timeline for all this is uncertain, but Community Transit believes that a Swift II line could be up and running as soon as early 2018.
Beyond Swift II, Community Transit has a longer-term vision for even more BRT throughout Snohomish County–up to four additional alignments. The agency is hopeful that with an upcoming BRT study, it could lead to continuous rollouts of BRT as funding becomes available to implement the plans.

Stephen is a professional urban planner in Puget Sound with a passion for sustainable, livable, and diverse cities. He is especially interested in how policies, regulations, and programs can promote positive outcomes for communities. With stints in great cities like Bellingham and Cork, Stephen currently lives in Seattle. He primarily covers land use and transportation issues and has been with The Urbanist since 2014.