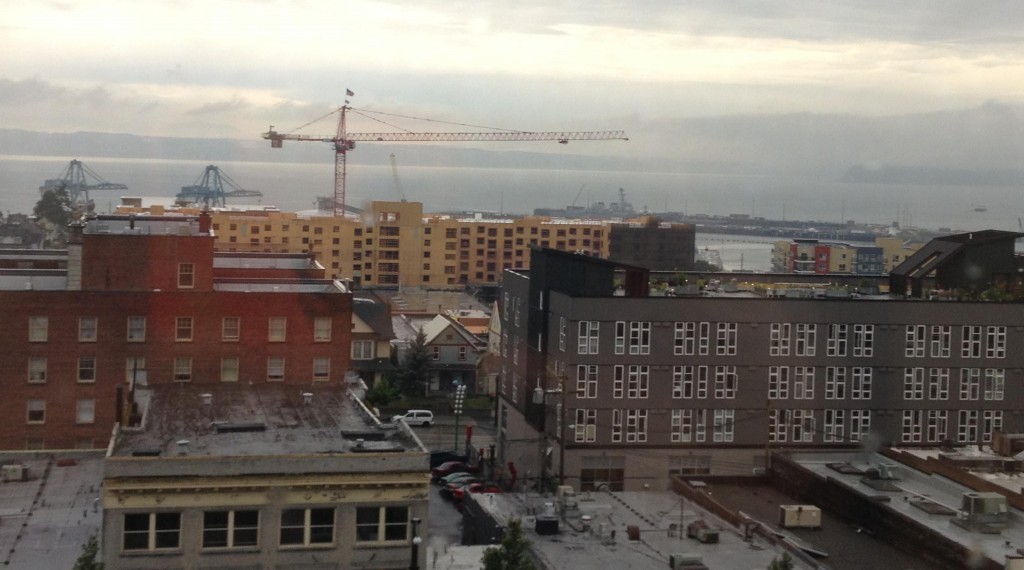 The City of Everett is in the process of updating its comprehensive plan, which happens to be right in the middle of the city's biggest building boom in years. New apartment construction is occurring near the downtown and several large industrial buildings are underway at the Boeing plant and surrounding business parks. This article focuses on residential development because the main challenge in updating the city's plan is finding ways to attract an even larger share of regional population growth. Attracting more growth is a bigger issue than just for the City of Everett because surroundings cities and unincorporated areas of Snohomish County will need to find ways to accommodate any shortfalls in Everett's growth.
Because Everett has little vacant land for development, the majority of growth involves redeveloping existing uses and building upwards. The city plan is required to be consistent with the regional transportation plan called Vision 2040. This regional vision assumes that Everett will be experiencing significant high rise development similar to Seattle and Bellevue and see an increase in its population by nearly 60% over the next 20 years; yet there is little evidence to support this, even considering the current heightened levels of construction.
Everett's planning director describes the challenge by asking the very legitimate question of "how do you accelerate the rate of housing production by a factor of 5 in a built-out city?" In recent years, Everett has added an average of around 371 people per year, yet it would need to increase this to 3,050 people per year to meet the targets in Vision 2040.
Converting population targets to housing production, Everett would need to add over 1,650 units annually if it were to meet the Vision 2040 strategy. This understates the challenge because actual construction would need to greatly exceed this net number of 1,650 units just to account for demolitions.
With these abstract policy challenges in mind, what does a busy period of residential development in Everett actually look like? The following four projects represent the majority of new units in Everett during the 2014/2015 building boom:
Potala Market Place will offer apartment living above an indoor farmers market in the heart of downtown Everett. It is next to a new Hampton Inn built by the same developer, Lobsang Dargey. With 220 units, Potala Market Place will be the second largest residential building in Everett. (Only Vintage at Everett, a senior housing project built in 2006 has more units–259–in a single building. Several apartment complexes have more overall.) Potala Village replaces a number of older commercial buildings.
The Reserve at Everett will have 180-units of senior housing located in central Everett near shopping and transit on Evergreen Way. This includes three connected 'towers' above a shared parking garage. In a way, this garage makes it a pioneering project for this part of Everett because few buildings outside of downtown have structured parking. The Reserve at Everett replaces two or three long-vacant houses.
Skotdal Real Estate Apartments is a working name for a 102-unit upscale building in downtown. The Skotdal family, Everett's biggest developer, is building it and have yet to announce a branding campaign. These apartments will include some space for retail amenities and are two blocks away from the Potala Market Place. The former use of the site was as a Hertz car rental lot.
3515 Hoyt Avenue is the location of a long-vacant nursing home that is being renovated and turned into 85-units of senior housing. The rehabilitation of this facility is a major step in turning around a neglected area just south of downtown and could help spur more redevelopment in the area.
The four residential projects discussed above all began in 2014 and expect to open in 2015. In total, they include 587 units, which is the vast majority of new units in the city during this period. In other words, the boom of 2014/2015 is adding only about 1/3 of the number of units that would be necessary every year to reach the Vision 2040 targets. Is it realistic for the city and region to plan on a mere vision, or are there concrete steps that can help make it happen? In the absence of something to catalyze redevelopment, should the city and surrounding jurisdictions plan on lower growth in Everett and more growth elsewhere?