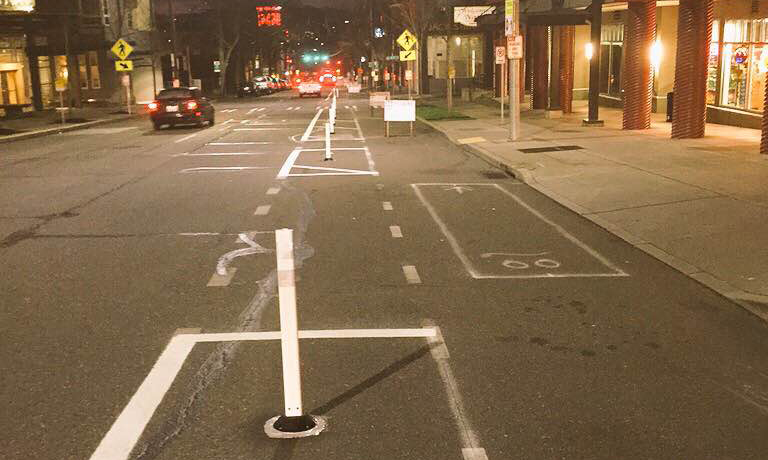 As planned, this week the Seattle Department of Transportation (SDOT) began installing a temporary protected bike lane (PBL) on Roosevelt Way NE between NE 45th Street and the University Bridge. Dawn Schellenberg, community engagement liaison at SDOT, says it should be completed later this week. The interim improvements include closing the west parking lane, creating a buffer with paint and plastic bollards, and new signage. The PBL will be made permanent and extend another mile north to NE 65th Street after the completion of a full street repaving in fall 2015.
This interim demonstration project is, to our knowledge here at The Urbanist, the first of its kind in Seattle. SDOT is allegedly prompted by immediate safety concerns; this corridor saw 21 collisions involving bicyclists between October 2010 and October 2014, or about five per year, making it one of the most dangerous routes in the city. But the repaving project wasn't originally going to improve the street's parking-adjacent bike lane at all. It took a push by University Greenways, a neighborhood group, to get SDOT to implement its own plan for a PBL on this street. SDOT took the initiative to find additional funding and came back with updated plans last week to install the PBL along the entire length of the repaving project.
The temporary improvements don't yet include curb changes at the University Bridge entrance, where people on bikes are forced to merge with motor vehicles for a short stretch. That will change with the full PBL later this year.
UPDATE: The following are additional photos see from along the corridor today.