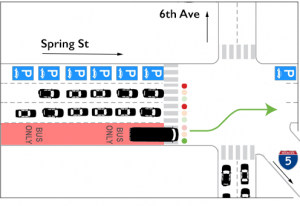 Traffic bound for Interstate 5, especially during rush hour, has long plagued transit riders heading from Downtown Seattle to First Hill and points east. Thanks to the passage of Proposition 1, which increased transit funding within the city of Seattle, the Seattle Department of Transportation (SDOT) has finally revived their plans for improving transit reliability along the Spring Street corridor.
Starting this summer, SDOT will change the southern-most curb lane from general purpose traffic and parking into an exclusive, transit-only bus lane from 3rd Ave to 6th Ave in Downtown. In addition, SDOT will also install a queue jump traffic light which will enable buses to enter the intersection of Spring St, 6th Ave, and the southbound I-5 on-ramp before general traffic. This will allow buses like the King County Metro Route 2 to cross I-5 unimpeded. During the current afternoon rush-hour, it can take up to 15 minutes for transit to traverse this three-block section of Spring St.
SDOT will begin speaking to local stakeholders along Spring St on planned changes beginning in February. Lane striping and the queue jump light should be completed this summer.
While this change will be immediately beneficial to the King County Metro Route 2 bus and all of its daily riders, it also has the potential of positively affecting the Madison BRT bus line should the Madison St/Spring St couplet be chosen for the new BRT line.
A special thanks to all the folks who have been advocating for this transit improvement as well as the folks at SDOT.
Full disclosure: I am a member of the First Hill Improvement Association Board and sit on the Open Spaces and Transportation Working Groups.
Gordon is a native New Yorker who wisely chose to leave the Northeast in the early 1990s. A past resident of Belltown, and Queen Anne, he currently calls First Hill home. He is a board member of the First Hill Improvement Association (FHIA) as well as the FHIA Transportation Committee Chair and is constantly looking for ways to improve transportation up the hill.