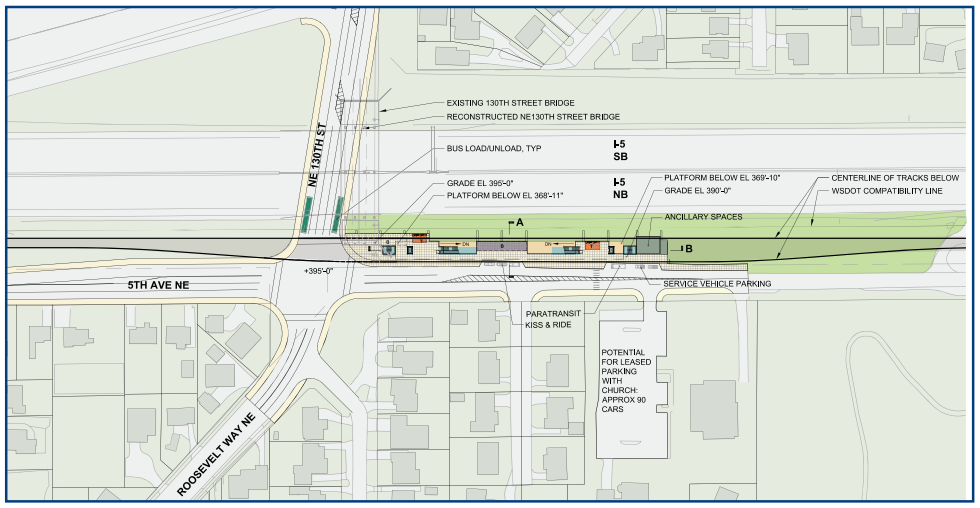 Members of the Sound Transit Board are expected to make a decision in April 2015 regarding light rail station locations on the Northgate-to-Lynnwood extension. One station being considered is a NE 130th Street Station on the east side of I-5 and NE 130th Street. The proposed 130th Street station would not have a parking structure and would rely on people walking, biking, and riding transit. A proposed King County Metro bus route could serve an east-west corridor stretching from Bitter Lake to Lake City while providing direct service to a NE 130th Street station. On top of that, protected bike lanes are planned for the area, which would encourage more people on bikes to ride to the station.
The 130th Street/125th Street corridor has far greater room for additional capacity than Northgate Way or 145th Street. It also offers a shorter distance between the urban hearts of Lake City and Bitter Lake. A new bus route could easily and efficiently serve both communities with quick access to light rail without the delays and congestion on 145th Street and Northgate Way.
Service at the station is scheduled to start in 2023 and would cost about $25 million to construct, considerably less than the cost of building parking garages at a suburban station.
A NE 130th Street Station would be very beneficial to North Seattle communities, and here's just a few reasons why:
Fast and dependable light rail access to two of the densest and most underserved communities in North Seattle: Lake City and Bitterlake.
Easy and fast connections to Broadview, Haller Lake, Jackson Park, Pinehurst, Olympic Hills, and Cedar Park;
Promoting more walking and biking to the light rail station. Many residents of Haller Lake, Jackson Park and Pinehurst commuters are in the walkshed of a NE 130th Street station, and would easily be able to walk to the light rail station. This would reduce their need to drive or take a bus to the Northgate or NE 145th Street stations.
Take pressure off for building expensive parking garages at both the Northgate and NE 145th Street stations.
Significantly increase ridership on Link light rail. At least 3,200 riders are expected to board at a NE 130th Street station daily.
This project is relatively inexpensive compared with other light rail stations, and Sound Transit projects are coming in significantly under budget. One would think that this would make it an easy add-on with savings, but Sound Transit decision makers have not indicated support for a NE 130th Street station.
While there may not be any vocal support from Sound Transit board members at this point, nothing is yet final. An extremely strong showing of community and business support could turn the tides in favor of approving this station. Now is the time to show your support before the April board meeting, and you can do that by directly contacting the decision makers. Simply send them a message to let them know that North Link must have a NE 130th Street Station to open with the line in 2023. Here's who you should contact:
Sound Transit Board, Seattle Councilmember Tom Rasmussen, Seattle Councilmember Mike O'Brien, King County Councilmember Rod Dembowski, Seattle Department of Transportation Director Scott Kubly, King County Metro General Manager Kevin Desmond, and Seattle Mayor Ed Murray.