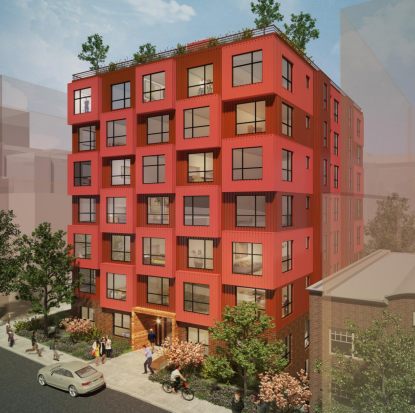 A new 101-unit, 7-story apartment building is coming to the University District. The Arion Apartments will deliver a lot of color and whimsy to a block in serious need of it. The project is entering the Recommendation phase of Design Review tonight in order to respond to the concerns and issues presented at the Early Design Guidance stage. Back in July, neighbors expressed their views on privacy and noise, density, parking, and access of the site.  Meanwhile, the Northeast Design Review Board members applauded the extravagant design proposal and requested that the applicant consider issues like privacy of adjacent properties. Board members will have one more bite at the apple tonight to give their final comments and blessing on the development.
There's no doubt that neighbors will either love or hate this gem by Johnston Architects, but the project is situated in an ideal location for this kind of density. The project is already flanked by apartment and condo buildings on all sides with hundreds of other dwelling units on the block. Two blighting residences will be removed to make way for the new apartment. However, future residents could benefit from excellent amenities like local retail services and entertainment, frequent transit service, employment and educational opportunities, and much more.
The architects have chosen to create a very modular, checkered, and semi-industrial looking building. The exterior will largely consist of red corrugated metal and nearly resemble cargo containers. The almost haphazard nature of the recessed unit facades makes for a very interesting and mesmerising honeycomb building from the public realm perspective. Residents get a big benefit from this design as large windows will fill the boxed frontages of the building while longer side facades will give a more measured and private appearance.
The applicant is not a proposing any vehicular parking for the project, but there will be a huge emphasis on secured bicycle parking on the ground floor. All of the units will be geared toward studios, but they will vary somewhat in size. Residents will have access to a rooftop amenity that will likely play host to social events and provide some measure of onsite open space. A small departure from code is requested for the size of the bay windows, but given the design, this shouldn't pose an obstacle to the request of the applicant. However, not to be outdone, the applicant wants to flex their environmental credentials by building the structure to Built Green 4-star standards.
The property itself is zoned as Midrise (MR) which permits 6-story residential structures. However, the applicant has chosen to take advantage of incentive zoning, which grants one additional floor for development under current zoning. This has two great benefits: additional space for units onsite and more low-income housing provided through contribution to the City's Housing Incentive Bonus Program.
How To Get Involved
If you're interested in attending the community design review meeting for this project, you can do so tonight. The Northeast Design Review Board will meet at the University Heights Community Center in Room 209, located at 5031 University Way NE. The design review meeting begins at 6.30pm. Alternatively, if you wish submit comments in written form, you can do so by e-mailing Michael Dorcy, Project Planner, at Michael.Dorcy@seattle.gov and the Department of Planning and Development (DPD) at PRC@seattle.gov.
For more design review materials and upcoming meetings, see DPD's design review page.

Stephen is a professional urban planner in Puget Sound with a passion for sustainable, livable, and diverse cities. He is especially interested in how policies, regulations, and programs can promote positive outcomes for communities. With stints in great cities like Bellingham and Cork, Stephen currently lives in Seattle. He primarily covers land use and transportation issues and has been with The Urbanist since 2014.