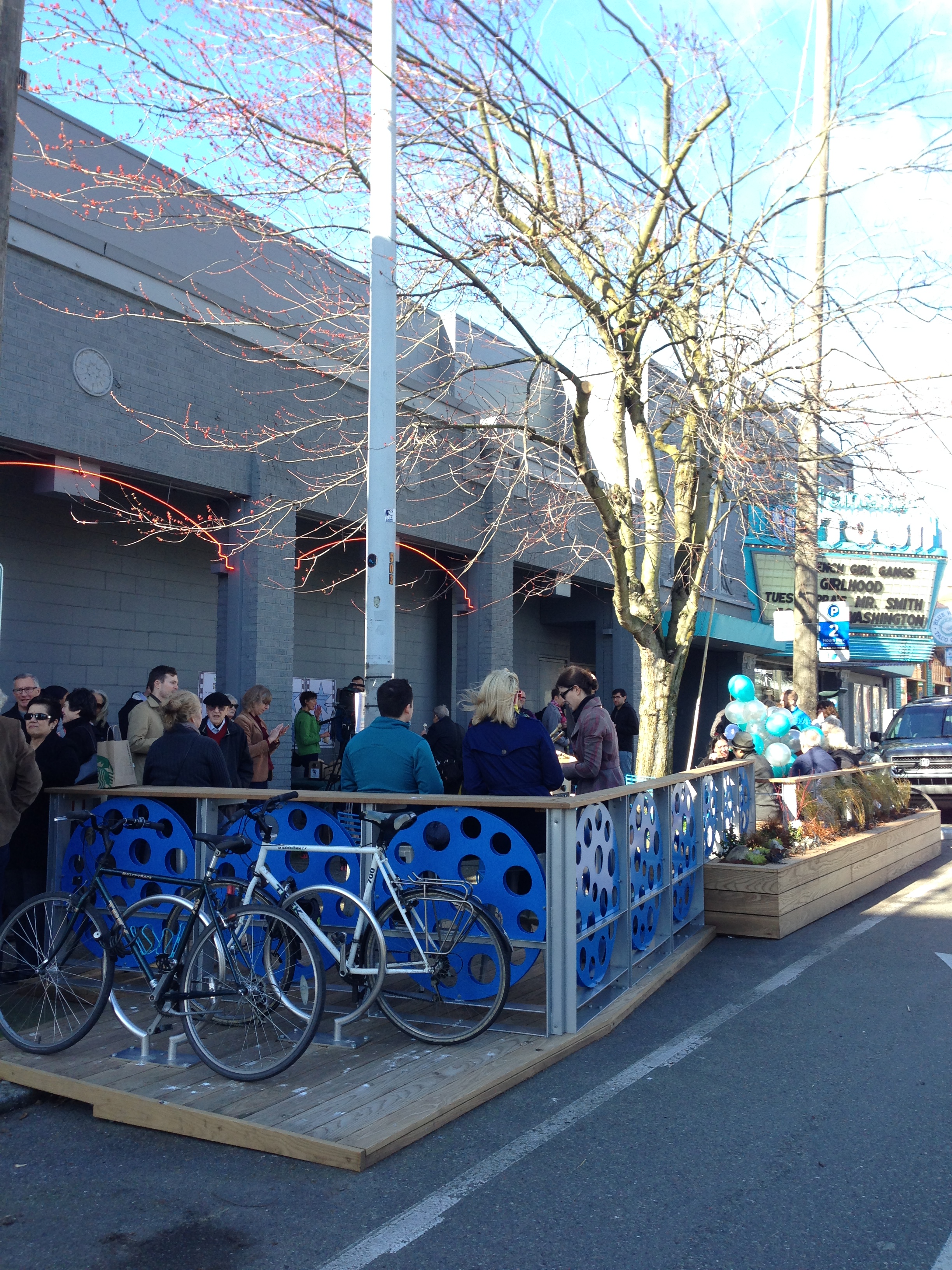 This past weekend, Mayor Ed Murray was at the grand opening of Seattle's sixth parklet. Located in front of the Uptown Cinema, the SIFF-sponsored Uptown Parklet was presented to Uptown residents and the public alike. Flanked with blue movie reels and dotted with ample seating, the space will be a welcome addition to Queen Anne Ave where passerby and moviegoers can sprawl out and enjoy the sights and sounds of the city. But it wasn't just a day to celebrate a new parklet, it was a bigger moment for Seattle's newish parklet program.
The Mayor declared that the parklet pilot program had officially graduated from a pilot to permanent program. The Seattle Department of Transportation (SDOT) will continue to manage the program, but not to be outdone, the Mayor also shared a new parklet initiative to establish streateries. At the event, the Mayor said that: "Many restaurants want to open a sidewalk café, but just don't have enough sidewalk to do it. This new concept will support neighborhood businesses and add another interesting element to our street scene."
Streateries will be essentially the same as parklets, except that restaurants or bars sponsoring the spaces will have exclusive rights during their regular business hours. Patrons of the restaurants can enjoy their meals and drinks outside while receiving service from restaurant staff. These sponsor businesses will still be responsible for the cost of operating and maintaining the spaces. But, at all other hours, the parklets will be available for general public use.
SDOT plans to allow up to 15 streateries in this first round of the initiative. Applicants have until March 20th to apply for a location under the program, and current parklet sponsors could be eligible to convert their applications from a standard parklet to a streatery parklet. With the change in policy to allow commercial use of these spaces, it should further entice food and drink establishments from around the city to jump in on the local parklet revolution.
That's definitely not a bad outcome, especially because more parklets–whether standard or streatery–help create and enhance the places that people want. For one, they present a great way to establish badly needed outdoor public space at almost no cost to the public. But, they also draw more people to the streets, and that's always a positive thing. With the presence of more people, you get the benefit of additional eyes on the street, safer driving behavior by motorists, and smaller street widths. These are all features that people can appreciate.

Stephen is a professional urban planner in Puget Sound with a passion for sustainable, livable, and diverse cities. He is especially interested in how policies, regulations, and programs can promote positive outcomes for communities. With stints in great cities like Bellingham and Cork, Stephen currently lives in Seattle. He primarily covers land use and transportation issues and has been with The Urbanist since 2014.