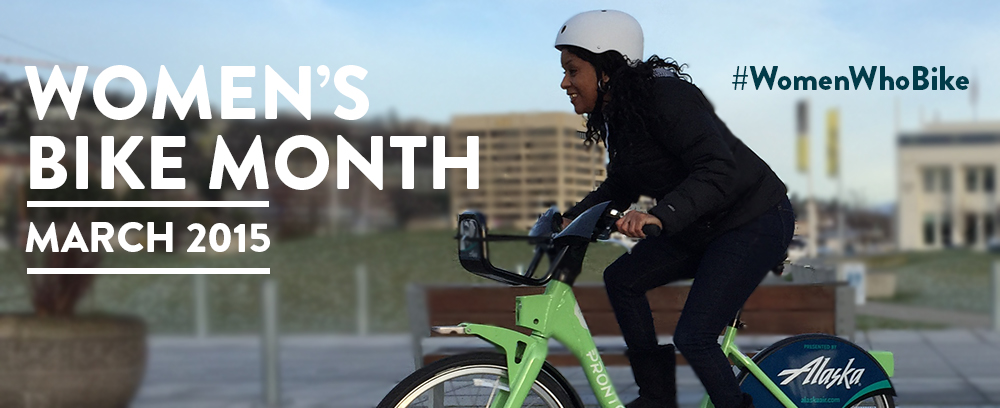 Biking is a heavily male-dominated sport and mode of transportation. Locally, we're still subject to the huge gender gap in biking with nearly 71% of bike commuters being men. Pronto!'s own numbers show it, too. Since the launch of Pronto! back in October, only 19% of the ~24k trips on the shiny green bikes have been made women. But, annual membership numbers place Pronto! in a much better light. As of mid-February, the bikeshare organization has a healthy contingent of female annual members coming in at 36%.
Pronto! wants to help make things more balanced, and to do this, they're launch the first ever Women's Bike Month to get women excited about biking. To kick the month off, Pronto! is going to have a women's bike day on March 5th with some high caliber ladies in bike advocacy. Participants will have the opportunity to join many female leaders from the Seattle City Council, Cascade Bicycle Club, WABikes, Sound Transit, and many other organizations on the #WomenWhoBike Ride. It's planned to be a short, 15-minute bike ride from South Lake Union to City Hall. Naturally, attendees can rent a Pronto! or BYOB (Bring Your Own Bike). And while you're at it, you can take a peek at the sweet Pronto! operations digs.
Throughout the month, Pronto! will partner with many local and national businesses the are owned by or promote women to celebrate the month of Women's Bike Month. For some of these, women riders will be able to take advantage of great discounts and have a shot at winning fabulous gifts. Every female Pronto! annual member who rides at least once during the month of March will be entered into a raffle. One winner will get a free Zipcar membership and a free weekend of four wheels. Those who want to push the envelope can compete for the most rides and have a chance at getting a $100 Uber gift card. And, those who com in 2nd-5th place will have a shot at prizes from Bern, Rat City Rollergirls, CitySeattle, and Hello Robin. Pronto!, of course, has plenty of other prizes, too.
Aside from the big bike ride, Pronto! is pumping three other events. A UW-ASU softball game on March 4th, a pedal stretch yoga-inspired bike ride on March 22nd, and a She Bikes Cascade event to teach the basics of biking. Of course, it wouldn't be bike month without social media and hashtagging. Don't forget to love the heck out the #WomenWhoBike to let people know that there is woman power in biking!
Details for the #WomenWhoBike Ride: The ride starts promptly at 5.30pm on March 5th at the Pronto! Cycle Share Operation Center (2229 7th Ave in South Lake Union) and ends at Pronto!'s City Hall Station (4th Ave & James St).
For full details about Women's Bike Month, check out Pronto!'s microsite.

Stephen is a professional urban planner in Puget Sound with a passion for sustainable, livable, and diverse cities. He is especially interested in how policies, regulations, and programs can promote positive outcomes for communities. With stints in great cities like Bellingham and Cork, Stephen currently lives in Seattle. He primarily covers land use and transportation issues and has been with The Urbanist since 2014.