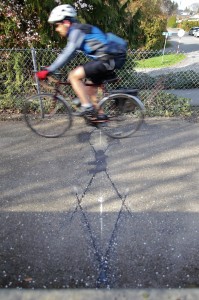 The first two bike counters in the city of Bellevue were installed on the I-90 and SR-520 trails in the first week of March. The I-90 trail counter is located just east of the East Channel Bridge, while the SR-520 trail counter is located at the western end of Bellevue's segment, right before the trail ends on NE 24th St.
The counters are loop detectors built across the trail (see image to right), much like those installed in Seattle on the Fremont Bridge and West Seattle Bridge, but without the visual interface. Some parts of Seattle already have similar bike counters that forego the visual interface, including one on the west end of the I-90 floating bridge.
Funded by Washington State Department of Transportation, the two bike counters will monitor bike traffic at the two locations and help guide Bellevue's future bike infrastructure investments. More bike counters are expected to appear throughout the city later this year through a grant provided by Cascade Bicycle Club. The future sites of these counters is currently undetermined.
Guy is a high school student in Bellevue with a strong desire to become an urban planner. Before moving to Bellevue, he grew up in the Paris metropolitan area where he fell in love with and learned from some of the best rail systems in Europe. Translating his experiences from abroad to Seattle, Guy is now passionate about improving this region's public transit (especially marine-based transportation) and cycling infrastructure. Aside from the technical side of things, Guy also enjoys photography and music.