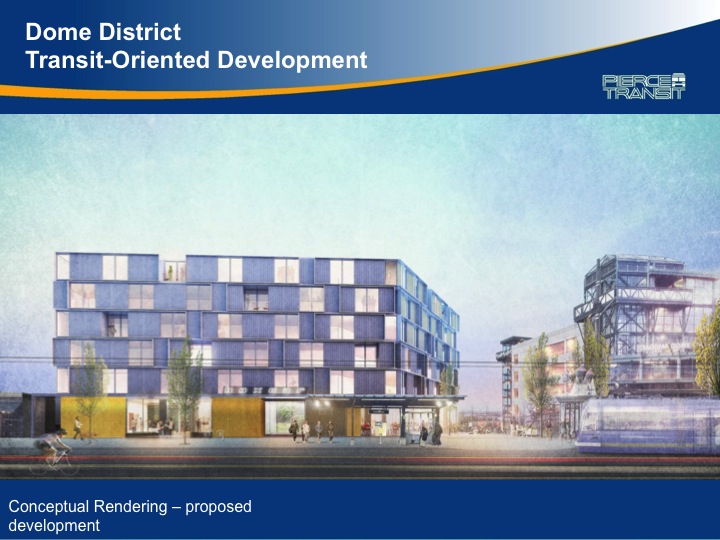 There's good news down in Tacoma: transit-oriented development (TOD) could be on the way for Tacoma Dome Station if Pierce Transit (PT) has anything to say about it. PT is in talks with Cody Development Corporation to create a six-story mixed-use building, which brings in approximate scale with the surrounding parking garages to the east.
The site was originally bought by PT in 1999 to stage construction for Tacoma Dome Station, but has since served as storage space. PT now wants to surplus it for a higher use that will benefit from the services that they and other agencies are already providing. The City of Tacoma and business groups alos want to see this project move forward with hopes of transforming the Tacoma Dome District into a lively, urban neighborhood.
Initial plans indicate that up to 100 market-rate units could be built on five floors while retail would be located on the ground floor to activate the street frontages. Additional parking would be located under the structure. PT's Board of Commissioners have authorized agency staff to negotiate with Cody Development Corporation over the next 90 to 120 days to determine feasibility of the proposal. If ultimately successful, the project would move swiftly to the land use planning stage.
The project site is situated on north side of East 25th Street, just beyond East D Street. For anyone familiar with this area of Tacoma, the site is perfectly suited for TOD. Tacoma Link has a stop right in front of the site with the alignment heading straight to Downtown Tacoma.
Meanwhile, Sounder trains depart from Freighthouse Square across the street, and Amtrak will soon join Sounder trains at this location in 2017. A large number of buses also operate from transit bays on Puyallup Avenue–a mere block from the site–with Sound Transit, Pierce Transit, Intercity Transit, and Greyhound buses providing frequent service to destinations all across the Puget Sound and state.
Tacoma Mayor Marilyn Strickland said in a press release that "Tacoma Dome Station is the only transit hub in the region that accommodates every mode of transportation imaginable. This mixed-use development will serve as a catalyst for future investments in the Dome District."

Stephen is a professional urban planner in Puget Sound with a passion for sustainable, livable, and diverse cities. He is especially interested in how policies, regulations, and programs can promote positive outcomes for communities. With stints in great cities like Bellingham and Cork, Stephen currently lives in Seattle. He primarily covers land use and transportation issues and has been with The Urbanist since 2014.