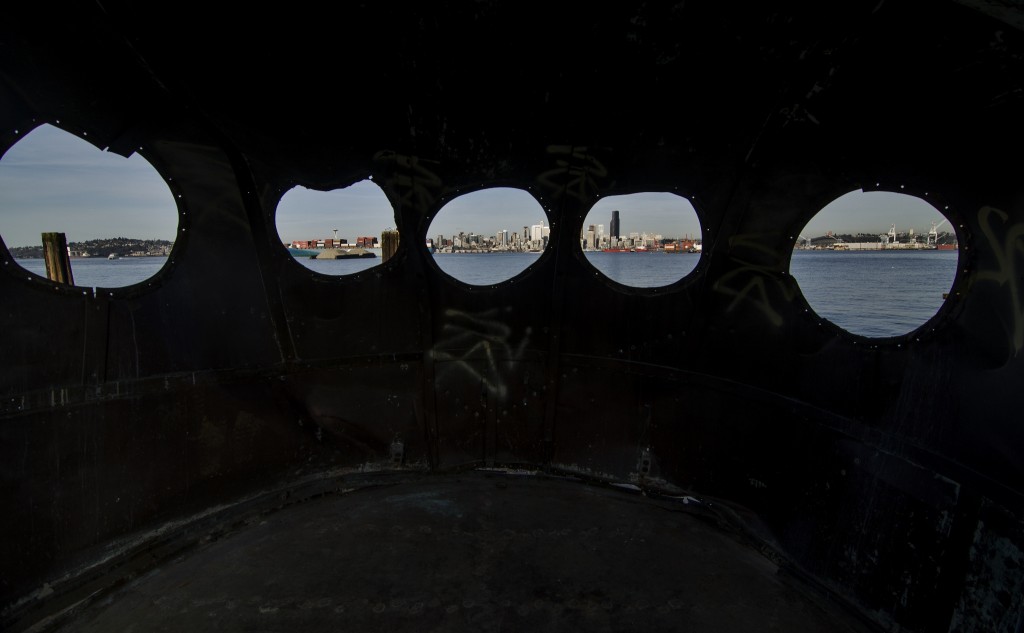 When we reported that the Kalakala was getting scrapped, we did not expect much of the ship would be saved. However, interest in preserving pieces of the ship picked up when the scrapping process began. A few sizable parts were bought by both Gerry Kingen (the owner of Salty's Restaurant in West Seattle) and the City of Kirkland.
While the City of Kirkland has not put their parts on display yet, those brought by Gerry Kingen have already made it to West Seattle. The bridge (wheelhouse), the rudder (now clean of tube worms), a hatch, and a massive piston are currently on "display" in the corner of the Salty's Restaurant parking lot. The view of the Seattle skyline from inside of the wheelhouse's rounded potholes is sure to become an iconic view of the city. It is amazing that this part of the ship, a big piece of Seattle history, is getting preserved, and that it is being put on public display rather than left in a private collection. Gerry Kingen was right in keeping this part of Seattle afloat, so to speak.
It is easy to go take a look at the Kalakala artifacts, as Salty's is just a short walk south from Seacrest Dock. This also aptly happens to be where the King County Water Taxi shuttles back and forth to Downtown weekdays during throughout the year.
Guy is a high school student in Bellevue with a strong desire to become an urban planner. Before moving to Bellevue, he grew up in the Paris metropolitan area where he fell in love with and learned from some of the best rail systems in Europe. Translating his experiences from abroad to Seattle, Guy is now passionate about improving this region's public transit (especially marine-based transportation) and cycling infrastructure. Aside from the technical side of things, Guy also enjoys photography and music.