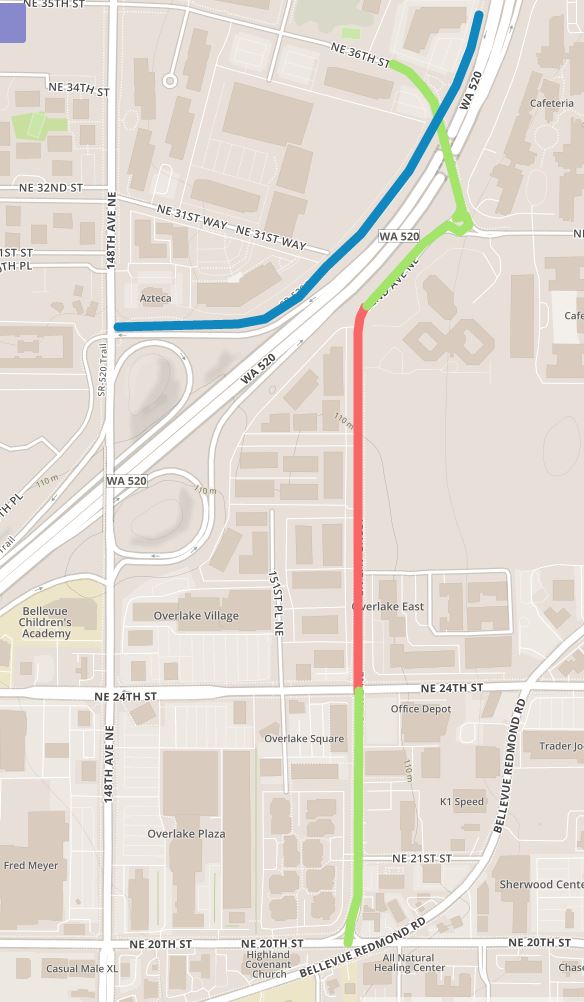 152nd Ave NE is a street in Redmond that links Microsoft's Overlake campus with the Bel-Red area of Bellevue. The street is the central part of Overlake Village, a neighorhood and area undergoing significant urban redevelopment in the City of Redmond. East Link's Overlake Village Station will also be located at the end of the street, right on the side of SR-520.
The street is divided in two main segments: one from the roundabout at NE 31st St to NE 24th St, and the other from NE 24th St to Northup Way (NE 20th St in that section). The 4-block section between 24th St and Northup Way has undergone a road diet as recently as 2013, and now it's time for the other section to get one, too.
The part of the road between 24th St and 31st St uses an outdated design with four lanes (two in either direction) with no center turn lane or on-street bike lanes. What the street needs is a typical road diet, which will provide a center turn lane, bike lanes, and reduced speeds to make the street safer for all users.
Today, that section of 152nd Ave sees relatively little use with just 8,100 vehicles per day. In large part, this has to do with the lack of on-ramps or off-ramps from the street to SR-520. That traffic is well below the threshold for a road diet, which is about 16,000 vehicles per day, or almost twice times the volumes on 152nd Ave.
Many businesses call 152nd Ave home, and thus have driveways leading to the street. However, turning left across the street can be challenging and scary as there is no center turn lane yet two lanes of traffic to cross. With a road diet, a center turn lane would be provided, giving a better place for left-turning cars to wait, reducing traffic delays. There would also be only one lane of traffic to cross, which would improve safety.
The road diet also gives an opportunity to add bike lanes to the street. With the SR-520 trail nearby, bike lanes on 152nd Ave will connect many local neighborhoods to the SR-520 trail, providing an easy connection to Microsoft's campus, Downtown Redmond, and beyond. With bike lanes on the southern segment and near the roundabout, it also makes sense to link both to provide a network of bike facilities rather than discontinuous pieces of infrastructure here and there.
Won't traffic get worse?
It won't. Many similar projects in Seattle have yielded excellent results, keeping traffic flowing, and sometimes even allowing for more vehicular capacity. Safety has also increased on those streets due to fewer collisions and the reduction of speeding by significant amounts. 152nd Ave isn't any different. A road diet will work.
What about growth?
With the ambitious Overlake Village plans in the works, it might seem a little bit risky to go for a road diet. However, when the Overlake Village project is complete, 152nd Ave will become much more of an access street than a thoroughfare. Naturally, this means that more turning movements will occur along this stretch of street, which bolsters the case for a center turn lane pockets. It should also be kept in mind that with the proximity to light rail, many residents and employees will choose to use it for other modes of transportation besides automobiles. Bike lanes will help people bicycle more safely on the streets, further increasing the modes of transportation available, and reducing the number or cars on the road.
A road diet will work wonders on 152nd Ave NE, and will help maximize the potential of Overlake Village and the light rail station. The City of Redmond now needs to step up and make it happen, like they did for the 20th St to 24th St segment.
Guy is a high school student in Bellevue with a strong desire to become an urban planner. Before moving to Bellevue, he grew up in the Paris metropolitan area where he fell in love with and learned from some of the best rail systems in Europe. Translating his experiences from abroad to Seattle, Guy is now passionate about improving this region's public transit (especially marine-based transportation) and cycling infrastructure. Aside from the technical side of things, Guy also enjoys photography and music.