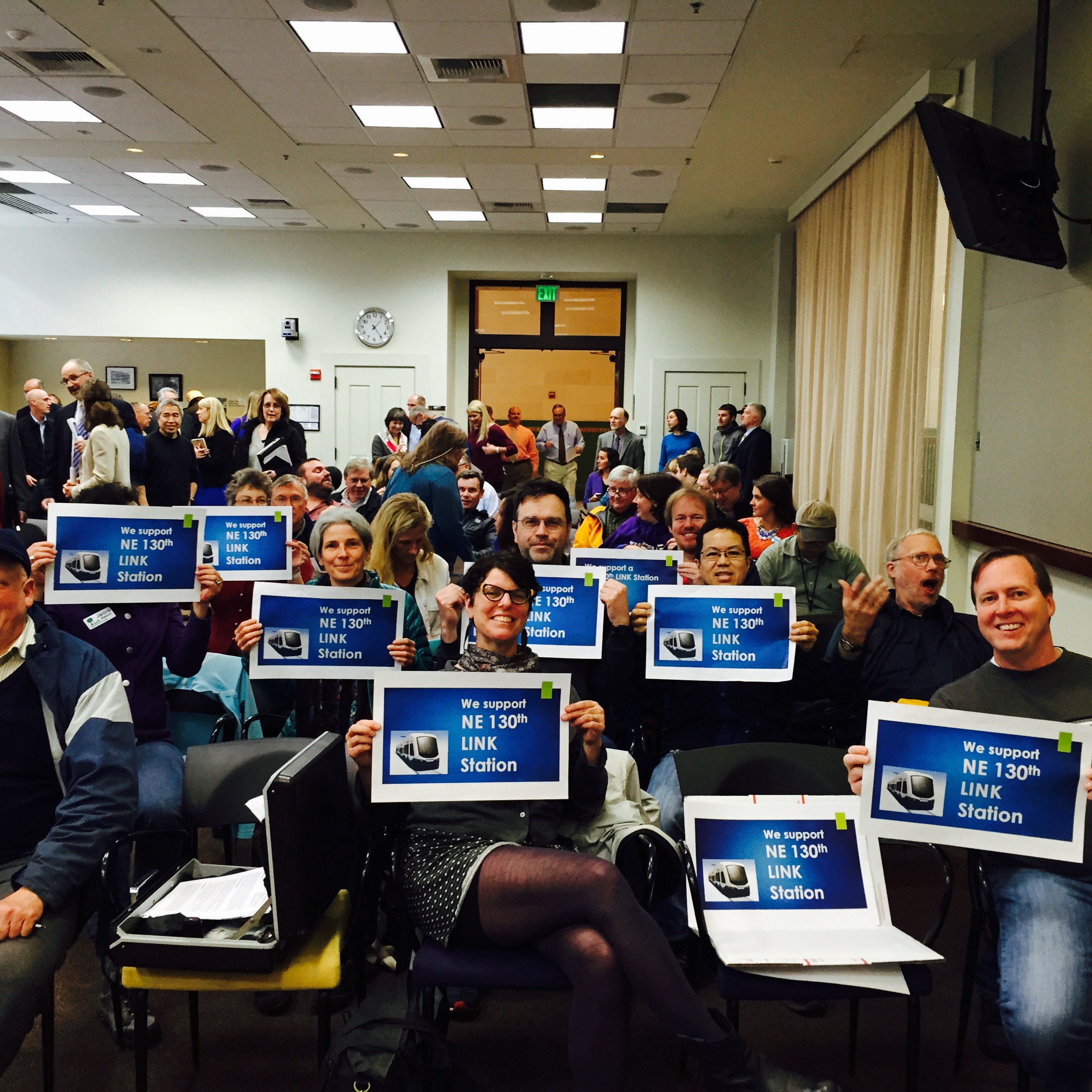 The Sound Transit Board met yesterday afternoon to vote on a slate of options for the Lynnwood Link extension and a Memorandum of Understanding with the City of Bellevue on East Link. Many local transit advocates were happy with the results. The Board voted in favor of Seattle Councilmember Mike O'Brien's language for a shovel-ready NE 130th Street Station in Seattle. While the station will initially be deferred, it will eventually be formed as an infill station along the Lynnwood Link alignment.
Renee Staton sent an e-mail last night thanking the many supporters who turned out in favor of the station after her inspirational and timely advocacy for the NE 130th Street Station.
First, many thanks to all who wrote the Sound Transit Board, who attended the Board meeting today, who wrote in social media and in real media, who talked with your neighbors, and who generally supported NE 130th St Link Station. You made today a success for NE 130th St Link Station.

What happened today: The Sound Transit Board approved building Lynnwood Link (Northgate to Lynnwood) ready for NE 130th Station (thanks to the amendment shown in one of the attachments and proposed by Seattle Councilmember Mike O'Brien). This means it is still possible to add a station at NE 130th without redoing the site and incurring unneeded expenses. Seattle Mayor Ed Murray, Councilmember O'Brien, and King County Councilmember Rod Dembowski all spoke in favor of a NE 130th Street Link Station.

We will be following up with Mayor Murray and Councilmember O'Brien's staff to find out what we need to do to help move the station toward the next steps and will keep all of you in the loop.
But it wasn't just the NE 130th Street Station that won out on the day. The Board picked Mountlake Terrace Transit Center, 185th Street, and 145th Street as preferred intermediate stations between Northgate and Lynnwood. 145th Street Station was the only location in question after a last-minute effort by the Sierra Club and others to pick 155th Street instead. On top that, Mountlake Terrace still has a shot at a future infill station located on the west side of I-5 at 220th Street SW. The lesser-talked-about station is just south of the Lynnwood Transit Center and forms a very important employment and housing center in Southwest Snohomish County. It, too, will make a great infill station and boasts potential for significant growth as the area and light rail line mature. All totaled, Sound Transit estimates that the Northgate-Lynnwood segment will carry somewhere between 63,000 to 74,000 passengers each weekday by 2035.
Bellevue also managed to sneak its way into the mix during the Board meeting. The Board officially approved its Memorandum of Understanding (MOU) with the City of Bellevue on Sound Transit's East Link expansion. The MOU revises a previous agreement between the two governments from 2011, which will save the City of Bellevue $60 million in costs for the construction of a Downtown Bellevue light rail tunnel. Unfortunately, this revision will further hurt the walkshed of the Downtown Bellevue station and utility of the light rail alignment. On the flipside, it does give Sound Transit the go-ahead to construct their maintenance facility and begin permitting for civil construction of the light rail system in the city.
Now the focus for Sound Transit moves toward funding and passing a Sound Transit 3 (aka ST3) ballot measure. In a statement yesterday, Dow Constantine, King County Executive and Sound Transit Board Chair, noted that this next phase begins in June:
Sound Transit will kick off a month-long process to hear from the public about what projects should be studied as candidates for a Sound Transit 3 ballot measure. Meanwhile, we will continue working to secure the funding authority the Legislature must grant us to move forward with a public vote in November 2016.
The Board will examine public comment to determine what will end up in the final project list for a public ballot measure. However, early reactions came yesterday by many prominent transit advocates after a Sound Transit staffer covered some of the potential ST3 projects alternatives. During the discussion, there was a lack of popular routing and operational choices that local transit advocates have long-pushed for–like a grade-separated alignment from Ballard to Downtown Seattle. Jonathan Hopkins, Seattle Subway Political Director, shared his organization's position on the initial project list:
All of the conceptual plan options presented are unacceptable to us. They will also be unacceptable to a majority of the thousands of voters we've spoken to over the last three years. They simply will not support critical lines that are held at the mercy of street traffic. We need options that are worthy of this once-in-a-lifetime transit investment.
We expect to hear more about this from the transit advocacy community in the coming weeks.
Editor's Note: This article has been edited to accurately quote Jonathan Hopkins.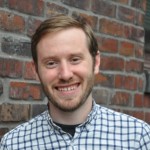 Owen does servicing and consulting for a software company to pay the bills. He has an amateur interest in urban policy, focusing on housing. His primary mode is a bicycle but isn't ashamed of riding down the hill and taking the bus back up. Feel free to tweet at him: @pickovven.