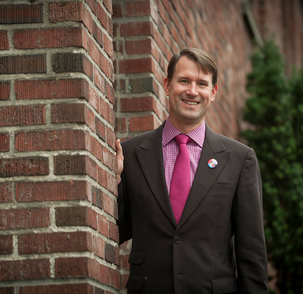 Article Note: The Urbanist is publishing a series of interviews with a selection of 2015 Seattle City Council candidates. In June, we will release our endorsements.
Rod Hearne is a long-time politico making his first run for elected office. He first became active in politics through his interest and passion for LGBTQ issues more than a decade ago. Most recently, Hearne served as Executive Director of Equal Rights Washington where he spearheaded a referendum campaign to legalize marriage equality in Washington State. His efforts helped ensure that these rights were granted to same-sex couples in 2012. Hearne now wants to put his political skills to work locally by taking a seat on the Seattle District Council. Hearne hopes District 3 voters will value his campaign planks of justice, sustainability, arts, culture, and innovation.
What would you do to make housing affordable to everyone in Seattle?
Hearne says that there are deeply systematic issues when it comes to affordable housing. In his estimation, the City Council is only one player and can't do much on its own as a body. But, he sees the affordable housing issue as two sides of the same coin: housing costs a lot and people aren't being paid enough. To combat this, he wants to change taxing, infrastructure, and education policies so that benefits flow to all income levels, but particularly for those on the lower end. Taxing wealthier individuals is one way to help make this a reality.
Hearne also pointed to social housing providers like Capitol Hill Housing as great models of sustainable affordability. But he realized that housing models and providers like Capitol Hill Housing only form one piece of the equation. Other efforts and approaches need to be actively pursued, such as an increased housing levy and removing barriers to increase absolute housing supply.
Variety and quality of housing are important to Hearne. He doesn't want to just build things because we can, but rather ensure that they will work for the people who will occupy them and deliver urban benefits to their communities. Hearne believes that city dwellers have an obligation to provide housing for others; incumbency does not entitle residents a right to exclude others.
While Hearne sees great local examples on housing affordability, he says that he wants to learn from other cities on best practices, too, so as to bring those back and implement them here.
How does planning, transit policy, and development affect racial, social, and economic inequalities in our city? What policies and efforts can make to combat these inequalities?
Redlining has a strong history in Seattle, according to Hearne, where whole neighborhoods were systematically disadvantaged. He noted that this is still evident in many communities and schools in Seattle where ethnic segregation is common.
Hearne wants Seattle to start "greenlining" by providing more housing, parks, and cultural/arts opportunities, particularly to lower income and disadvantaged neighborhoods. He thinks that these types of amenities and qualities are what make places like Seattle standout. He also thinks that they can reduce inequalities.
One way to do this is through education with an emphasis on cultural and arts skills, an area often overlooked by educators and underfunded in disadvantaged communities. Hearne believes that by including cultural and arts into education, we'll get a better educational outcome that is holistic (think STEAM instead of STEM) and provides more abundant opportunities for children as they develop. In turn, these skills can be translated into real jobs and economic benefits to their communities where they happen.
Seattle's Vision Zero plan aims to eliminate traffic deaths and serious injury by 2030. Do you think that target is achievable? Why or why not?
Hearne told us that it doesn't matter what he thinks. He illustrated the obligation of doctors and hospitals: the primary goal for every patient is to ensure that they live regardless of what may be. Hearne says that Vision Zero is just like that: the goal should be zero deaths. He sees kinetic energy as the biggest impediment, there's way too much of it on Seattle streets and it can hurt people.
Hearne thinks that isn't just about reducing speeds. When he says "kinetic energy", he means that there has to be a concerted effort to get people to change their mode choices. He wants the City to focus on getting more people to take transit, walk, and bike while reducing the amount of private driving people do.
Hearne recognized that Seattle isn't the only player in Vision Zero. The City needs to work with the State, Federal government, and other jurisdictions to help make the effort successful. Ultimately, Hearne says that he wishes Vision Zero is achievable by 2030.
How best should the city accommodate the next 20 years of growth?
In starting the discussion, Hearne spent time explaining the connection between the environment, humans, and cities. Hearne accepts the inconvenient truth that humans are greatly contributing to the proliferation of greenhouse gases. And, by extension, humans are causing significant global climatic changes that will negative consequences. He thinks that cities are a relief valve to combating or reducing climate change. In his view, this obligates humans to intentionally focus people into dense, walkable communities.
Hearne also thinks that more transportation choices need to be in the mix to accommodate growth. He sees a connection between transportation and less desirable place. He thinks that we need to be bold and give many the region's less desirable neighborhoods greater access. Pointing to larger metropolitan regions, Hearne thinks that linking far-reaching places like Everett and Tacoma to Seattle (and others) with fast transportation options would help open up housing options and affordability.
What is the most important transportation project in your district?
Without hesitation, Hearne said that light rail is by far the biggest transportation project coming to his district. Hearne believes that light rail will help connect District 3 to the rest of the city. He doesn't want to just stop there though. He thinks that light rail technology is an ideal transit mode and wants to see expansion throughout the Seattle and region. Hearne noted that top light rail priority corridors include Ballard-to-Downtown Seattle and Seattle-to-the-Eastside. He has a hunch that by deploying more light rail regionally, private driving will be greatly reduced.
In somewhat cheeky fashion, Hearne chided the deep bore tunnel project along Alaskan Way. Hearne says that Seattle should celebrate Sound Transit because they know how to tunnel, and do it ahead of schedule and under budget.
When asked about other key projects, Hearne said that protected bike lanes on 19th Ave and 23rd Ave will be welcome additions to his district. He also thinks that the new Arboretum trail will be a boon for bicyclists since there aren't many great options at present.
Read our interviews with other District 3 candidates, Pamela Banks and Morgan Beach.

Stephen is a professional urban planner in Puget Sound with a passion for sustainable, livable, and diverse cities. He is especially interested in how policies, regulations, and programs can promote positive outcomes for communities. With stints in great cities like Bellingham and Cork, Stephen currently lives in Seattle. He primarily covers land use and transportation issues and has been with The Urbanist since 2014.