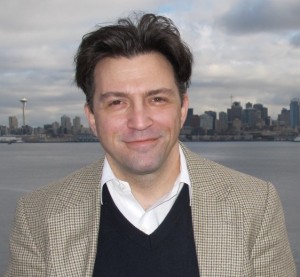 Article Note: The Urbanist is publishing a series of interviews with a selection of 2015 Seattle City Council Candidates. In June, we will release our endorsements.
Alon Bassok is running as a candidate for Position 9, one of the two citywide council positions. He has lived in the city for some twenty years and has resided in the Delridge neighborhood of West Seattle for ten. Currently Bassok, PhD, is an instructor of urban planning at the University of Washington. His planning background, he argues, makes him uniquely qualified to help solve Seattle's most immediate and acute problems: housing and transportation.
What would you do to make housing affordable for everyone in Seattle?
Seattle is going to have to increase housing supply and to grow in height, "to lift the lid." He offers, as a solution, inclusionary zoning–or as he would like to call it, "inclusionary up-zoning", because such a policy would increase heights around the city to accommodate growth. Specifically, for every five units created he would like to see one unit set aside for affordable housing at the level of the minimum wage. Mandatory inclusionary zoning, he notes, is legal and could be passed immediately. Additionally, he is adamant that amenities need to be provided in exchange for all the increased development potential: "density without amenities is worse than sprawl." Therefore, transit must be included with increased housing densities. He cites Ballard as a cautionary tale. In single-family zones, he would like to lift covenants requiring living in ADUs. Lastly, on the demand side, he supports a type of municipal voucher system to alleviate the immediate crisis in affordability "from seniors to working families."
How does planning, transit policy, and development affect racial, social, and economic inequalities in our city? What policies and efforts can we make to combat these inequalities?
Bassok notes that de facto racial segregation continues in the city through personal income, neighborhood land values, and schools. Where the city can make inroads to address the historical inequalities is around light rail stations. Otherwise "there will only be pockets of affordability" without any other services. He notes that the policy of inclusionary zoning, were it to be baked into the zoning around light rail stations, would produce an income mix "to really raise all boats." In general, he says, "we have to believe in ourselves as a big city," to make decisions about what we want out of our major infrastructure investments to fix the problems of inequality.
Seattle's Vision Zero plan aims to eliminate traffic deaths and serious injuries by 2030. Do you think that this target is achievable? Why or why not?
"You can't engineer out bad behavior," or "a drunk driver," he says. Still, no death on any right of way is acceptable and therefore he supports engineering for slower speeds. Narrow lanes make people go slower, he adds. He would like to see the Bike Master Plan fully funded and implemented in the next ten years to improve travel for all modes, with an emphasis on safe bike and pedestrian facilities to schools. He also notes that police enforcement has a crucial role to play in making roadways safer.
How best should the city accommodate the next 20 years of growth?
The urban villages have gotten the short end of the stick in the last twenty years of planning. They have seen very little transit infrastructure improvements while still absorbing a lot of the city's growth. To avoid that dilemma from recurring, he supports investing in the urban centers because the infrastructure is already there. Places like the U-District, Lower Queen Anne, Capitol Hill, and Downtown can support increases in height with "an eye to inclusionary zoning." He is astounded that there is no development atop light rail stations. Lastly, he supports alternative 2 of the draft Comprehensive Master Plan, because of its very emphasis of siting growth around the urban centers where the most activity and services already are.
What is the most important transportation project in your district?
Sound Transit light rail to Ballard would be his most important project, if ST3 were not a decade or more away from completion. Therefore, he would like to speed the process with a Seattle focused, neighborhood high capacity transit system. "We need to solve transit now. And we have to go it alone." Though he released a plan for a municipal fixed rail system, jointly with candidate John Roderick, at large Position 8, on May 27th, he says that he is mode agnostic. As proof of his agnosticism, he adds that the streetcars could easily become BRT lines without compromising their plan. So long as the BRT is engineered to resemble something like what Bogotá, Colombia, has built rather than what Seattle currently calls BRT, it would be all good.