The Seattle Department of Transportation (SDOT) is planning to roll out another piece of the Bicycle Master Plan in Fremont. A three-block stretch of N 34th St will see the addition of a two-way buffered bike lane between Fremont Ave N and just west of Phinney Ave N. Riders use this as a key link between the Burke-Gilman Trail and Fremont Bridge.
SDOT says that, on average, over 100 people bike this stretch of Fremont during the peak morning and afternoon weekday hours. Presumably, these are bike commuters, but safer bike facilities will also benefit riders of all ages and abilities. A secondary benefit of this is the overall safety derived from reduced street widths. Trimming down the street for motorized vehicles inherently means slower speeds and safer conditions for pedestrians, drivers, and bicyclist alike.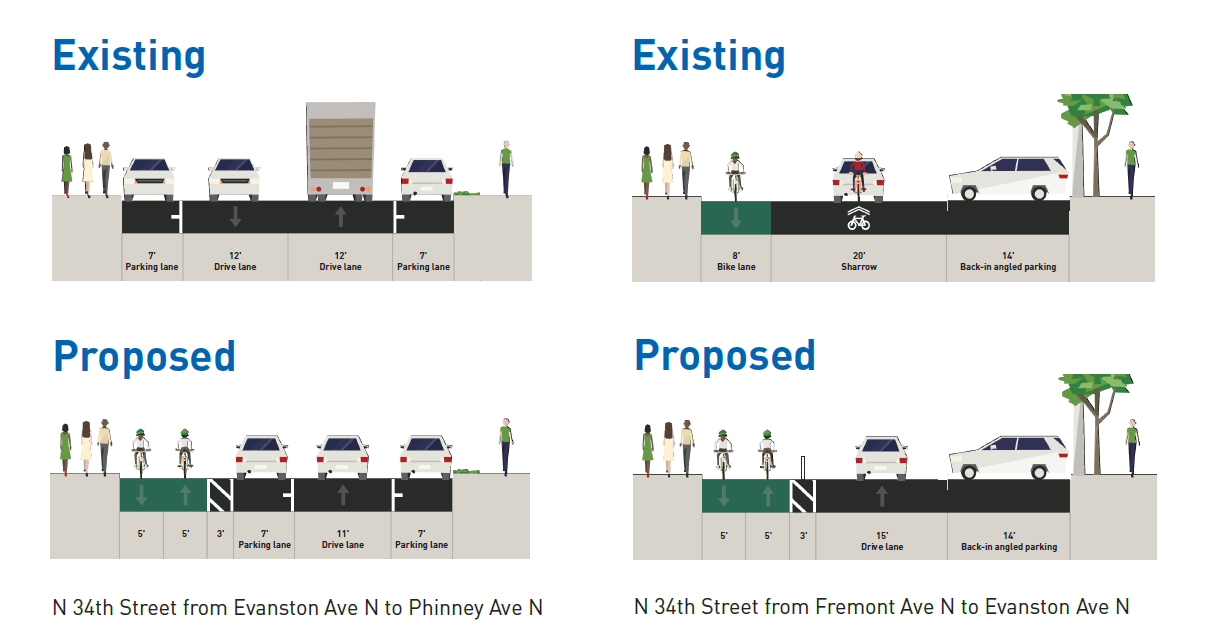 The block between Fremont Ave N and Evanston N is currently a westbound one-way street with back-in parking on the north side and an eastbound one-way bike lane on the south. SDOT would revise the street layout to consist of a two-way buffered bike lane on the south portion of the street while the one-way traffic flow and back-in parking on north side is retained for cars.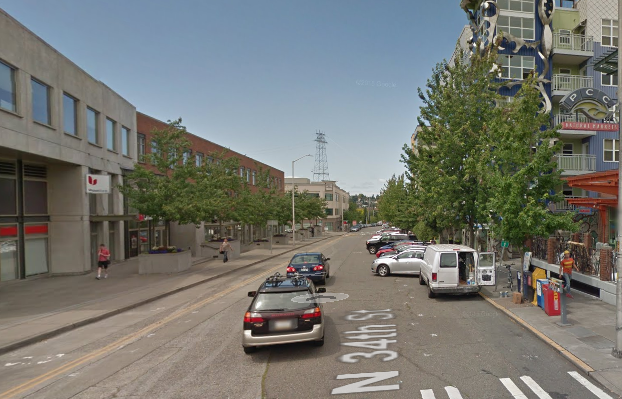 To accommodate the revised traffic flow for bikes and cars on N 34th St, the traffic island at the intersection of Evanston Ave N would be removed. This would create the room necessary to install the new two-way buffered bike lane.
N 34th St between Evanston Ave N and Phinney Ave N is a bi-directional street with on-street parking flanking both sides. No bike facilities currently exist. However, SDOT plans to continue the two-way buffered bike lane on the south side of the street. On-street parking would be retained in full by moving the southern parking spaces just beyond the new two-way buffered bike lane. To make this work, the traffic flow for cars would convert from bi-direction to one-way (westbound).
SDOT wants your feedback on the proposal through tomorrow (Friday, June 26), so please share your thoughts with the project manager, Howard Wu.

Stephen is a professional urban planner in Puget Sound with a passion for sustainable, livable, and diverse cities. He is especially interested in how policies, regulations, and programs can promote positive outcomes for communities. With stints in great cities like Bellingham and Cork, Stephen currently lives in Seattle. He primarily covers land use and transportation issues and has been with The Urbanist since 2014.