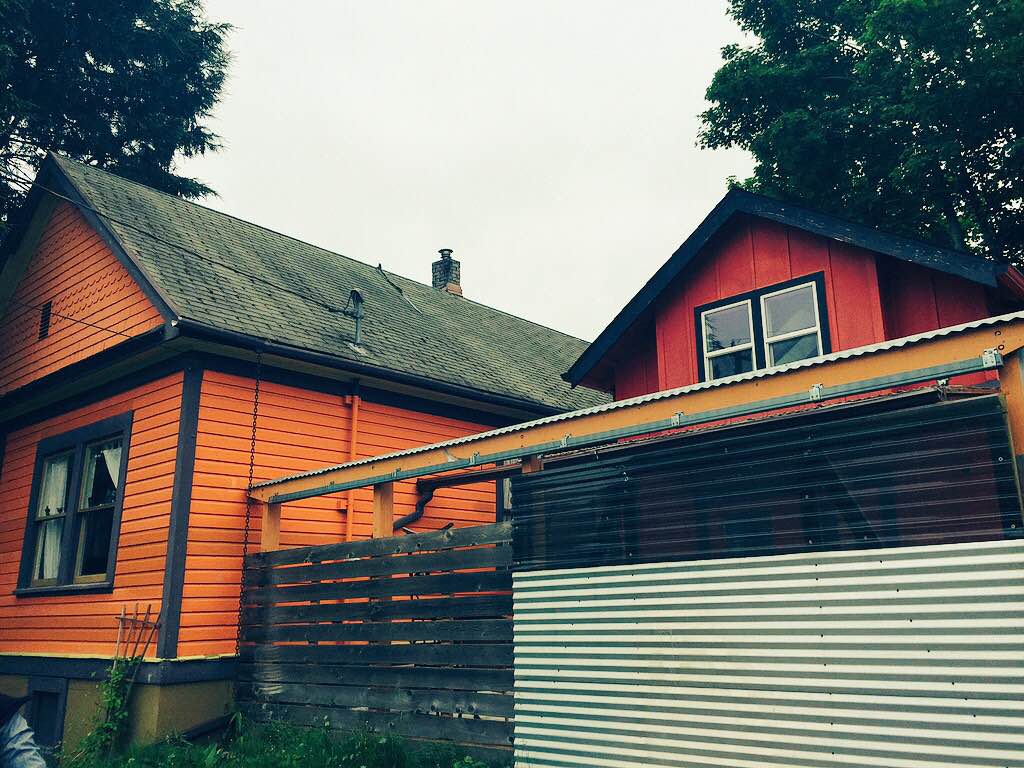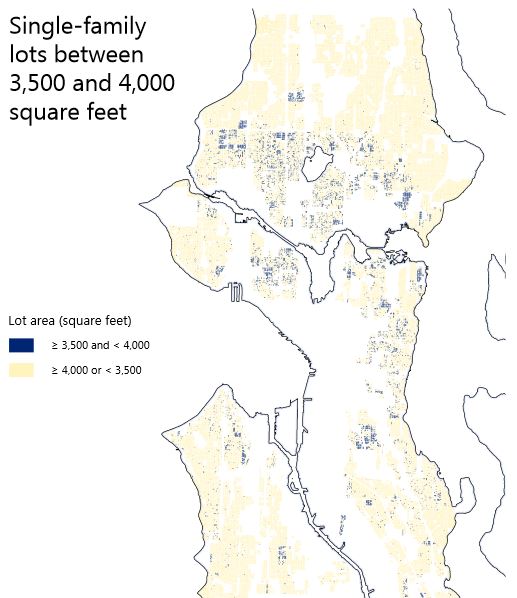 Last Wednesday, Councilmember Mike O'Brien hosted a well ­attended Lunch and Learn at Council Chambers featuring a panel of four detached accessory dwelling unit (DADU) owners and Nick Welch, a planner for the Seattle Department of Planning and Development (DPD). Welch presented a draft staff report on removing barriers to backyard cottages.
(For background on this ongoing project, see DPD's backyard cottage page. Additionally, Crosscut had a good rundown of the play-by-play.)
Some findings from DPD's report:
Roughly 75,000 lots in Seattle are eligible for a backyard cottage­, which equates to 60% of all single-family lots.
Only a third of respondents to a survey stated that they were most interested in using the DADU as a rental. DADUs are commonly used for family members, house guests, studios, office space, and other arrangements.
Development standards (e.g., lot coverage limits, height limits, setbacks) are the most commonly cited barrier to development of DADUs — with cost following closely behind. The cost of a DADU can vary greatly from $60­,000 to $200,000 or more, and there are several factors that can inflate costs quickly.
Off-­site parking was also noted for being a significant impediment. Representatives at the meeting almost universally agreed that it was not only a barrier, but an environmentally destructive and costly requirement. One owner didn't have any off­-street parking and was required to create two off-street parking spots with the addition of their DADU.
The DPD survey also stated owner occupancy was the most polarizing factor. Specifically, DPD reports that "survey respondents strongly agreed that the requirement for the property owner to reside in either the cottage or the principal unit for six months of the year was a significant barrier to constructing a backyard cottage."
Interestingly, impacts to neighbors were not cited as a barrier to creating a DADU.
What stood out through the meeting is that there is no single item that will increase the number of built DADUs in the city — it's several small things that presently constrict supply. And significantly, since the original DADU ordinance was approved in 2006, there have been just over one DADU built per month. This has translated to a total of 212 built DADU — with another 112 permits issued. As I've previously written, I believe that the original DADU legislation was intended to be very unproductive. Further, I believe that the HALA recommendations for loosening restrictions on the development of DADUs are 100% correct, and I hope that they're all adopted.
As to the issues most constraining backyard cottage construction, here's my take.
ADU + DADU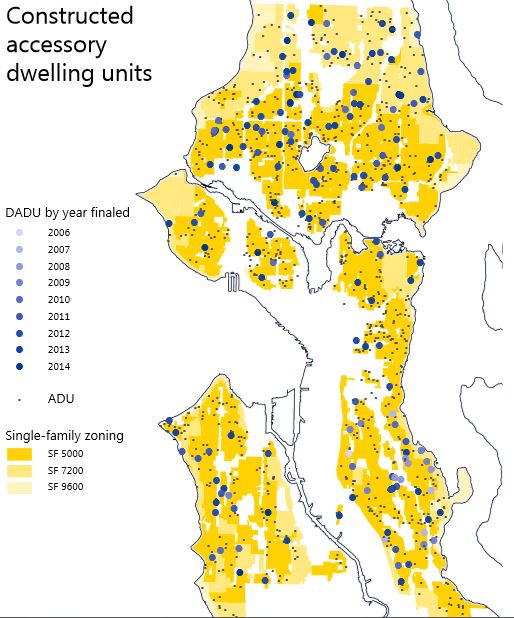 Whereas a backyard cottage or DADU is a secondary unit on a single-family lot that is detached from the main residence, an accessory dwelling unit (ADU) is a secondary unit located within a house (mother-in-law apartment). DPD is looking at allowing both on an SF5000 lot. This should definitely be approved. Allowing the establishment of both an accessory dwelling and detached accessory dwelling unit would increase flexibility and equity options for current owners significantly — and would triple the present capacity of the vast single-family residential zone. If Seattle's single-family home builders had been allowed to build an ADU plus a backyard cottage on single-family lots, the city could have realized another 3­,000 to 6,000 units in just the last decade. Also affecting this issue is how household limits are determined (Seattle's limit is eight unrelated persons per lot while Vancouver's limit is a much more progressive six unrelated persons per unit). Bonus points if we remove the owner occupancy requirement (hey, a triplex!).
Owner Occupancy
I can see the merits to both sides of this issue, but I also know more people who have walked away from DADU projects because of this single requirement over anything else. There is this odd distrust of absentee owners (and by extension, tenants) for small scale rentals in Seattle. I find this to be fairly hypocritical, as nearly a quarter of all single-family homes (30,000 of them) are not owner­-occupied, and that hasn't killed neighborhoods. Another 4,000 accessory dwelling units and backyard cottages (what HALA expects could be possible if all present regulations were loosened) will have negligible impact.
Furthermore, removing the owner­ occupancy requirement could open up an opportunity for younger residents to own a home — either by obtaining the land outright (hey, a duplex!), through some sort of land-­lease program, or other creative avenues.
Additionally, several of the DADU owner representatives mentioned that flexibility would be a benefit, as life throws some serious spitballs. For reference, neither Portland nor Vancouver have owner occupancy requirements, and this is partially how Vancouver's annual production is twelve times greater than ours.
Off-­Street Parking
Portland does not have requirements for off­-street parking. Given that there is generally room to park two to three cars in front of a typical SF­5000 lot, if owners want to negate adding a parking spot, making it voluntary may be a good way to go. There was unanimous consent that not only were the off­-street spots not used, but that it required removal of existing greenscape.
Modify Development Standards
As a passivhaus nerd, this is definitely one that hits home. The present development standards are an impediment to meeting passivhaus — and that's before taking into account site and solar context. That existing garage space counts against DADU floor area when added over a garage is also problematic, and as indicated by commentors, something that DPD should revisit. Should the City penalize homes that have existing detached garages from adding additional units?
The biggest opportunity, however, may be in reducing the minimum lot size from 4,000 square feet to 3,500 square feet (this would add 8,127 eligible lots). Many of the 3,500 to ­4,000 square foot lots are in close-in neighborhoods (Queen Anne, Madison Valley, Beacon Hill, and south of N 85th St) — and it opens up more places where people can easily and feasibly live without a car.
Equity
Also represented in the report, and something that should be looked at with regards to City goals of social and racial justice, are if the presently onerous backyard cottage requirements restrict the development to wealthier households. Loosening the requirements per DPD's report:
Removing barriers to DADU construction, such as removing the off­-street parking requirement and adding some flexibility in development standards, could make it easier for a wider range of households to construct a DADU and benefit from the rental income and additional equity it can provide and could reduce the cost of the rental unit.
DPD will be hosting community meetings in the second half of January to further discussion and outreach. Additionally, if you have any personal stories on why you've passed on building a DADU or ADU, be sure to contact Nick Welch so that DPD gets a clearer picture of what's holding back production.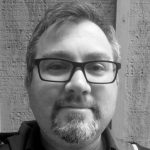 Mike is the founder of Larch Lab, an architecture and urbanism think and do tank focusing on prefabricated, decarbonized, climate-adaptive, low-energy urban buildings; sustainable mobility; livable ecodistricts. He is also a dad, writer, and researcher with a passion for passivhaus buildings, baugruppen, social housing, livable cities, and car-free streets. After living in Freiburg, Mike spent 15 years raising his family - nearly car-free, in Fremont. After a brief sojourn to study mass timber buildings in Bayern, he has returned to jumpstart a baugruppe movement and help build a more sustainable, equitable, and livable Seattle. Ohne autos.