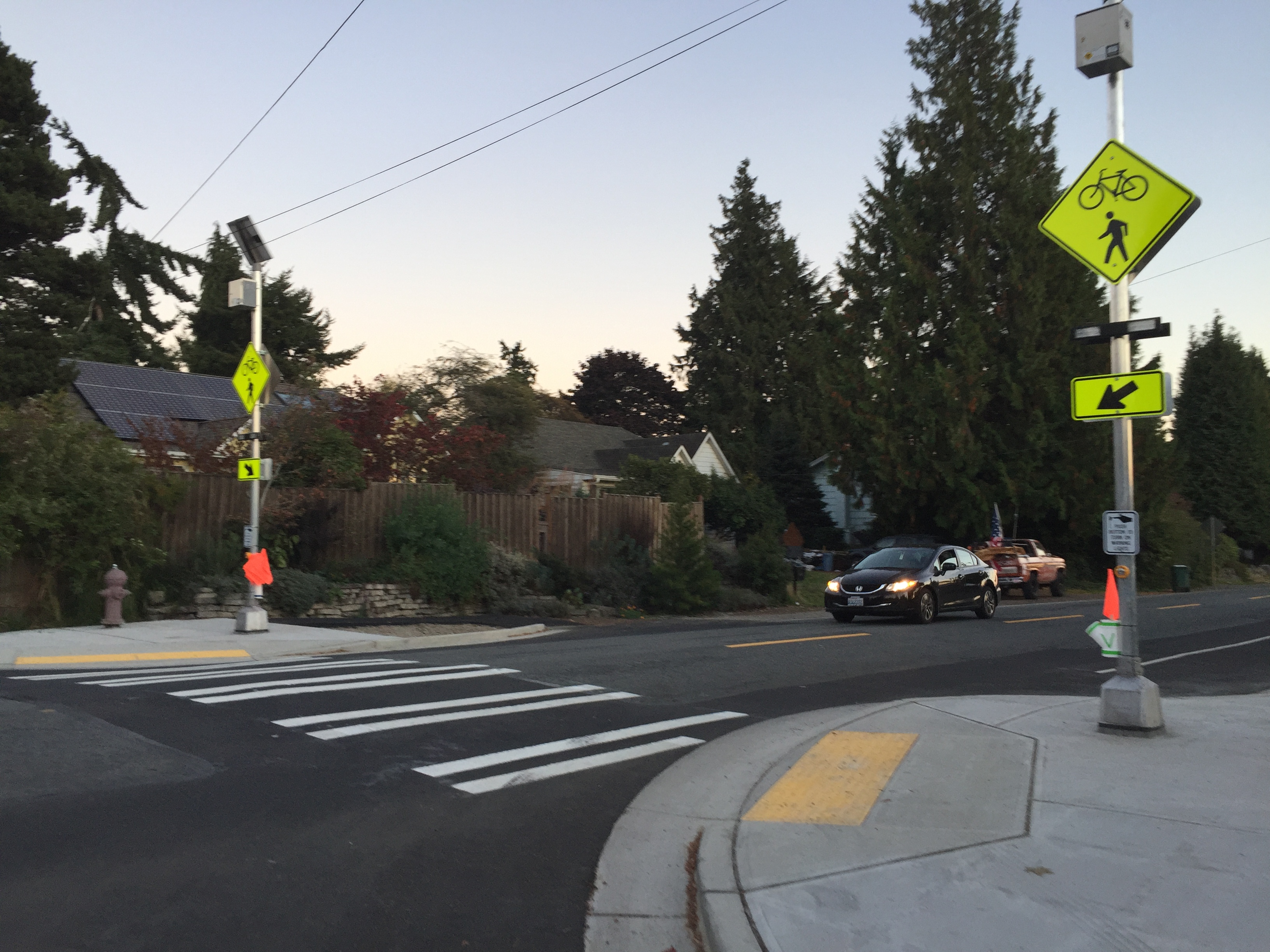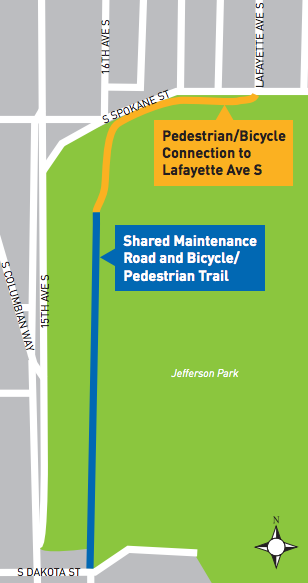 Twelve schools across Seattle will see safety improvements in 2016 as part of the city-wide Safe Routes to School (SRTS) program. As the name suggests, the program is built around targeted programs to encourage students to walk and bike to school safely. The approach to SRTS is fairly broad with initiatives to show students how to get to school safely, slow down traffic near schools, and give students new walking and biking facilities.
Last week, the Seattle Department of Transportation (SDOT) began work at Mercer Middle School in Beacon Hill, marking it as the first SRTS project of the year. SDOT will focus on pedestrian and bicycle improvements as well as an ongoing education and encouragement campaign for the school. The project will deliver a new 12-foot paved surface suitable for walking and biking by improving a gravel maintenance road east of 15th Ave S and a dirt pathway at the north end of Jefferson Park.
The gravel maintenance road is technically signed as 16th Ave S and starts as a paved right-of-way at each end (S Spokane St to the north and S Dakota St to the south), but it quickly turns to a gravel surface making it nearly impossible for people bicycling to ride on the surface and inaccessible to those with mobility challenges. For those users, the only available options to get further north are the heavily trafficked 15th Ave S or a circuitous route through Jefferson Park.
Meanwhile, the dirt trail loops around the north end of the Jefferson Park slope. It leads to the traffic-calmed intersection of S Spokane St & Lafayette Ave S, and just barely misses a connection to the maintenance road. SDOT plans to rectify this by also improving that stretch of trail and linking it to the 16th Ave S right-of-way.
Aside from the trail work, SDOT plans to collaborate with a variety of walking and biking advocacy organizations, like Seattle Neighborhood Greenways and Cascade Bicycle Club, to carryout education and encouragement programs for the school. Those programs will focus on safety education, evaluation of arrival and departure procedures, and organizing walking school buses and bike trains to and from school.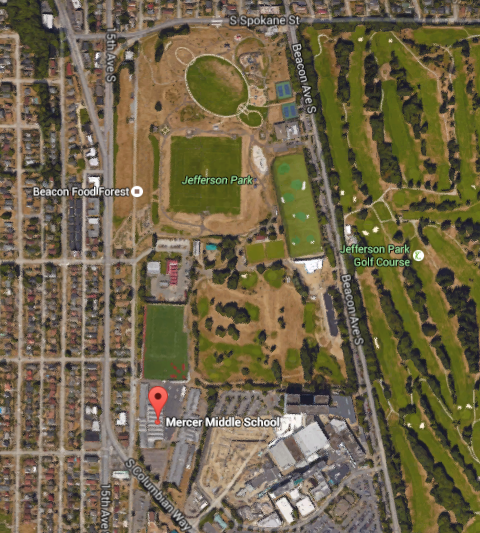 And for the price of a pedestrian and bicycle facility geared toward children, the wider community gets an off-street pathway that will fill a gap in the City's Bicycle Master Plan. Two major Neighborhood Greenways flow north-south in Beacon Hill, but nearly ten blocks separates them. The new trail will neatly stitch them together to offer a safer and more comfortable way to traverse Beacon Hill.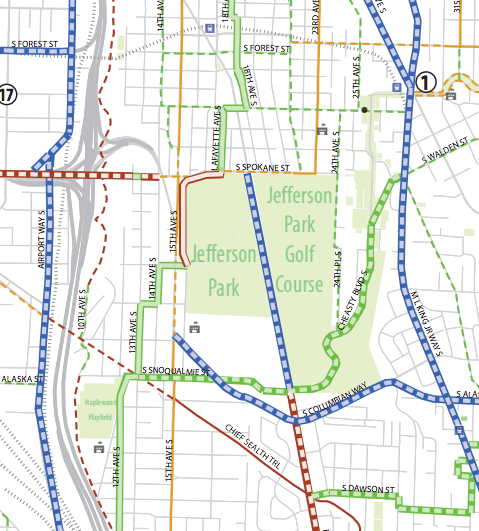 SDOT has estimated that the overall project cost will top $955,000. With $428,000 pledged from transportation funds, the City will allocate all of that to construction activities. Another $527,000 is coming from the Washington State Department of Transportation, but that will be split between education/encouragement campaigns and construction work.
SDOT will deliver 11 more Safe Routes to School projects in 2016 thanks to a generous program budget ($6.7 million). Schools that will get similar safety treatments as Mercer Middle School, include:
Aki Kurose Middle School
Arbor Heights Elementary
Bailey Gatzert Elementary
B.F. Day Elementary
Bryant Elementary
Martin Luther King, Jr. Elementary
Montlake Elementary
Rainier Beach High School
Salmon Bay Elementary
Sanislo Elementary
South Shore K-8
The City has prioritized these schools based upon the highest need and available funding for the year, but SDOT will continue the SRTS program in future years to help achieve the City's larger goal of Vision Zero to eliminate fatalities and serious injuries by 2030.

Stephen is a professional urban planner in Puget Sound with a passion for sustainable, livable, and diverse cities. He is especially interested in how policies, regulations, and programs can promote positive outcomes for communities. With stints in great cities like Bellingham and Cork, Stephen currently lives in Seattle. He primarily covers land use and transportation issues and has been with The Urbanist since 2014.