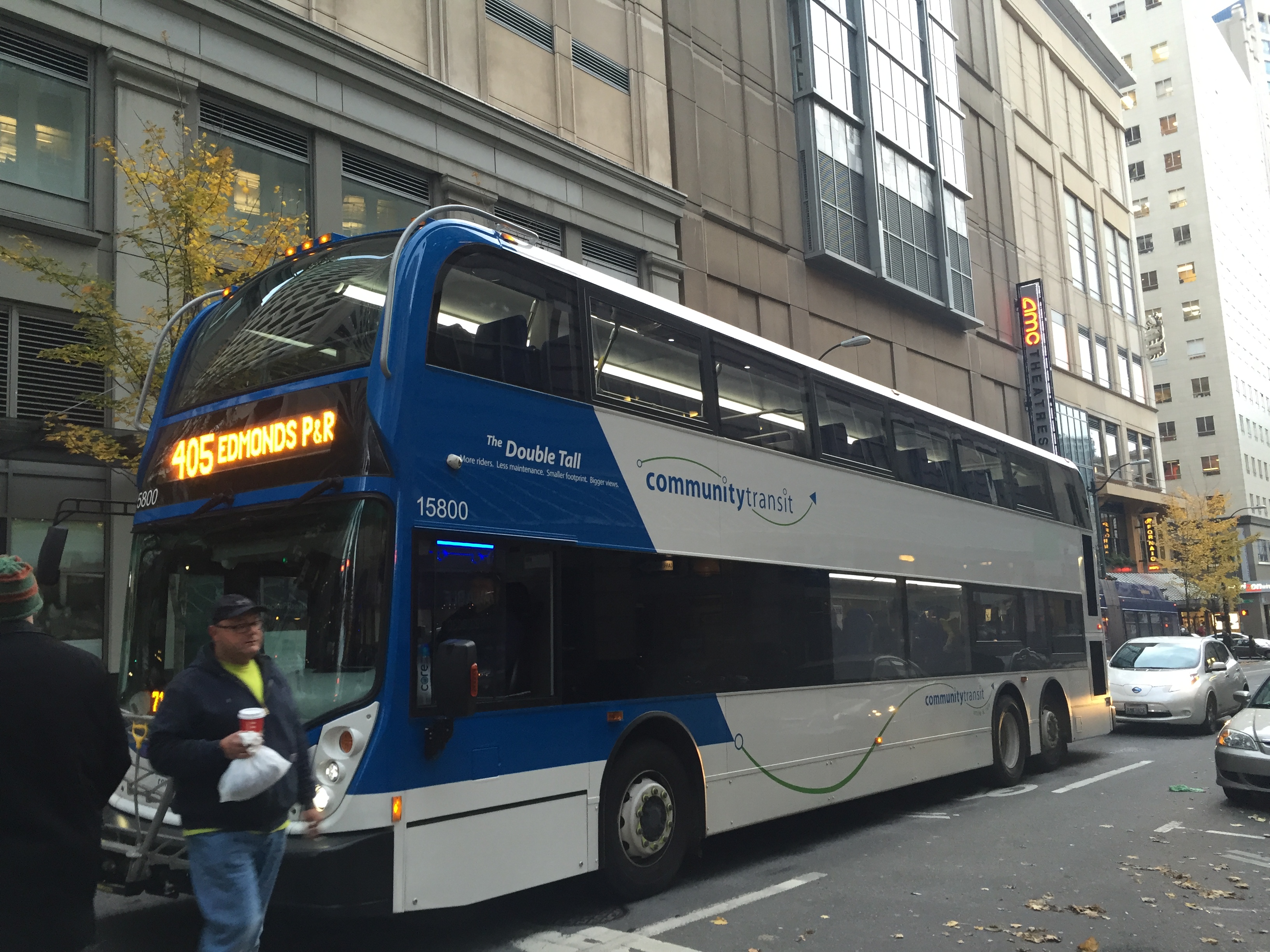 With the success of Proposition 1 in November, Community Transit is looking toward dramatic growth in the coming year. The agency wants to increase service in Snohomish County by a whopping 14%, or 38,000 service hours. New bus service would come online through two rounds of improvements, with the first implementation in September. Under the tentative service expansion plan for the fall, two new routes would be created to serve communities between the Tulalip Indian Reservation, Lake Stevens, and Lynnwood; another route would get substantial revisions; the paratransit service area would be expanded; and a grab bag of service adjustments, including new trips, would be made to local and commuter routes. In March 2017, Community Transit will go further by improving span of service, frequency, and reliability for most local routes. All of this is in addition the upcoming service change this weekend that will add 3,000 service hours to improve span of service and frequency on many routes.
Proposed Service Changes For September
Community Transit wants to provide service between the Lake Stevens Transit Center and Ash Way Park & Ride with New Route 109. The route, as planned, would largely pass through eastern suburban communities of Snohomish County, including Lake Stevens, Snohomish, Mill Creek, Lynnwood, and unincorporated Snohomish County. The route would operate as a local service on weekdays and weekends: it would run every half hour during the weekday peak; and on weekends and the weekday off-peak, it would operate hourly. Route 109 will largely follow the Highway 9 corridor between Lake Stevens and Cathcart and 128th St/132nd St corridor between Mariner Park & Ride and Willis Tucker Park; a short stretch of the route will jog down Ash Way between the two local park and rides. When future improvements are completed at the intersection of 30th St and Bickford Avenue, buses will operate on a deviation from Highway 9 in North Snohomish to serve Snohomish Station.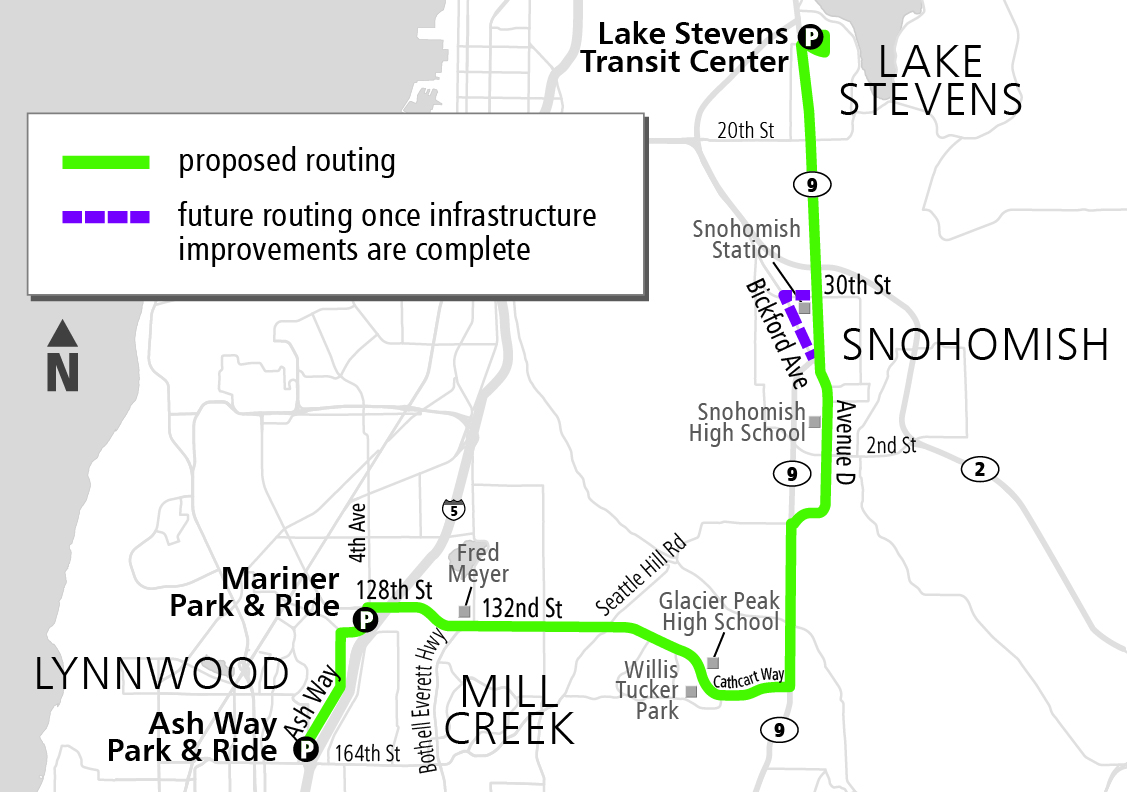 In addition to New Route 109, Community Transit is proposing a complementary service from Quil Ceda Village to the Lake Stevens Transit Center. New Route 209 would serve three communities, including Marysville, Lake Stevens, and the Tulalip Indian Reservation. The service would largely match the service pattern of New Route 109 by running seven days a week. During the weekday peak, buses would come every half hour while service on weekends and during the off-peak of weekdays would be hourly. Route 209 would follow the Highway 9 between the Lake Stevens Transit Center and Walmart in Marysville, 64th St/4th St corridor in Marysville, and 27th Ave corridor on the reservation.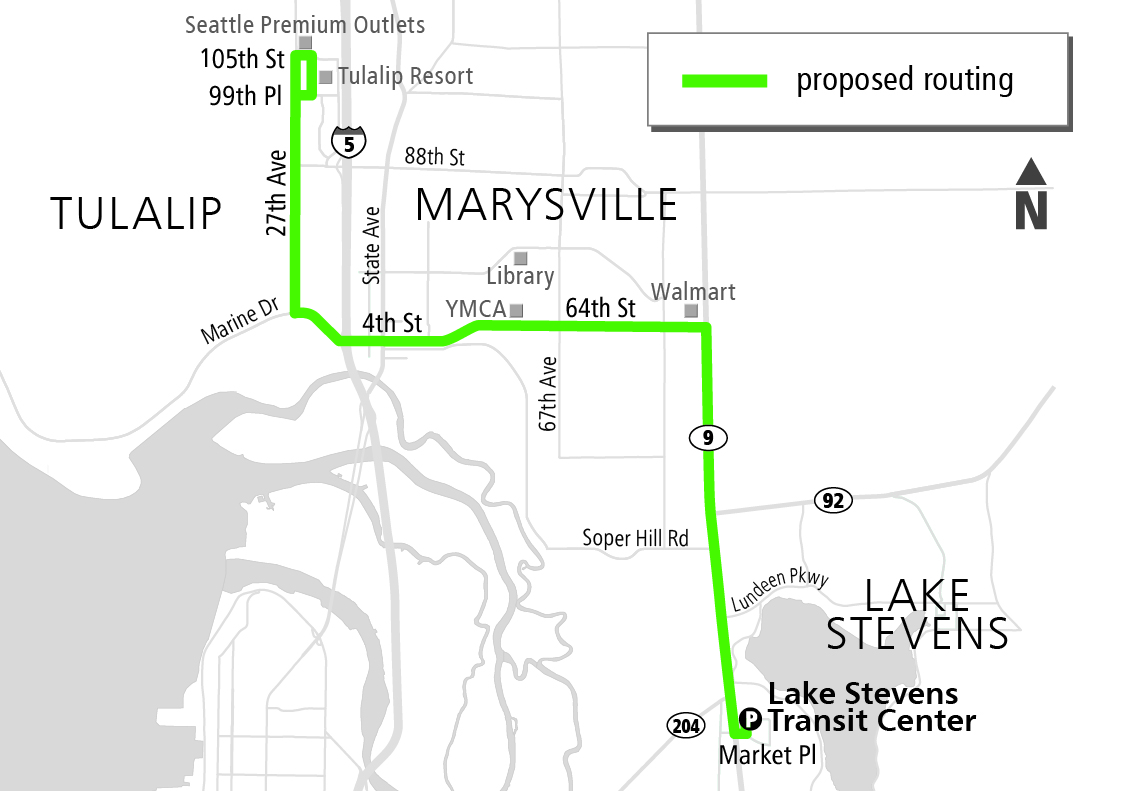 Community Transit is proposing to revise Route 222 in Marysville. The agency feels that better coverage could be provided by sending buses further east toward Marysville Getchell High School and Walmart, and operating the route along the denser blocks of Grove St. Two portions of the route are slated for deletion, including 4th St and the north leg of 67th Ave. Instead, buses heading eastbound will continue on 88th St as far as the high school, turn right onto 83rd Ave, and then right again onto 64th St. Revised Route 222 buses would also operate on Grove St between State Ave and 67th Ave. The change is largely possible because New Route 209 will retain service on 4th St and provide connections to Quil Ceda Village for existing riders.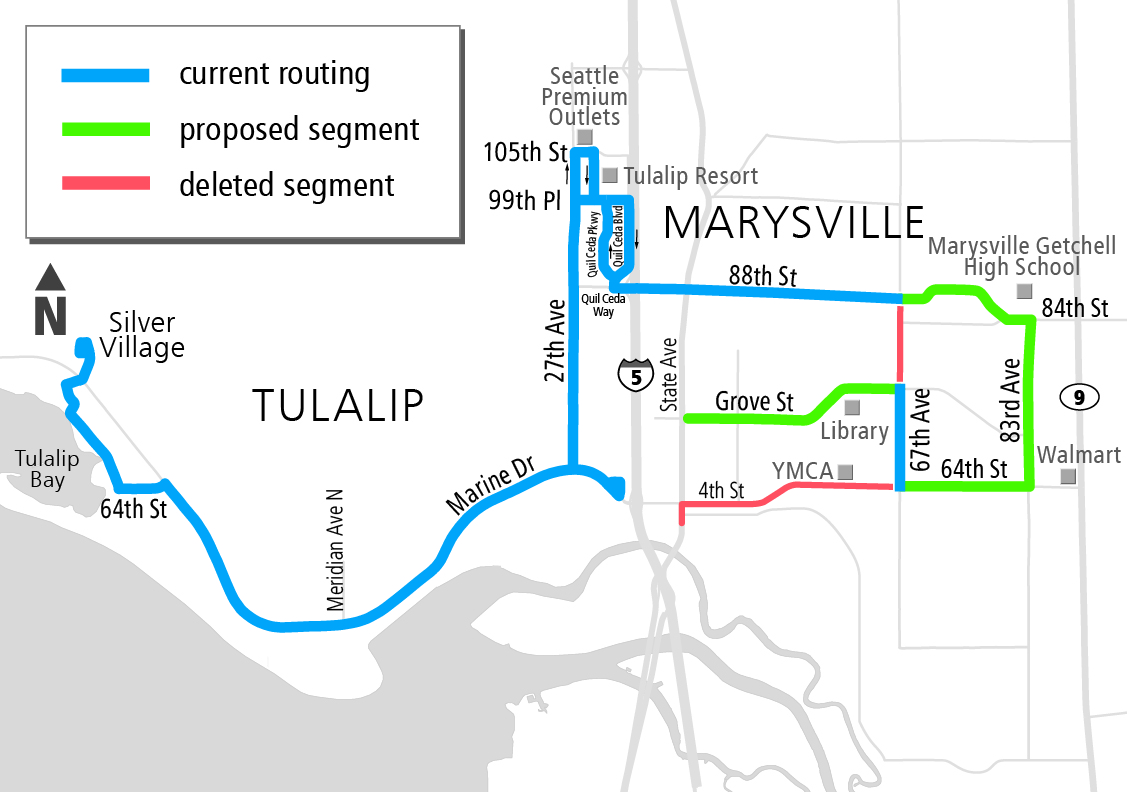 To supplement the service additions from New Routes 109 and 209, Community Transit would also provide a wider service area for DART paratransit. New DART service would be provided within three-quarters of a mile of any new route segments, as shown in the map below.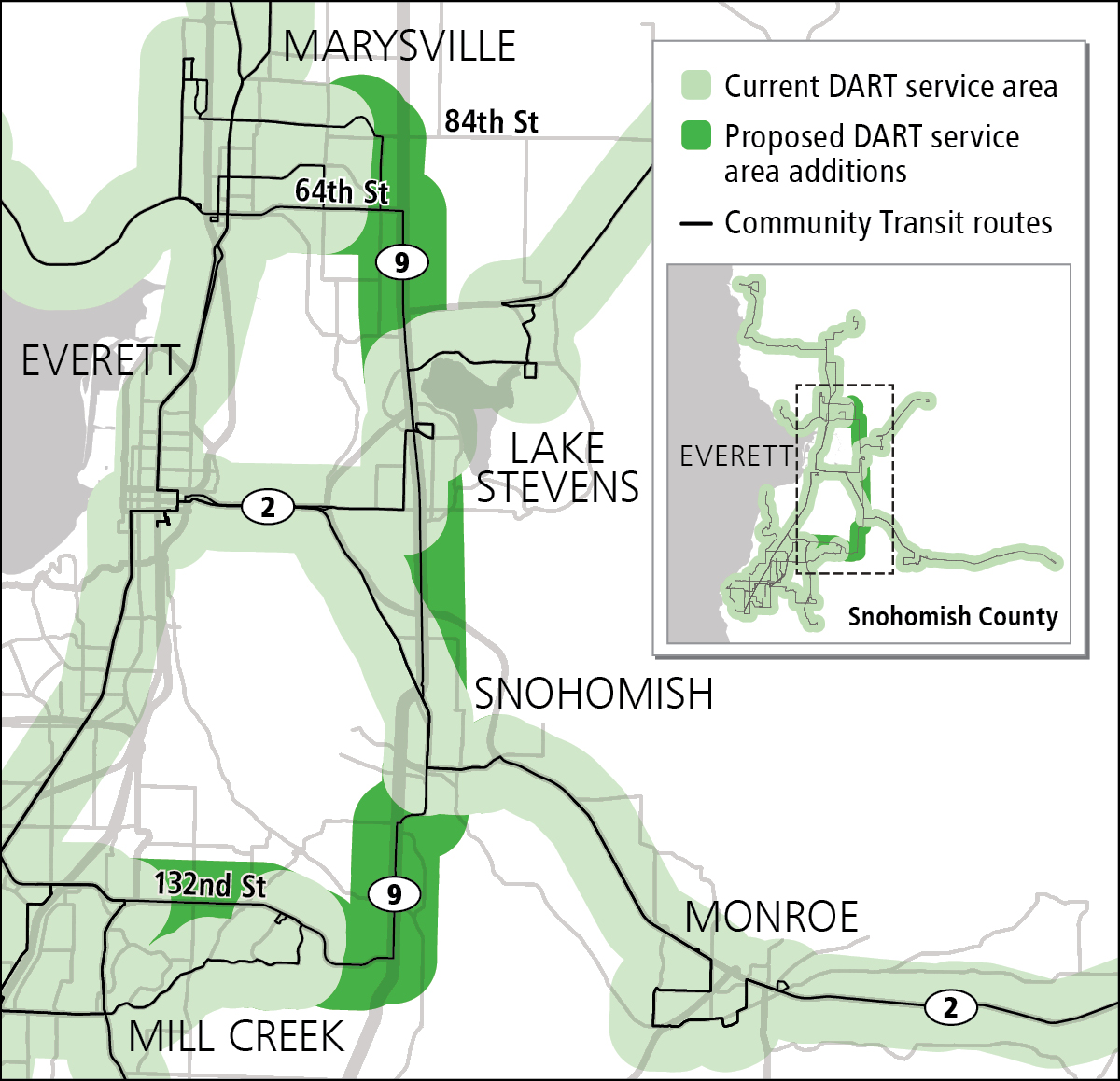 Community Transit is also considering other minor adjustments to serve customers better. That includes additional trips on commuter Routes 402, 412, 415, 860, and 871 between Snohomish County and Seattle (Downtown Seattle and the University of Washington campus). Commuter routes would generally see trip time adjustments to enhance reliability and match current traffic patterns. Route 417, which operates from Mukilteo to Downtown Seattle, would also see the Lynnwood Transit Center stop removed from the routing to reduce trip times.
March 2017 Service Change Concepts
Looking ahead, Community Transit is planning to beef up local service in March 2017. The agency has four general concepts for that service change:
Seven local bus routes are slated to get more early morning and late evening trips in an effort to increase the span of service for riders. The lucky bus lines include Swift and Routes 101, 113, 115, 201, 202, and 222. 
Two bus lines, Routes 119 and 120, would receive improved service frequency during midday hours on weekdays.
Local bus routes would generally receive adjustments to trip times to enhance reliability of buses.
The service proposal is open to public comment through Friday, April 8th. If you have feedback on the proposal, send your comments to Community Transit for consideration. A public hearing will be held on Thursday, April 7th by the Board of Directors at the Community Transit headquarters in Everett. A final proposal may be approved by the Board sometime in May.

Stephen is a professional urban planner in Puget Sound with a passion for sustainable, livable, and diverse cities. He is especially interested in how policies, regulations, and programs can promote positive outcomes for communities. With stints in great cities like Bellingham and Cork, Stephen currently lives in Seattle. He primarily covers land use and transportation issues and has been with The Urbanist since 2014.