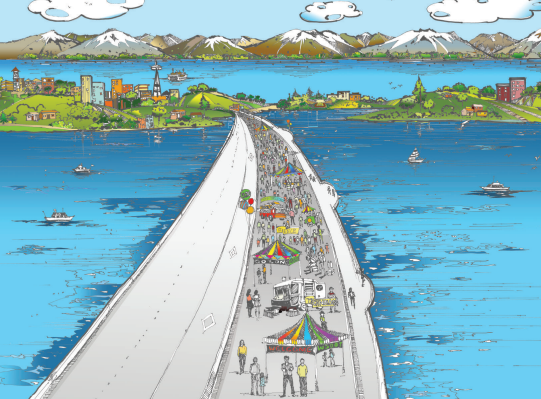 It's not often that a highway department invites people to walk, bike, and dance freely on their roads, but this weekend is your rare opportunity. The Washington State Department of Transportation (WSDOT) will kick-off the opening of a new bridge span over Lake Washington with a big public party on Saturday and a bike ride on Sunday.
A Grand Opening
On Saturday (April 2nd), the new bridge will be christened with a 10K walk and run across SR-520 starting and ending at Husky Stadium. Virginia Mason Heart Institute is sponsoring the event and registration is still open. That walk/run starts off at 7.30am. But the main festivities begin later in the morning at around 10am. Governor Jay Inslee will be on deck at 10.30am for some words about the momentous occasion and a ribbon-cutting ceremony with other key officials and stakeholders. The public can even partake in ribbon-cutting — if that's your sort of thing — at two locations and take home a piece of the official ribbon. A judge from the Guinness Book of World Records will certify that bridge is the longest floating bridge in the world. And ample activities, sponsors, and vendors will welcome visitors to the celebration, including:
Interactive exhibits from Lego builders, Pacific Science Center, and other organization in the STEM field;
Games for kids and adults alike;
Full sized equipment and heavy machinery used in the construction of the bridge will be on display; and
A big caravan of local food trucks — just to name a few!
Access to the bridge will be by shuttle only. WSDOT is providing regular shuttle from four locations (one in Seattle and three on the Eastside). Shuttles will pick visitors up at Husky Stadium, South Kirkland Park and Ride, Bellevue Transit Center, and Houghton Park and Ride. Visitors can drop by anytime from 10am to 5pm on Saturday.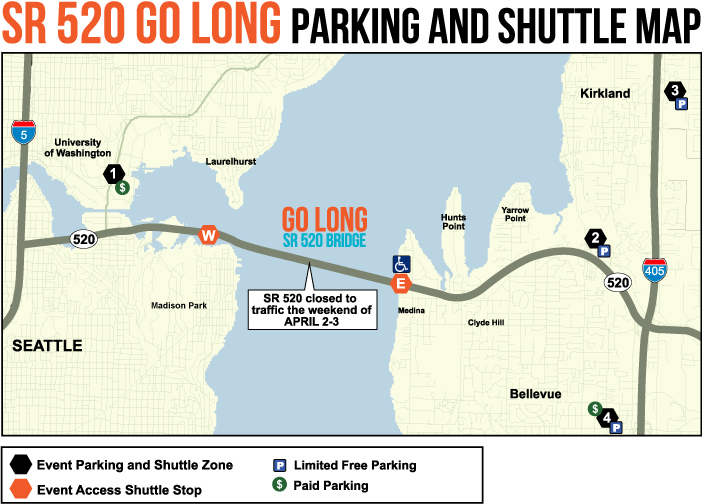 Then on Sunday (April 3rd), Cascade Bicycle Club riders will be out in force for their once-in-a-lifetime Emerald City Bike Ride. The lucky few who have scored tickets will take a 21-mile bike ride around Seattle and across Lake Washington. The ride starts at Husky Stadium and takes participants to the new SR-520 bridge where they will get to make a lap toward the Hunts Point side of the floating bridge. Running back toward Husky Stadium, riders will head westbound on Pacific Street and through the University District before emerging onto the I-5 closed Express lanes. They'll head southbound toward the Cherry Street exit before being dumped off onto Downtown Seattle streets. The ride cuts through the International District to reach the Mountains-to-Sound Trail and then continues eastward until Lake Washington Boulevard. To finish out the ride, participants will head north through the Central District and the Arboretum to end at Husky Stadium. That's an epic Emerald City bike ride!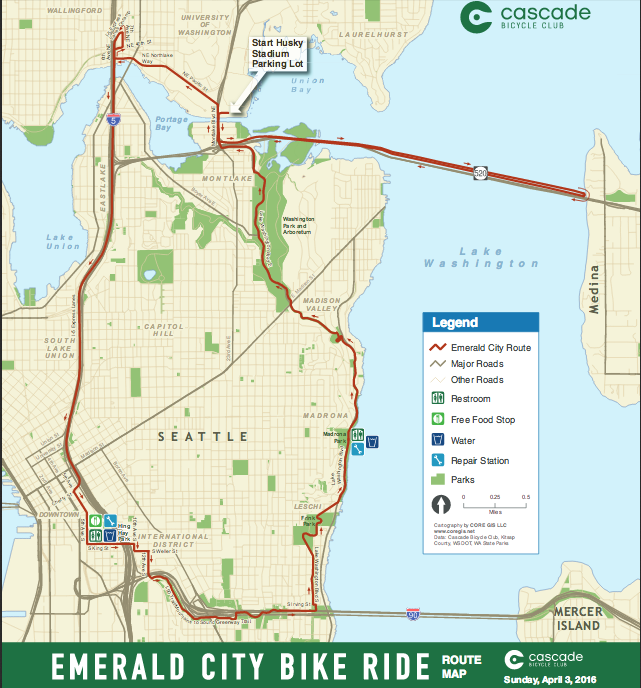 So don't miss out. Go long!

Stephen is a professional urban planner in Puget Sound with a passion for sustainable, livable, and diverse cities. He is especially interested in how policies, regulations, and programs can promote positive outcomes for communities. With stints in great cities like Bellingham and Cork, Stephen currently lives in Seattle. He primarily covers land use and transportation issues and has been with The Urbanist since 2014.