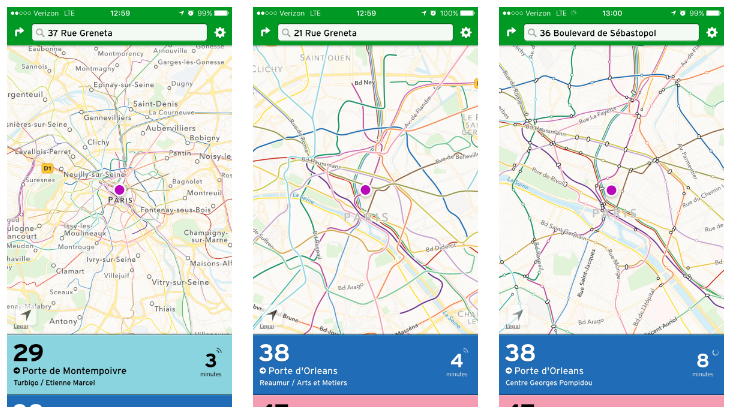 Transit App software engineers continue to improve the quality of their popular transit trip planning app service. Last month, the company pushed out a highly requested feature that displays regional transit networks. The app now prominently features enhanced bus corridors and railway lines in dozens of regions across the globe (e.g., New York City, Paris, Sydney, and Vancouver, BC).
In the Puget Sound, a half dozen transit lines made the cut, including: Link, Sounder, streetcar lines, and Swift. Sorry RapidRide! Each of the lines are readily apparent at the regional level giving users an idea about how the regional rapid transit network is connected. Zooming in closer on the individual lines reveals stop locations along the corridors. Users can tap on stops to display a location name and find out next arrival times.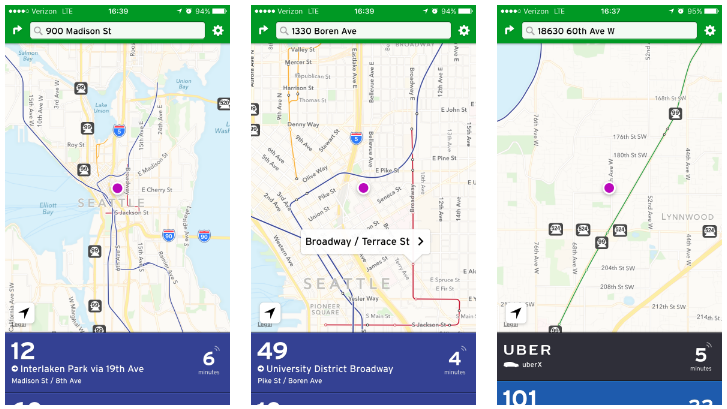 Lines are also assigned unique colors. Swift gets a nice evergreen tone, which is in keeping with Community Transit's bus branding for the route. Sound Transit's corporate navy is used on Link and Sounder services. And the Seattle Streetcar lines get gold (South Lake Union Line) and red (First Hill Line).
In regions that have substantial regional transit networks like Paris and Washington, D.C., the results are cartographically beautiful to the maphead and average user alike. That's not by sheer luck. Transit App staff put a lot of effort into the update to make lines both geographically correct and appear smoothly. To do that everywhere, the app service uses a complex algorithm to display transit lines better than the geniuses at Google and Apple.

Bur despite their work to perfect the lines of regional transit networks, that doesn't mean that every route comes out perfectly. Take Everett Transit's Route 7 for example:
The software engineers at Transit Maps realize this and say that this is just the beginning. Over the coming months, updates will focus on deploying the same algorithm for regular bus routes, improving station labels, and adding points of interest that transit riders will find useful. Of course, the team will also roll out the regional transit networks feature to more supported regions.
And ending on a fun note, the app is also helping feed the Pokémon Go craze. App developers added an Easter egg in a handful of regions like Montréal, New York City, and Toronto that allows users to locate Pokéstops and Pokémon Gyms:
All aboard the Pokébus! MTL, TOR, NYC: zoom in to see nearby gyms + PokéStop locations #CatchEmAll #CatchDatBus 🚎🔍🏃 pic.twitter.com/f3KBXnf3uD

— Transit (@transitapp) July 27, 2016
That feature has yet to come to the Puget Sound, but the good news is that people are using it where available and taking transit. Win-win.

Stephen is a professional urban planner in Puget Sound with a passion for sustainable, livable, and diverse cities. He is especially interested in how policies, regulations, and programs can promote positive outcomes for communities. With stints in great cities like Bellingham and Cork, Stephen currently lives in Seattle. He primarily covers land use and transportation issues and has been with The Urbanist since 2014.