As a parent who lives in the 36th District, and therefore a constituent of State Senator Reuven Carlyle, I share his concern that Washington State be able to fully fund our public schools as well as address the climate crisis by building rail to connect our community to so many others in the Puget Sound region. That is also why I do not agree with his assertion that passage of Sound Transit 3 would jeopardize funding for our public schools. It does no such thing. Puget Sound voters should reject this false choice. We can both vote for ST3 and have fully funded public schools.
Here's the story. The State Supreme Court ruled in the McCleary decision in 2012 that the legislature was failing in its constitutional, paramount duty to fully fund our public schools, and must correct this. In 2014 the Court further held the legislature in contempt for failing to comply with the court order.
The legislature has a wide range of options available to find the money it needs to fund our public schools. They could close billions of dollars in corporate tax loopholes, and Sen. Carlyle has been a leader in addressing those unaccountable tax breaks. They could tax the capital gains and incomes of wealthy Washington residents. They could pass a carbon tax and dedicate some of the revenues to schools.
Raising the sales and property tax are also options available to the legislature, even if ST3 is approved by voters. A higher sales tax has been the topic of some discussion among legislators, but the more fully fleshed out proposals have involved the state property tax. This issue is at the center of Sen. Carlyle's complaint, so it is worth further discussion.
Sen. Carlyle writes "It's virtually impossible to reach that level of new education funding without reform to the state property tax and local school levies. The transportation finance plan makes that difficult but essential project dramatically more complex." In fact, it is possible to add sufficient new revenues without raising state property taxes. As shown above, there are numerous other sources of revenue available to the state that can meet the same goal without a higher state property tax.
ST3 might complicate one of the many education funding solutions proposed: a so-called "levy swap." This proposal would eliminate local school levies and replace it with a higher state property tax in core cities in the Puget Sound metro area, including Seattle. The levy swap would produce a massive property tax increase in Seattle, estimated at between $1.13 and $1.37 per $1,000 of assessed value. However, the swap would not produce new revenues for schools alone. Other funding sources would still be needed.
It's also worth keeping in mind that the levy swap is already a complicated and politically controversial proposal. Governor Jay Inslee has consistently opposed it, as have many other Democratic legislators. It is most popular with conservative Republicans, whose districts would see a significant decrease in their local property tax rate.
Sen. Carlyle mentioned the 1% annual limit in the rate of property tax increase. That limit does not exist because of Tim Eyman—his initiative imposing a 1% limit was thrown out by the State Supreme Court. The legislature itself adopted that limit in 2007, the year before Sen. Carlyle was elected to the State House. That limit has eviscerated funding for local governments, and the legislature is free to amend or eliminate that limit if they choose. The legislature may have to do so anyway in order to make a levy swap work.
By approving ST3, voters do not prevent the legislature from using the state property tax to fund public education. It is possible that passage of ST3 makes it more difficult for legislators to cut an easy deal regarding the state property tax. But that is a political issue and not a policy issue. It's hardly the same thing as suggesting ST3 would come at the expense of our public schools. It simply doesn't.
Unlike the legislature, Sound Transit does not have a wide range of funding options available to it. They only have what the legislature gave them, and that appears on the ballot this fall as ST3. It is unfair to blame Sound Transit and commuters in the Puget Sound region for the legislature's ongoing failure to properly fund our schools.
If ST3 is defeated, the results would be devastating for our region and for our climate. It is unlikely that a similarly comprehensive mass transit proposal would be placed before voters again anytime soon, as the legislature will be focused on education funding for the foreseeable future. They will not take up a new ST funding proposal until 2019 at the earliest. If ST3 is defeated, there will be even less appetite among legislators to revisit the issue.
As a result, defeat for ST3 would likely push back the timeline for bringing rail to Sen. Carlyle's constituents and the rest of the region by a decade or more, into the 2040s or 2050s. Our region has already suffered from the shortsighted rejection of mass transit funding when Forward Thrust was defeated in 1970. Nearly 50 years later, we still have not built out the system envisioned in that plan. Our cities are still choked with traffic and pollution.
Our public schools need a courageous, innovative, 21st century revenue plan. The legislature should finally deliver it in 2017. Their ability to do so will not be harmed if voters also approve a 21st century transportation plan this November by passing ST3. I am voting for ST3 and will continue to work hard to push the legislature to finally and fully fund our public schools.
Photo Credit: Picture taken by Jason Burrows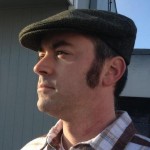 Robert Cruickshank is a transit rider and progressive campaigner who lives in Seattle's Greenwood neighborhood. From 2011 to 2013 he served as Senior Communications Advisor to Seattle Mayor Mike McGinn.