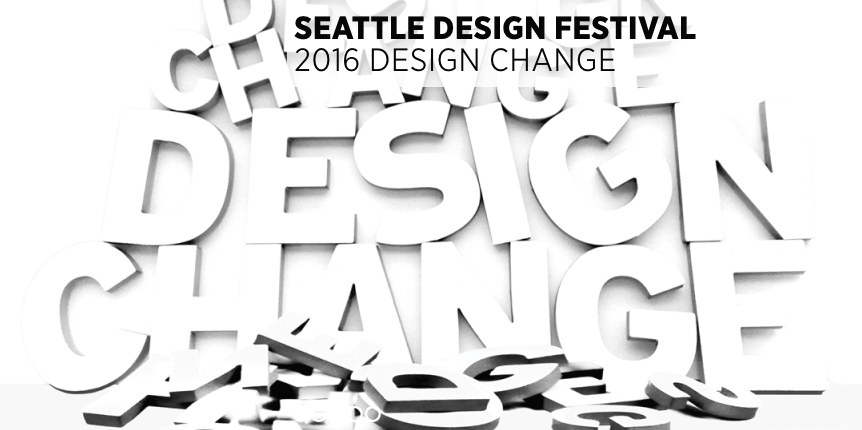 Seattle's annual design festival is about to kickoff. Running from September 10th through September 23rd, the Seattle Design Festival (SDF) will explore the design change theme. Last year, the festival reached more than 13,500 participants through 98 individual installations and events. And amazingly, more than 120 groups helped sponsor the festival. Starting off the two-week event, SDF will host a two-day block party at Occidental Park in Pioneer Square. More than two dozen organizations will help program the space Saturday through Sunday. This year promises to be bigger and better than ever before.
Block Party
The following is just a smattering of what's in store for the block party on September 10th and 11th: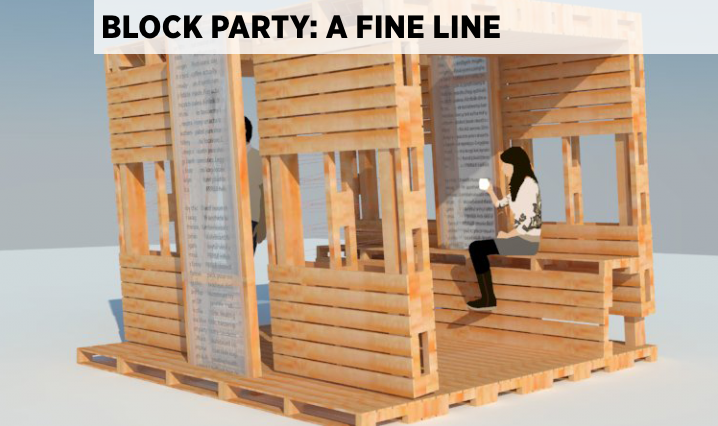 Eventgoers will get a chance to see some unique temporary art installations, some functional like A Fine Line:
A Fine Line is an installation aimed at changing the public's perception of Seattle's unhoused by using stories and art to create empathy for those on the streets. Working with organizations focused on housing solutions, we hope to bring light to this issue, collect donations and repurpose this structure for uses within the unhoused community.
MAKERS will sponsor an interactive space for visitors:
MORPHOS invites festival goers to contribute their creative agency toward an evolving sculpture. Two cornerstones set within the exhibition space evoke the histories and traditions we inherit and are called to mediate and build upon. Through the materials of straws and marshmallows, attendees of all ages and abilities add to the sculpture, symbolically testifying to their own unique contribution toward our shared future. A rich dialogue is thus created: the festival goer responding to the previous participants work, as well as the sculpture responding in its length, width, and height, bending and twisting to the manifold inputs made upon it. MORPHOS asks its participants, "What is the change you will bring about?"

A rich dialogue is thus created: the festival goer responding to the previous participants' work, as well as the sculpture responding in its length, width, and height, bending and twisting to the manifold inputs made upon it. MORPHOS asks its participants, "What is the change you will bring about?"
And Urban Air Market will bring vendors to the square on Saturday:
Urban Air Market is a curated marketplace for sustainable design. We connect independent artists and designers with their ideal customers through a unique shopping experience that builds community and supports the local economy.

Founded in 2005, Urban Air Market is the largest outdoor design festival in the country and the only independent fashion marketplace focused on sustainable design. Our shopping events showcase 100+ designers of fashion, accessories, body products, home decor, furniture and art.
One-Day Conference
On September 17th, SDF will hold a free one-day conference at the Seattle Central Library from 9.55am to 5pm.
Other Events
Throughout the festival, eventgoers will have ample opportunity to experience art and design in place, see live performance and presentations, and participate in tours.
On the evening of September 15th, a presentation at the Olympic Sculpture Park will focus on New Spaces for Urban Places:
Cities are back. The yen for urban living is swelling downtowns and walkable neighborhoods. With little vacant land, Seattle grows vertically to add places to live and work. But what about space to romp, relax or refresh? Be inspired by stories of innovative open space solutions, and join a lively conversation about future open space in Seattle with a panel of local experts.

Thatcher Bailey, Executive Director Seattle Parks Foundation (moderator)

Brice Maryman, Senior Landscape Architect, SvR Design Company

Julio Sanchez, Board Member, Environmental People of Color, Got Green

Julie Parrett, Dept. Of Landscape Architecture, University of Washington

Michael Shiosaki, Director Planning & Development, Seattle Parks & Recreation

Presented by the City of Seattle, Seattle Art Museum, Seattle Parks Foundation, KCTS9

The program includes film excerpts from WTTW Chicago/PBS program Ten Parks that Changed America.
Midday on September 17th, SDF will hold a walking tour of Queen Anne (tickets run between $10 and $15):
Take a trip through history in one of Seattle's most treasured urban neighborhoods. From Queen Anne Style homes to Modern, this vibrant hilltop neighborhood has it all, and is in a constant state of evolution as new residents call this community home. On this tour you'll visit Queen Anne's Landmark residences, apartments and repurposed buildings.

You'll also experience expansive views, pass by quiet corners, discover hidden estates,and observe sensitive restorations. This tour begins at West Queen Anne Elementary School (now condominiums) at 1401 5th Ave W (at Galer) Street parking is available. This is a two hour walking tour, and is accessible for most abilities. It is an urban area with a great deal of construction.
And on September 22nd, the Seattle Architecture Foundation (SAF) will show off architecture models:
[un]Restricted, SAF's 19th Annual Architectural Model Exhibit, will highlight the ways local designers use creativity to navigate environmental, material, social, and economic challenges. Architectural models showcase how restrictions introduced throughout the design process can be catalysts for innovation.
There's something for everybody, so be sure to check out the full list of events and see if something matches your tastes.

Stephen is a professional urban planner in Puget Sound with a passion for sustainable, livable, and diverse cities. He is especially interested in how policies, regulations, and programs can promote positive outcomes for communities. With stints in great cities like Bellingham and Cork, Stephen currently lives in Seattle. He primarily covers land use and transportation issues and has been with The Urbanist since 2014.