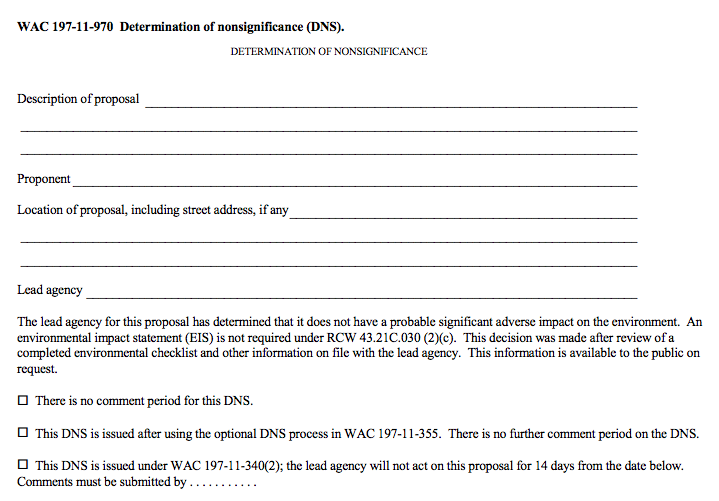 Seattle is mulling restoration of increased categorical exemptions for certain types of "infill development" from environmental review under the State Environmental Policy Act (SEPA). The City previously had higher exemptions built into the Seattle Municipal Code, but they were removed in 2015 while the City conducted environmental review as part of the Comprehensive Plan update process, known as Seattle 2035. Environmental review work on the Comprehensive Plan update has been completed, making the issue now ripe for consideration.
What SEPA Is And Does
For the uninitiated, SEPA is mandated under Washington State law for all non-exemption decisions and actions that might be issued by any agency issuing licenses and permits. When a proposal or action is deemed non-exempt, SEPA requires that all potential environmental impacts be fully disclosed. Environmental impacts are interpreted to be fairly broad, including things like air quality and odors, light and glare, plants and animals, noise, and even demands for public services. Some decisions and actions could have significant impacts requiring either additional conditioning and mitigation beyond regulatory requirements in place or evaluating alternatives to compensate for significant adverse impacts.
State law enumerates a wide range of categorical exemptions depending upon the type of action. Over the years, the Department of Ecology—the primary State steward of environmental policy—has worked to revise the SEPA thresholds for planned development, particularly in cities and counties fully planning under the Growth Management Act (GMA). This has included expanding categorical exemptions using flexible thresholds for minor new construction (WAC 197-11-800), planned action area ordinances (RCW 43.21C.440), and subarea planning for urban centers and transit-oriented development areas (RCW 43.21C.420). In 2005, a new option was added to statute (RCW 43.21C.229)–and later revised in 2012–to further facilitate infill development more generally in cities and counties fully planning under the GMA.
Many jurisdictions have adopted some flavor of flexible thresholds (there are others) for minor new construction outlined under WAC 197-11-800:
Proposed actions at or below the exemptions enumerated, if adopted by local ordinance, could be categorically exempt from environmental review under SEPA.
Alternative Categorical Exemption
However, RCW 43.21C.229 expressly states that a city or county could adopt higher categorical exemption thresholds than the above to accommodate new infill development. To do so, the higher categorical exemptions may only be applicable to development within established urban growth areas and when there is additional capacity planned by the locally-adopted comprehensive plan for the area in terms of scale and density. The RCW further limits this to specific development types: residential, mixed-use, and non-retail commercial development up to 65,000 square feet.
The rationale for allowing higher categorical exemptions isn't just to allow unfettered and unconditioned development proposals. The RCW recognizes that cities and counties do a significant amount of legwork in adopting comprehensive plans that already account for infill development in their environmental analysis and adoption of specific development regulations to mitigate against impacts, which arguably makes some project-level environmental review redundant as a process.
Seattle's Approach To Higher Categorical Exemptions
The Seattle Department of Construction and Inspections (SDCI) briefed members of the Planning, Land Use, and Zoning Committee last week on a proposal to restore higher thresholds for categorical exemptions to their previous form in the Seattle Municipal Code. The proposal would modify two tables based upon residential and non-residential uses. The first of these tables would be modified by adding back a column specific to new residential units within urban centers or urban villages. The column would allow higher exemption levels in urban villages that have a station overlay and urban centers where growth estimates, as identified in the Comprehensive Plan, have not been exceeded. In most zones where multi-family residential is permitted, the exemption level could go up to 200 dwelling units for a project. A similar column for exemptions level in urban villages that have a station overlay and urban centers would be retained, but apply only to development where the growth estimates have been exceeded. Notably, the exemption levels would be substantially lower.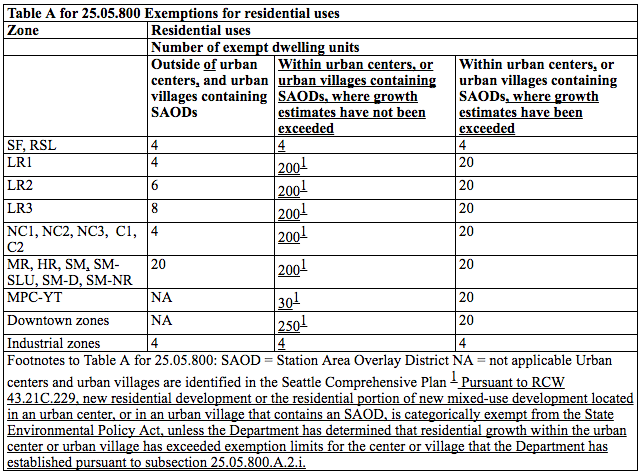 Likewise, SDCI recommends changing the exemption levels of non-residential uses in and urban villages with a station overlay and urban centers in a similar way. Though instead of units, the measure would be based upon the proposed square footage of non-residential uses. For many zones, the flexible exemptions would be lower when not coupled with mixed-use development: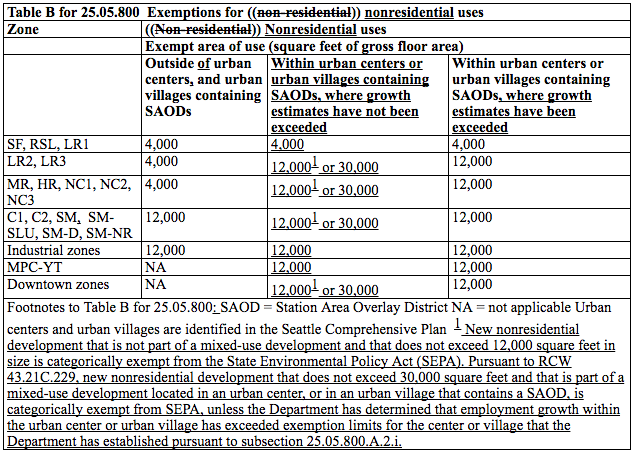 It's important to note that changes to flexible exemption tables would effectively be the same as the code in effective prior to October 2015.
The proposal by SDCI also seeks to modify some text defining what exceeding growth estimates means. SDCI would build in a "cushion" for when an area is determined to have exceeded growth estimates. That "cushion" is determined to be the absolute growth estimate minus ten percent. So for instance, if an urban village was estimated to grow by 10,000 residents over the next 20 years, new development coming in at or under the categorical exemption threshold would be exempt, so long as the area hadn't seen net growth of 9,000 residents or more over the period.
To track whether or not any given area has exceeded the local growth estimate, SDCI would monitor and publish updated residential and employment data periodically. If an area does exceed the local growth estimate, all subsequent development proposals would be subject to the lower categorical exemption thresholds for SEPA.
Support From HALA
Increasing categorical exemptions thresholds was a recommendation (RP.2) outlined in the Mayor's Housing Affordability and Livability Agenda (HALA) Report last year. While just one of 65 different recommendations, the HALA Advisory Committee felt that reducing the number of projects subject to SEPA would enable more housing production to follow from shorter processing timelines and fewer appeals. The HALA Advisory Committee's Recommendation states the following:
…SEPA requires projects sponsors to analyze a range of potential impacts including Transportation, Water, Air, Habitat, Noise, Light, Land Use, and Public Utilities. In the past, the city relied on SEPA to help it address topics for which codes did not provide sufficient protections. As the City has developed more specific codes, the importance of SEPA has diminished. Existing regulatory requirements, which address most of the issues in a SEPA review, include environmental critical areas rules, shoreline rules, grading and drainage codes, stormwater regulations, parking codes, design review, land use/zoning code, noise codes, transportation mitigation programs, energy code, building code, and historic preservation provisions.

Today, SEPA analysis rarely changes the outcome of development within urban areas. Research on development in Seattle from 1995-2010 found few examples of mitigation required through SEPA that was not already required by other codes. SEPA is used more often to obstruct rather than promote sustainable development. SEPA challenges can increase the cost of housing by raising development costs and knocking some proposed new buildings out of the permitting queue. To facilitate housing construction, Seattle can raise SEPA thresholds to reduce the number of housing projects that must undergo this review. The City should perform a comprehensive review of projects that have gone through SEPA to determine the scale below which it is uncommon for projects to have conditions placed on the development. Projects sizes that typically do not generate conditions should be exempt from SEPA review. The City should also adjust the SEPA thresholds based on new Comprehensive Plan (Seattle 2035) growth estimates.
When the HALA Advisory Committee published their recommendations, Seattle already had higher categorical exemptions on the books–the ones now being proposed—suggesting that the group either had a higher or wider application of categorical exemptions in mind. It's possible that both were the case.
As the ordinance is drafted, however, the areas where the higher categorical exemptions would be applicable is six urban villages out of 24 citywide and six urban centers. This is due to the fact that the higher categorical exemptions only apply to urban villages that have a station area overlay district within them and urban centers. Below are just a few examples of station area overlay districts: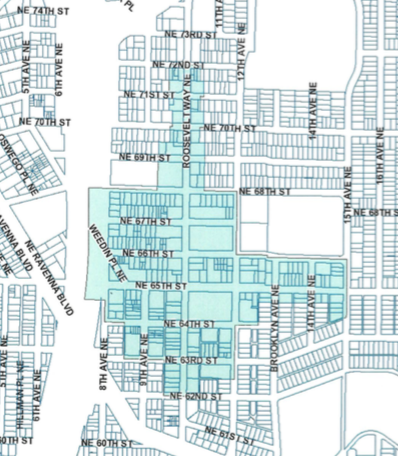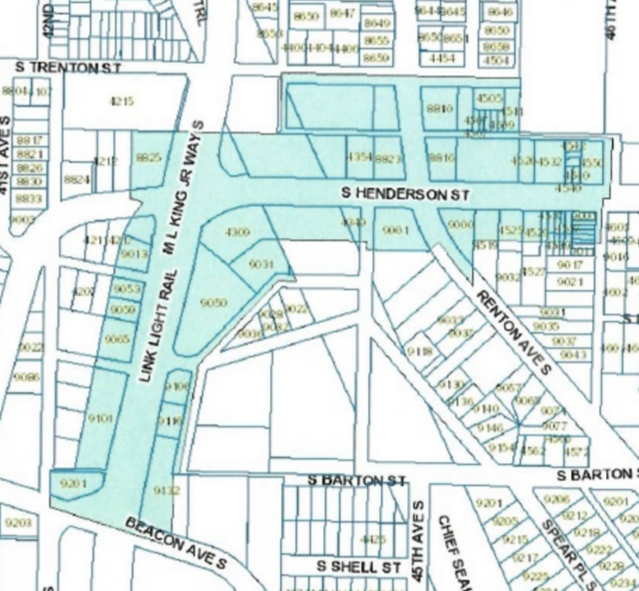 The designated urban villages and urban centers of course are much larger in size: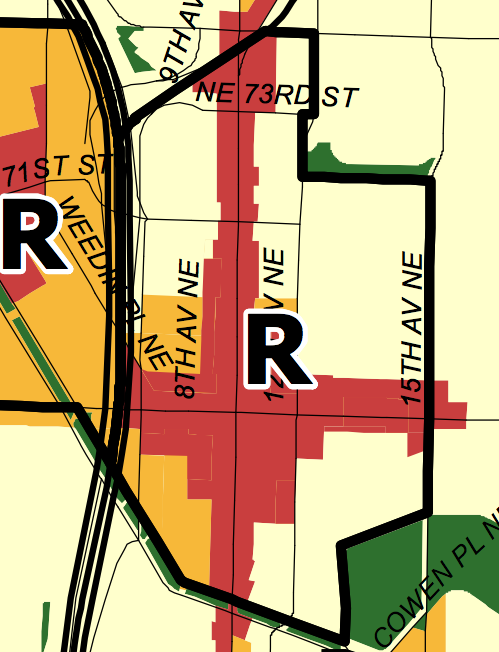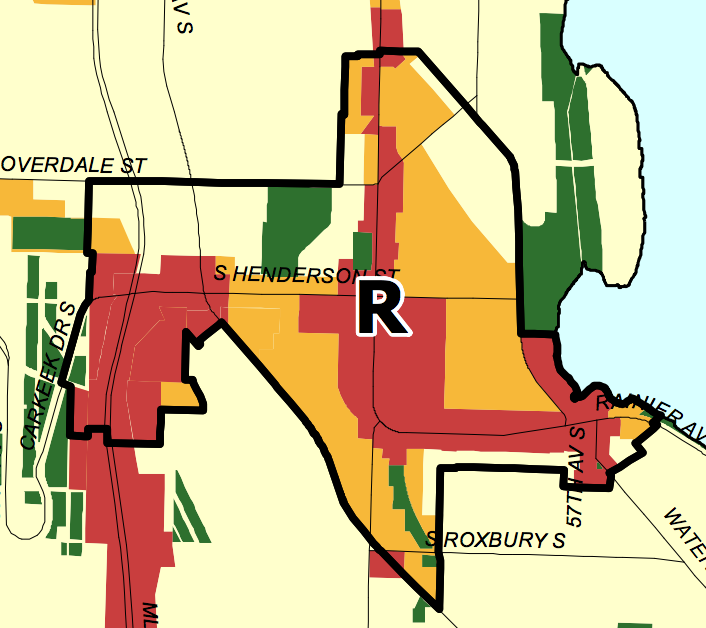 The application of the higher categorical exemptions to the entirety of an urban village with a station area overlay district and all urban centers is perhaps generous, but it's worth remembering that means only 12 geographic areas of the city are able to benefit and the proposal takes a one-size-fits all approach. Those 12 geographic areas may be somewhat outsized compared to many of the city's other 18 urban villages, but in places like Downtown Seattle and other close-in city locations, developments proposals often far exceed the proposed thresholds.
Blazing past 30,000 square feet for non-residential uses is a fairly easy to do for mixed-use developments when paired with more than a handful of retail spaces or large anchor uses like a grocery store in an otherwise residential project. Likewise, it's hard to find a residential tower project or mixed-used development on a large consolidated site that doesn't surpass the proposed thresholds under dwelling units. But of course many smaller scale projects could still make use of the proposed categorical exemption thresholds.
Ultimately, expanding categorical exemptions for infill development more broadly would allow many projects to skip the red tape of SEPA and avoid the potentially costly appeals process. That, of course, is a value judgement for the City to further evaluate, especially in light of HALA.
Next Steps
The PLUZ Committee didn't have much time to discuss the topic at last week's meeting. With other legislative priorities like the budget, remaining legislation voted of other committees, and the Comprehensive Plan coming through the City Council, Councilmember Rob Johnson elected to postpone further discussion on the issue until November or December.
Station Area Overlay Maps by The Urbanist on Scribd

Stephen is a professional urban planner in Puget Sound with a passion for sustainable, livable, and diverse cities. He is especially interested in how policies, regulations, and programs can promote positive outcomes for communities. With stints in great cities like Bellingham and Cork, Stephen currently lives in Seattle. He primarily covers land use and transportation issues and has been with The Urbanist since 2014.