A handful of draft rezones associated with the Mayor Ed Murray's Housing Affordability and Livability Agenda (HALA) were unveiled last night by the Office of Planning and Community Development (OPCD) as part of a Joint HALA Focus Group meeting at City Hall. The rezones would implement Seattle's Mandatory Housing Affordability (MHA) requirements for residential and commercial development in the city's urban villages and urban villages, and in some areas beyond. So far, five sets of urban village/urban centee draft rezone proposals have been shared with the public. These include:
Aurora-Licton Springs Residential Urban Village;
First Hill-Capitol Hill Urban Center;
Crown Hill Residential Urban Village;
Othello Residential Urban Village; and
South Park Residential Urban Village
OPCD plans reveal all draft urban village/urban center MHA rezones next month on October 17th. So for now, consider this a sneak peek.
The City is using a targeted approach to each set of rezone proposals based upon framework principles which fall into two broad categories: "Principles that form the foundation of MHA" and "Community-generated principles that will guide MHA implementation." These touch on a variety of important issues that embody what HALA is all about and respecting community values. The first batch of principles include some of the following:
2. Require multifamily and commercial developments to contribute to affordable housing.
6. Allow a variety of housing types in existing single-family zones within urban villages.

7. Expand the boundaries of some urban villages to allow for more housing near high-frequency transit hubs.
9. Evaluate MHA implementation using a social and racial equity/justice lens.
The second batch of community-generated principles are more specific:
1. Housing Options

a. Encourage or incentivize a wide variety of housing sizes, including family- sized units and not just one-bedroom and studio units.

b. Encourage more small-scale multi-unit housing that is family friendly, such as cottages, duplexes or triplexes, rowhouses, and townhouses.
4. Historic Areas

a. In Seattle's historic districts, do not increase development capacity, even if it means these areas do not contribute to housing affordability through MHA.
6. Urban Village Expansion Areas

a. Implement the urban village expansions using 10-minute walksheds similar to those shown in the draft Seattle 2035 Comprehensive Plan update.

b. Implement urban village expansions recommended in Seattle 2035 but with modifications to the 10-minute walkshed informed by local community members. Consider topography, "natural" boundaries, such as parks, major roads, and other large-scale neighborhood elements, and people with varying ranges of mobility

c. In general, any development capacity increases in urban village expansion areas should ensure that new development is compatible in scale to the existing neighborhood context.
To give you a taste of what the draft rezone maps look like and how they work, we've provided a few excerpts below. The first two show the Aurora-Licton Spring Residential Urban Village: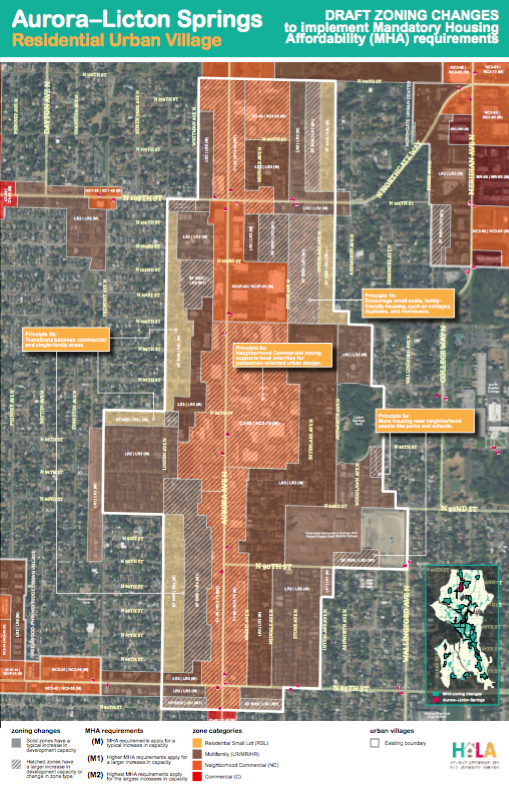 As you can see, current zoning is indicated in each draft rezone block using the abbreviated zoning codes (e.g., RSL, LR3, and C1). The zoning blocks also include the possible rezone designation and the intensity of MHA requirements that would apply. For ease of use, OPCD has also shaded in the generalized zoning type proposed by color.
Using the intersection of N 90th St and Aurora Avenue N as an example, the zoning goes one lot deep from the street. The existing zoning is Commercial 1 with a 40-foot height limit (C1-40) on the west side of Aurora while zoning east of Aurora is Commercial 1 with a 65-foot height limit (C1-65). OPCD's draft proposal would rezone both sides of the street to Neighborhood Commercial 3 with a 75-foot height limit (NC3-75). The applicable MHA requirements, however, would be different between the two sides of the street. That's because the west side of the street would effectively get three extra floors of height while the east would only be getting one extra floor.
The increased amount of allowable floor area ratio (FAR) remains undermined at this point. But OPCD offers a few hints on how much added capacity there might be with the added designation of three "M" (MHA requirements) ranges. These are noted as "M," "M1," and "M2" where applicable. Increasing heights alone isn't the whole story since FAR is a large piece in what ultimately is allowed to get built. The higher the "M"-designation, the more increased development capacity is likely to be allowed and coupled with it higher MHA requirements.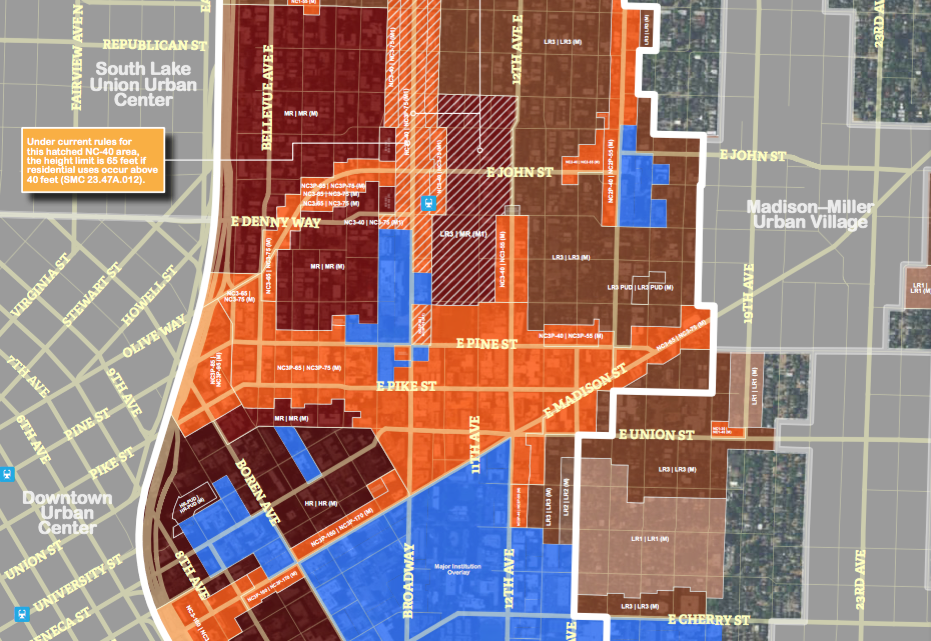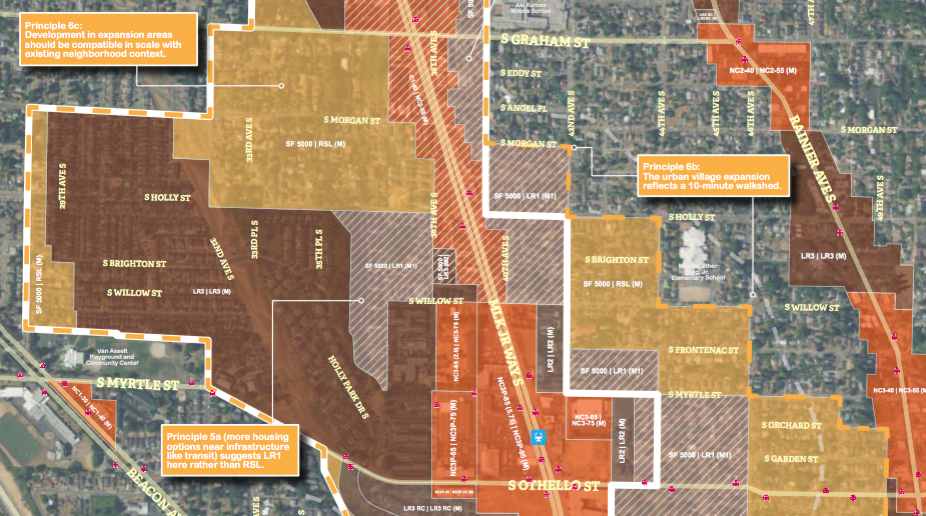 What you'll also note in these maps are references to framework principles. In the case of Othello's urban village, principles like 6b and 6c apply as well as special guidance on draft rezones outside of the urban village on the eastern side. Principle 6b applies to the swath of land proposed outside of the urban village to be rezoned from SF 5000 (Single-Family 5000) to LR1 (Lowrise 1) and RSL (Residential Small Lot). That principle states that urban village expansions should reflect a 10-minute walkshed for high quality transit like Othello Station. At the same time, the area is at high risk of displacement according to the City's analysis, which is why the expansion area has lower capacity zoning designations proposed. Closer to S Morgan St and MLK Jr Way S, properties are proposed to be rezoned from SF 5000 to RSL using the Principle 6c. That principle essentially required expansion of urban-like zoning in urban villages to scale under the context of the existing neighborhood–in this case, detached single-family.
Many of the proposed rezones at the edges of urban villages and areas to be expanded into the urban villages would go to RSL. That zoning typology is a denser version of SF 5000 allowing lots to go to a minimum size of 2,500 square feet and permitting typically one residential unit per lot. Perhaps also notable in the maps are the zoning changes proposed in the First Hill-Capitol Hill Urban Center. Most of the draft rezones would add about one floor over existing zoning in the urban center–an area that already has fairly generous development capacity across most of it as it is. It's also worth noting that historic districts, special designated areas like Yesler Terrace, and Major Institutional Overlay districts won't be subject to the MHA rezones.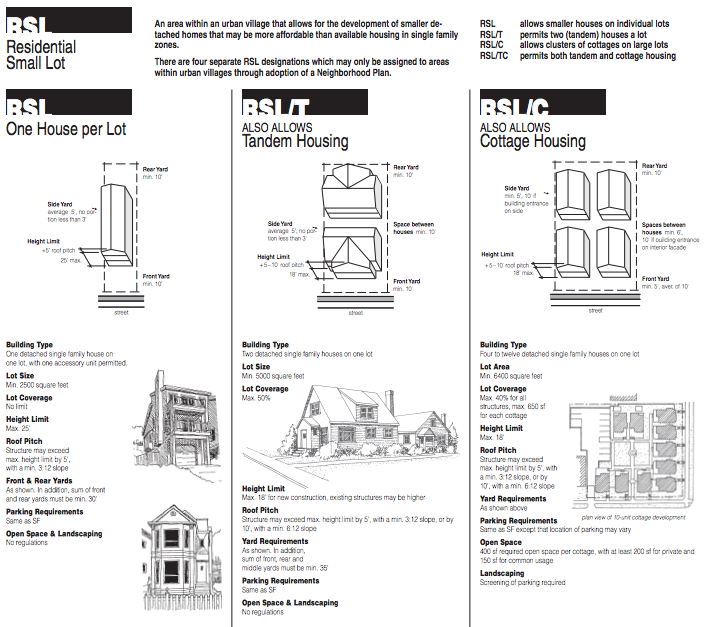 To get a better pulse on the draft rezones, take a gander at the PDF below and share your feedback on the draft rezones here on the blog:
Draft MHA Rezone Maps by The Urbanist on Scribd
UPDATE 9/28/16
: OPCD has pointed out that there is a companion RSL proposal to increase density in allowed in the zone, which could allow for bungalow courts and cottage developments, attached townhomes, and stacked housing. A graphic of the proposal has been added below. Also, the draft MHA rezone map PDF has been updated to include additional neighborhood profiles specific to each urban village and urban center.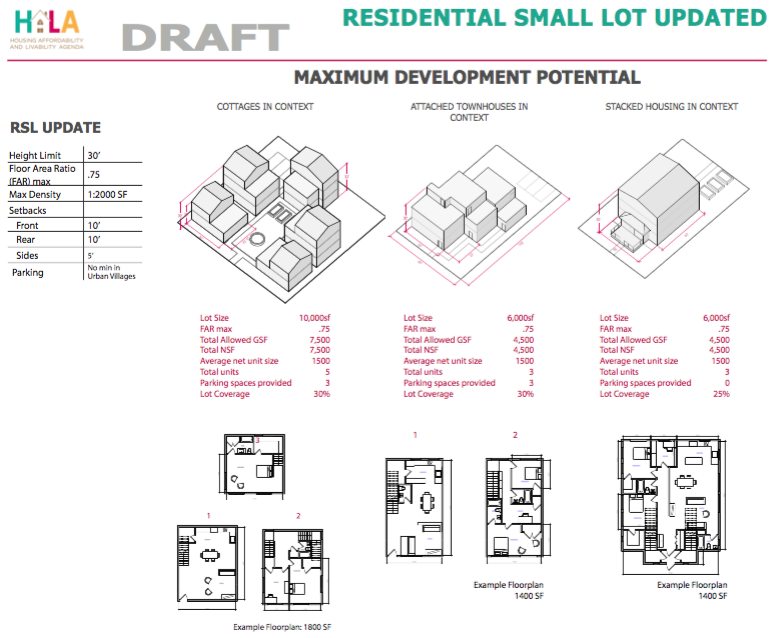 Stephen is a professional urban planner in Puget Sound with a passion for sustainable, livable, and diverse cities. He is especially interested in how policies, regulations, and programs can promote positive outcomes for communities. With stints in great cities like Bellingham and Cork, Stephen currently lives in Seattle. He primarily covers land use and transportation issues and has been with The Urbanist since 2014.