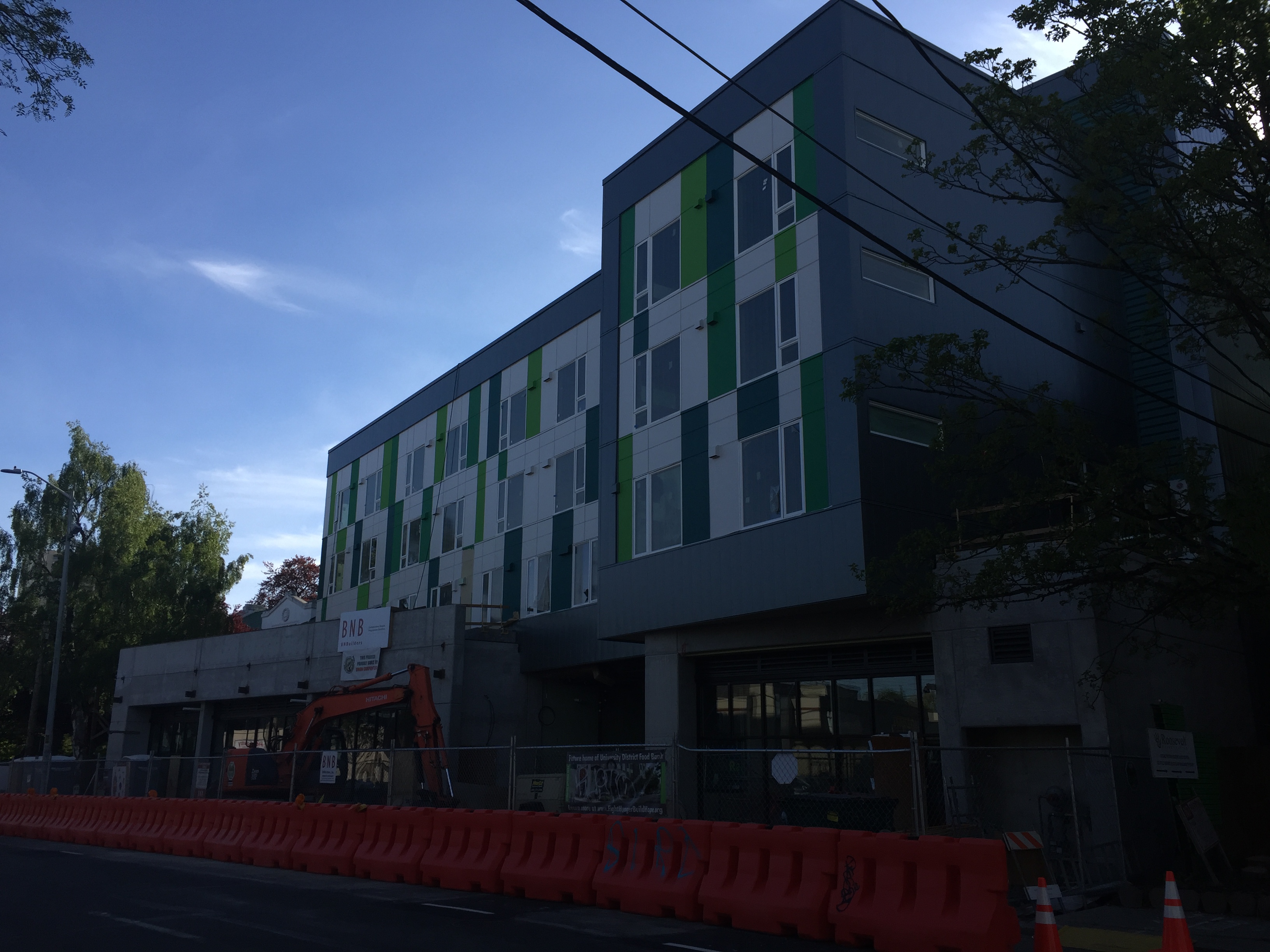 The Seattle City Council is poised to pass a landmark housing and land use policy today that will complete a two-pronged framework centered on delivering more affordable housing units across the city. The Mandatory Housing Affordability (MHA) program, as it is known, would require new development–whether commercial or multi-family residential–to contribute toward the development of affordable housing in exchange for additional development capacity allowed (i.e., additional building heights and FAR) through rezones.
The original idea for the policy framework was devised by the Mayor's Housing Affordability and Livability Agenda Committee, which sought to create a partnership between developers, affordable housing and social justice advocates, and environmental and renters groups. The MHA program forms a critical part of the Mayor's goal to produce some 20,000 affordable housing units over the next decade. MHA alone is anticipated to deliver 6,200 affordable housing units.
Last fall, the City approved the first piece of the framework–Mandatory Housing Affordability Commercial (MHA-C)–that would require commercial development to provide affordable housing using one of two options: on-site affordable housing or payment of an in-lieu fee to the City for development of affordable housing off-site. The Mandatory Housing Affordability Residential (MHA-R), which the City Council will pass today, works in a similar form to MHA-C and forms the second prong of the framework.
However, neither prong of the MHA program can be implemented until the City adopts rezones that increase development capacity. The City already has three rezone proposals queued up for approval, including: Downtown and South Lake Union (under appeal), University District, and the 23rd Avenue (Union, Cherry, and Jackson). Other area-wide rezones are planned to follow suit throughout urban villages in the city over the next year or so.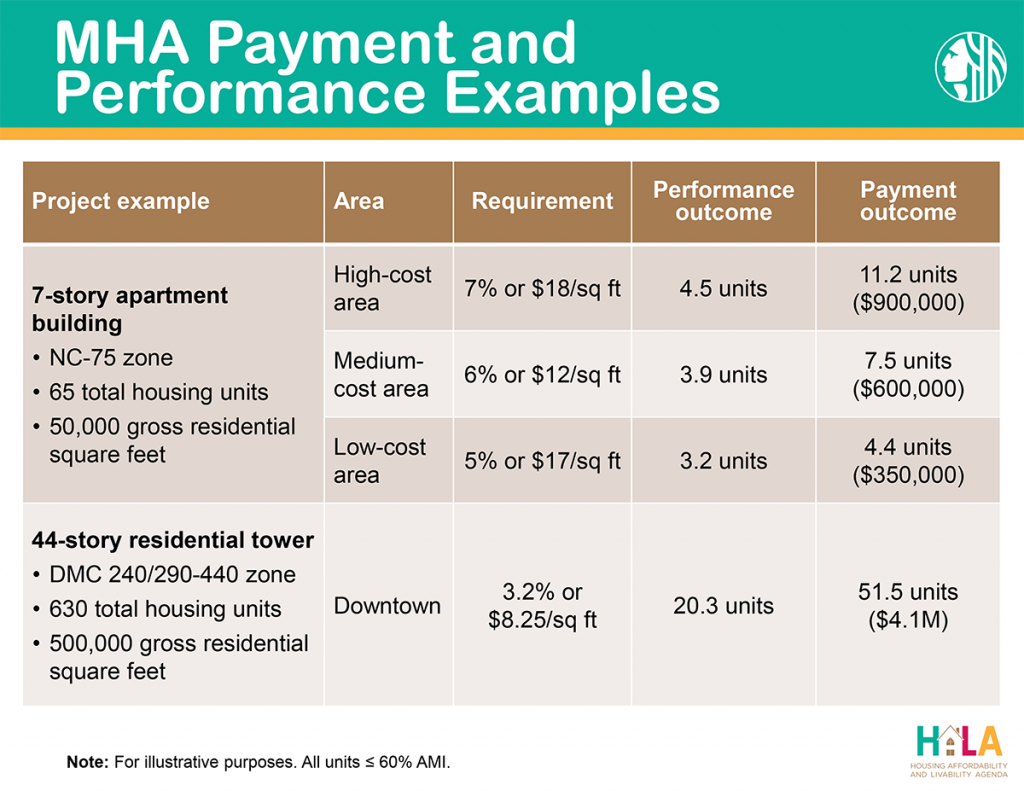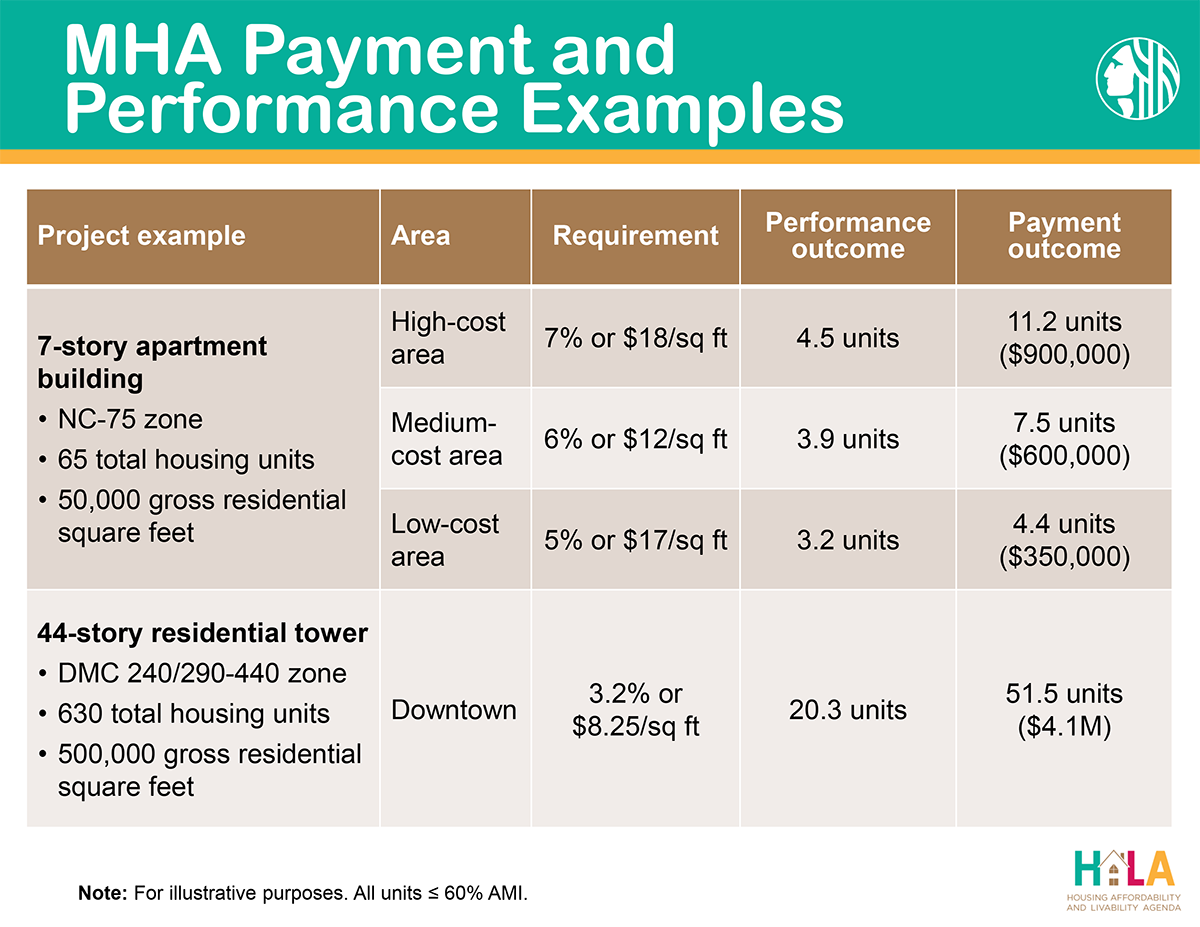 The details to the MHA-R legislation are many, but to recap in brief it would require:
All new multi-family residential–including alterations of existing buildings that add units or expand an existing structure–in areas rezoned to participate in the MHA-R program;
A percentage of all units in a multi-family development to provide on-site affordable units or pay an in-lieu fee to the City for the development of off-site affordable housing based on the total of residential square footages;
New buildings that contain residential and commercial uses to participate in both MHA-R and MHA-C, but which would be calculated individually depending upon use;
On-site affordable housing units to be made affordable for a minimum of 75 years; and
Fees to be collected for off-site affordable housing to generally be spent on development or acquisition in areas nearby.
On-site affordable housing units are generally targeted to be made available to households at or below 60% of the area median income (AMI). The MHA-R legislation, however, provides looser and tougher requirements depending upon the the size and type of units. For instance, small affordable rental units (i.e., less than 400 square feet) must be made available to households at or below 40% of the AMI while affordable ownership units would have to be available to households at or below 80% AMI.
In a committee meeting last week, councilmembers adopted 11 amendments the MHA-R legislation. Two of those would give special allowances for unit conversions under the MHA-R program. Specifically, property owners would be allowed to convert on-site affordable housing rental units to on-site affordable housing ownership units or convert on-site affordable housing units to non-affordable housing units in exchange for a fee for the development off-site affordable housing units. Another major amendment to the proposal was the adoption of language that would allow the City to enact alternative mitigation measures in areas with a high risk of displacement. Evaluation of alternative mitigation measures–like requirements for one-for-one replacement of naturally affordable housing units–would be considered through individual rezones.
Unlike the MHA-C program, there are no defined amounts for required on-site affordable housing units or fee rates under the MHA-R program at this time. Those will be determined in the next phases of the process as the City Council adopts area-specific rezones.
UPDATE: The legislation passed on a 8-0 with Councilmember Kshama Sawant absent.

Stephen is a professional urban planner in Puget Sound with a passion for sustainable, livable, and diverse cities. He is especially interested in how policies, regulations, and programs can promote positive outcomes for communities. With stints in great cities like Bellingham and Cork, Stephen currently lives in Seattle. He primarily covers land use and transportation issues and has been with The Urbanist since 2014.