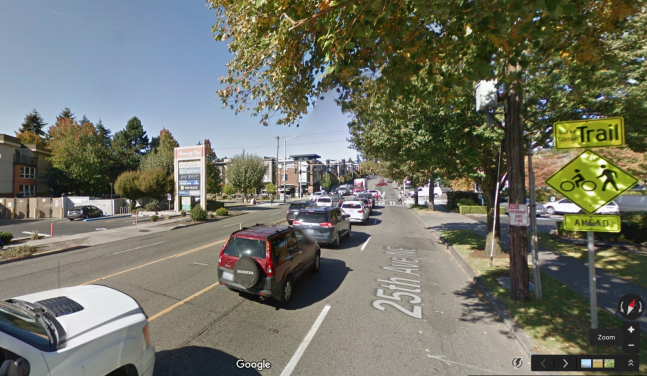 The Seattle Department of Transportation (SDOT) is spending millions of dollars to repave 25th Ave NE in 2017, but isn't planning to make any significant safety improvements despite numerous problems along the street. In addition to that, University Village is currently proposing to build additional parking garages to create 572 new parking stalls, which will encourage even more people to bring their cars to this dangerous street. The proposed parking garage will make the walking environment along 25th Ave NE significantly worse. We need to stop designing 25th Ave NE as a car sewer, and start planning it as a safe, welcoming space for people.
According to the City's website, the repaving project of 25th Ave NE will cost $3.6 million dollars and span 1.1 miles of road. The only safety improvement being made is the addition of a pedestrian crossing at NE 49th St (in front of a University Village entrance). This stretch of roadway is four to five lanes wide, and sees numerous speed-related collisions and injuries each year.
In just the past three years alone, there were 140 reported collisions on the part of 25th Ave NE that's being repaved. Those crashes sent 56 people to the hospital. Seven of those people who were injured were walking, and another seven were biking. The remaining 42 injured people were in cars. The most serious of those injuries involved crashes with only a single vehicle; in other words, people were driving way too fast and crashed. Click here to view a map with collision data.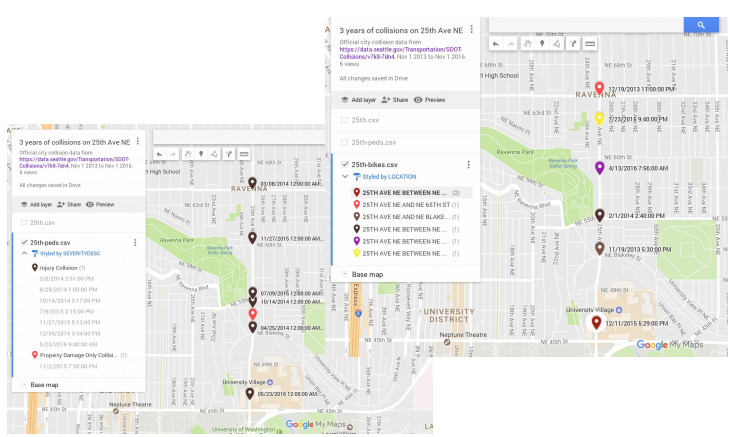 Looking at the traffic volumes for the section of 25th Ave NE being repaved, it's clear that safety improvements could easily be made through a standard road diet. Road diets generally work with traffic volumes of less than 25,000 vehicles per day, and 25th Ave NE has less than 12,000 vehicles per day north of NE 49th St. For comparison, NE 75th St has around 22,000 vehicles per day and was successfully transitioned to three lanes with collisions and speeding drastically reduced, while average speed actually increased. As a result, the roadway became more efficient for drivers, while also becoming safer for everyone.
25th Ave NE has numerous destinations that people want to walk and bike to. The Burke-Gilman Trail crosses it (and was even detoured onto it for a period of time), and it is a major transit corridor. People taking the bus need to safely get across the street. Along with University Village, there are many stores, restaurants, homes, and businesses along 25th Ave NE. Ravenna Park is right there. The area around 25th Ave NE also has one of the highest instances of car-free households in Seattle.
Despite all of this, University Village is planning on creating an eight-story parking garage with a blank wall facing 25th Ave NE. Aside from this blank wall having a negative effect on the pedestrian experience, the creation of two garage entrances on 25th Ave NE will pose a danger to people on the sidewalk. These garage entrances will also result in more cars stopping and turning onto and off of 25th Ave NE, which is likely to result in additional crashes given the already dangerous nature of the street.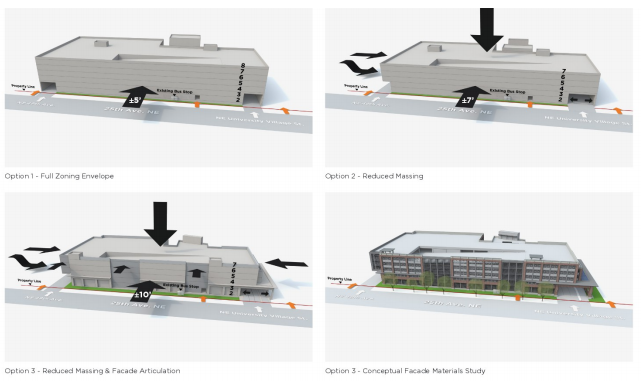 University Village's full design plans can be found here.
25th Ave NE suffers from a classic "stroad" design. The roadway is designed to move cars through the corridor as quickly as possible, while the adjacent destinations and walking and biking environment encourage lots of turning movements, stopping, and crossing. This combination results in crashes and injuries. Adding a parking garage on 25th Ave NE will only make things worse.
We need to let the City know that this is unacceptable. Please email and call your Councilmembers, the Mayor, and SDOT to let them know that safety improvements must be part of next year's repaving project. Show up to the design review board meeting tonight (Monday, December 19th) and let them know that a blank wall facing the sidewalk is not okay, nor are additional garage entrances on 25th Ave NE.
Andres Salomon (Guest Contributor)
Andres Salomon is a dad, safe streets advocate, and former mayoral candidate. He lives in Northeast Seattle.